Cruise Control - Detailed Feature Explained | V3Cars
In this Feature Explained article, we'll present the most detailed analysis of the cruise control feature in your car. We'll list out the pros and cons of cruise control, explain how it works, provide the typical cost of getting the cruise control feature from the aftermarket and its repair and replacement costs. Based on this analysis, you can decide the importance of this feature for your car ownership experience.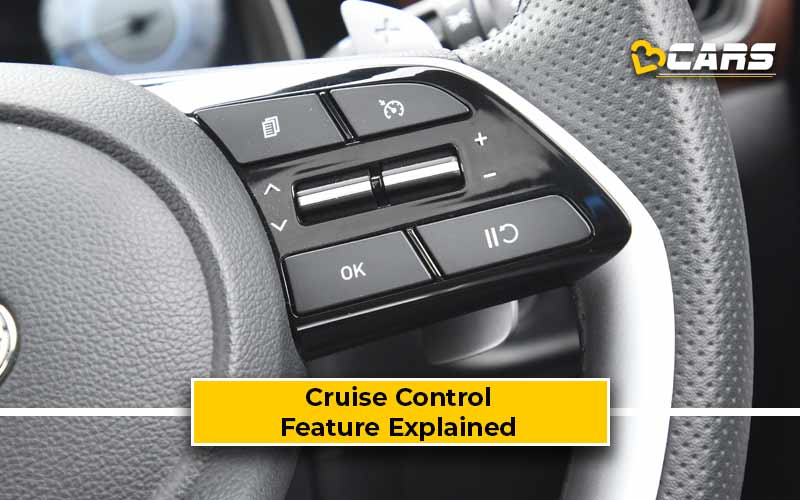 What Are The Pros And Cons Of Cruise Control?
The pros, or advantages, of cruise control in a car are:
It can maintain a preset speed by itself
Cruise control offers better driving comfort on long journeys
Ensures you do not break the speed limit on the highways
Helps deliver better fuel efficiency with minimal driver input
Cruise control has the following shortcomings or problems:
With the cruise control, it's easier for the driver to doze off while driving for long hours without enough rest
It's not very useful on highways with varying speed limits, bad road conditions,
It makes it easier to get distracted behind the wheel
What Is Cruise Control?
It is difficult to keep pressing the accelerator pedal for a long time while driving on an open road. Cruise control is a feature that helps drivers relax a little by taking over the accelerator input as it maintains the preset speed. As an added safety measure, the cruise control disengages if you press the brake pedal. To use the cruise control again, you have to re-engage it manually. Once you have set the speed in the cruise control, you can also increase or decrease that speed using the 'plus' and 'minus' buttons. For a quick overtaking maneuver, you can just press the accelerator pedal
How Does A Remote Central Locking Work?
All our cars have drive-by-wire accelerators. This means that our inputs on the accelerator pedal only provide an electrical signal, which the onboard computers use as input to adjust the quantity of fuel-air mixture. With the cruise control set to a specific speed, the computers adjust the same to maintain the desired speed.
How Expensive Is It To Repair Or Replace Cruise Control?
The cruise control feature does not typically fail as this is a software-based feature. At best, the only costs associated with maintaining the cruise control feature in your car are if you have somehow managed to break the cruise control stalk or the buttons on the steering wheel that let you activate this feature. In such instances, you will need to replace the cruise control or buttons, which could cost you up to Rs. 15,000 - 20,000.
What Is The Cost Of Aftermarket Cruise Control? (Updated: April 28, 2023)
Aftermarket cruise control units, such as the one from Aha NexCruise, can cost you around Rs. 17,000 to 25,000 depending on the vehicle make/model and whether you want the wired or wireless controller for the feature. Please note that an aftermarket cruise control can void your warranty. So, we suggest stretching your budget and getting a higher variant with the feature if you absolutely want it. However, suppose your vehicle is already out of warranty. In that case, if you don't want to upgrade to a new vehicle in the near future and you could benefit from this feature, then you can consider an aftermarket installation.
How Easy Or Complex Is It To Install Cruise Control? (Updated: April 28, 2023)
If you're trying to install a cruise control from a higher variant, then it's a 4-5 hour job once you find a retailer who is willing to take it up. So far we've only come across the NexCruise as an alternative to the manufacturer's option. In this case, it's a plug-and-play device, which requires minimal to no tampering with the vehicle and panels. Installing something like this should only take you around half an hour.
What Cars Get Cruise Control?
In India, most cars from the B-segment (Venue, i20, Aura, Dzire, Baleno) and above get cruise control at least in their higher variants. If you're in the market to buy a reasonably loaded car, then you'll most likely get cruise control from the factory.
Verdict - Should I Get An Aftermarket Cruise Control? (Updated: April 28, 2023)
If the higher variant of the car you own has this feature, then you will need to find a workshop willing to take up this job for you. Authorized workshops certainly won't do it for you as they limit the potential for upselling you a higher, more expensive variant or car. If you absolutely want this feature in your car, we recommend spending a bit more and buying the variant or model that offers this feature. Cruise control is especially useful for car owners who frequently drive on the highways. However, if you mostly drive within the city, then you can skip this feature altogether.
For now, since we haven't tried out an aftermarket cruise control unit, we'll reserve our judgment on going with such an option. After all, it has the ability to control the speed, and therefore, it leaves room for a catastrophic incident. In the event of a crash, you run the risk of losing out on insurance claims if the vehicle seems to have aftermarket accessories, which may have caused the accident. The safest option is to just stick with factory-fit cruise control in a more expensive car or variant, which gets this feature.
Note: Check your Car EMI with our - Car Loan EMI Calculator
You can use our Fuel Cost Calculator to see how much any petrol, diesel, or CNG car will cost to run based on the latest fuel price in your city.