Power Mirrors - Feature Explained
In this Feature Explained article, we'll present the most detailed analysis of the electric power mirror in your car. We'll list out the pros and cons, explain how it works, provide the typical cost of getting a powered car mirror from the aftermarket, and repair and replacement costs of a power door mirror. Based on this analysis, we'll suggest if you should add this feature to your car or skip it.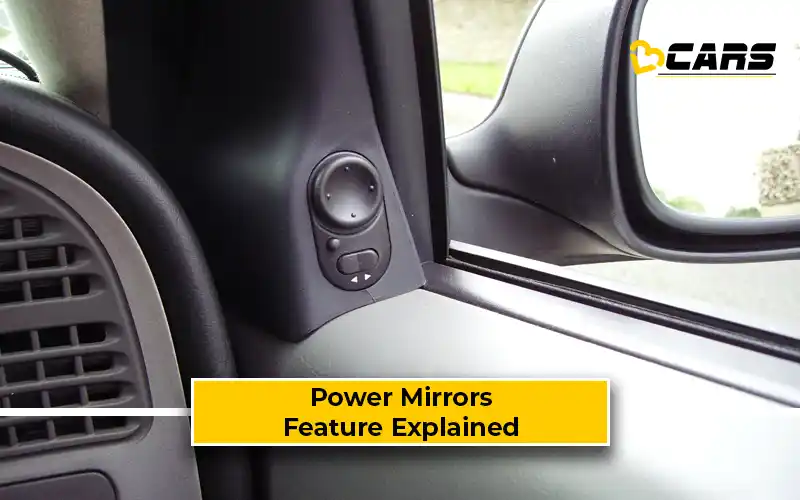 What Are The Pros And Cons Of A Power Mirror?
The pros, or advantages, of a power mirror are:
A power mirror lets you adjust the field of view electronically with the aid of a rocker switch or buttons, which are typically placed near the driver-side door
Powered outside mirrors allow the driver to adjust the mirror positions without stretching
If the power mirrors also come with power folding, then you can fold and unfold the wing mirrors with the push of a button
If the car has auto-folding mirror feature, then the mirrors fold and unfold automatically upon locking and unlocking the car
The shortcomings, or issues, of a power door mirror are:
Since power mirrors use an electrical circuit, actuators and motors, they may stop working over time due to wear and tear
The mirror assembly of a power mirror is sometimes bigger than a manually adjustable ORVM
If the mirror's moving parts trap any dirt, they can start making annoying squeaking sounds
Because of the more frequent folding and unfolding, auto-folding mirrors go through more cycles of opening and closing and may fail sooner than simple power-folding or non-power folding mirrors
What Is A Power Mirror Or Power Adjustable ORVM?
While almost all cars have outside mirrors on either side of the A pillar, adjusting them is quite a pain especially, if you don't have internally-adjustable outside mirrors. With power mirrors, you can adjust not only the driver-side mirror but also the front passenger-side mirror without stretching. Somewhere near the driver side door is a joystick or a directional pad buttons, which you can use to adjust one mirror at a time.
How Does A Power Mirror Work?
A power mirror housing hides the motors to move the mirror up/down and left/right from a pivot point. Depending on the driver's inputs on the power mirror buttons, the motors inside the aerodynamic mirror housing adjust the mirror position. Some power mirrors also have a heating function as well as power fold. We will cover the latter in a future Feature Explained article.
How Expensive Is It To Repair Or Replace A Power Mirror?
The cost of repairing or replacing the power mirror on a car varies based on the manufacturer and the damage sustained. Let's take the case of the 2022 Hyundai Creta as an example.
In the case of the Hyundai Creta, replacing a broken glass mirror would only set you back by Rs. 500. If you have managed to crack the ORVM cover, you could get away by replacing the scalp for just Rs. 328 (painting cost not included). However, if the entire housing needs replacing, then you are most likely looking at a bill of Rs. 3,500. The actuator inside a power mirror is the most expensive of all the components that make up an electronically-adjustable ORVM. If the actuator in the Hyundai Creta fails due to water damage or short circuit, a new unit will set you back by Rs. 4,000. The cost mentioned above may change and do not include labour charges either.
What Is The Cost Of An Aftermarket Power Mirror?
There are aftermarket power mirrors with power folding, which you can get for about Rs. 6,000 - 7,000 for a car like i20.
How Easy Or Complex Is It To Install An Aftermarket Power Mirror?
Installing power mirrors in a car, which has the feature in one of the higher variants takes about 1 - 2 hours.
What Cars Get Power Mirror Or Power-Adjustable ORVM From The Factory?
Starting with the Maruti Suzuki S-Presso, almost all cars get power-adjustable outside mirrors at least in their higher variants.
Verdict - Should I Get An Aftermarket Rear Parking Camera?
While a power mirror or power adjustable ORVM is a convenient feature, it is not a must-have feature, at least for affordable A-segment and B1-segment car buyers. However, from a more expensive car, we expect power mirror considering their high asking price.
Note: Check your Car EMI with our - Car Loan EMI Calculator
You can use our Fuel Cost Calculator to see how much any petrol, diesel or CNG car will cost to run based on the latest fuel price in your city.