Head-Up Display (HUD) - Feature Explained
In this Feature Explained article, we'll present the most detailed analysis of your car's head-up display feature. We'll list the pros and cons of a head-up display, explain how it works, provide the typical cost of getting a head-up display from the aftermarket, and its repair and replacement costs. Based on this analysis, we'll suggest if you should add this feature to your car or skip it.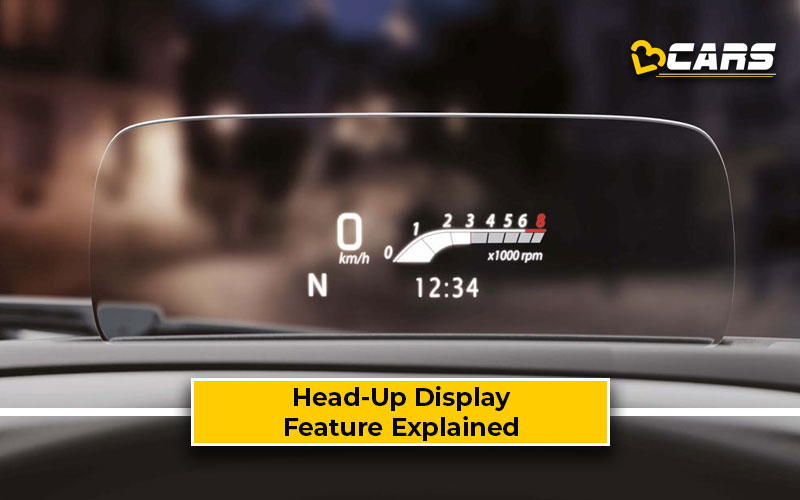 What Are The Pros And Cons Of A Head-Up Display?
The pros, or advantages, of a head-up display in a car are:
Provides basic but vital information, such as speed, RPM and navigation, in the driver's line of sight
Reduces driver fatigue from searching for information on the instrument cluster and touchscreen infotainment system
It helps the driver focus on the road by avoiding distractions by their mobile phones or multi-information displays (MID)
Looks premium and nice at night, especially from a bystander point of view
A head-up display has the following shortcomings or problems:
While it presents information in the line of sight, you still need to change focus from further down the road to the HUD and back
While colour fonts on an HUD offer poor legibility when closely following a white car in traffic
It only duplicates some of the information already available in the instrument cluster and doesn't add any additional info
In some cases, some driver of certain height may not have the HUD in their view after adjusting the seat to their preference
What Is A Head-Up Display?
The HUD, or head-up display, is a transparent screen above the instrument binnacle. A display projects information on this piece of screen to present it in the driver's line of sight. The head-up display allows the driver to read the information without taking their eyes off the road. An HUD can display plenty of information, including the car's speed and navigation. The head-up display is a feature that trickled down from aviation into cars and other forms of transportation.

How Does A Head-Up Display Work?
In India, cars with a head-up display use a clear piece of plastic called the combiner mounted between the windshield and the instrument binnacle. A dashboard mounted projector beams information onto this screen. The image exits the projector, bounces off a number of mirrors and emerges right-side up and legible. HUDs that use a combiner produce a consistent image regardless of the windshield's shape.
How Expensive Is It To Repair Or Replace A Head-Up Display?
If the head-up display in your car malfunctions or breaks, the manufacturer will almost certainly require you to change the entire unit. Depending on the manufacturer, an original equipment head-up display can cost quite a lot. For premium cars, such as the BMW X1, the HUD can cost upwards of Rs. 15,000. Fortunately, HUDs tend to be reliable, and since they are out of easy reach, the chances of breaking them are slim.
What Is The Cost Of An Aftermarket Head-Up Display?
There are several head-up displays available in the aftermarket. These HUDs require you to plug the device into the On Board Diagnostics (OBD2) port in your car. Based on the quality of the product, an aftermarket head-up displays retail from Rs. 4,000 to Rs. 10,000.
There are also reflector layers, which you can stick onto the windshield. Then, if you place your phone on the dashboard on an anti-slip mat, then the reflector layer will show you a mirrored image of what your phone is displaying. Once you have this setup, then you can use a suitable application to get navigation directions. There are also apps to project the car's RPM, speed, engine temperature, and more if you connect your phone to the car using a Bluetooth OBD. The drawbacks of using your phone as a projection for HUD is that on a sunny afternoon, it will offer poor visibility and it could also get dangerously hot. Therefore, we don't recommend using your phone as a head up display.
How Easy Or Complex Is It To Install A Head-Up Display?
Installing an aftermarket head-up display is fairly easy. An aftermarket HUD kit generally consists of the combiner (or clear plastic) that sits atop the dashboard and a cable that connects the combiner to the OBD2 port. Hence, it is as simple as placing the HUD in a manner that does not hamper your vision and plugging in the device. There are cheaper devices that use your phone to reflect information onto the HUD unit.

What Cars Get A Head-Up Display?
Currently, the Maruti Nexa Baleno and Toyota Glanza are the most affordable cars that come with a head-up display. Besides these 2 models, C-segment SUVs, such as the Kia Seltos, Toyota Urban Cruiser Hyryder and the Maruti Suzuki Grand Vitara, also offer head-up displays in their higher variants.
Verdict - Should I Get An Aftermarket Head-Up Display?
Most aftermarket head-up displays are gimmicky at best and do not add enough functionality to justify the cost. Hence, we would advise you to avoid these products. It's a good-to-have feature in our books. However, if you think a head-up display can enhance your daily drive and ownership experience, then you should buy a car or a variant that offers this feature straight from the factory. These have much better legibility even under harsh sunlight.
Sure, a head-up display is not a feature that is available in most budget cars. However, they are becoming increasingly popular thanks to cars such as the Baleno and Glanza. And before we know it, carmakers might start offering an HUD in at least the top variant of budget hatchbacks and sedans to enhance their premium quotient.
Note: Check your Car EMI with our - Car Loan EMI Calculator
You can use our Fuel Cost Calculator to see how much any petrol, diesel or CNG car will cost to run based on the latest fuel price in your city.