Adjustable Headrest - Detailed Feature Explained | V3Cars
In this Feature Explained article, we'll present the most detailed analysis of your car's adjustable headrest feature. We'll also list out the pros and cons of adjustable headrests.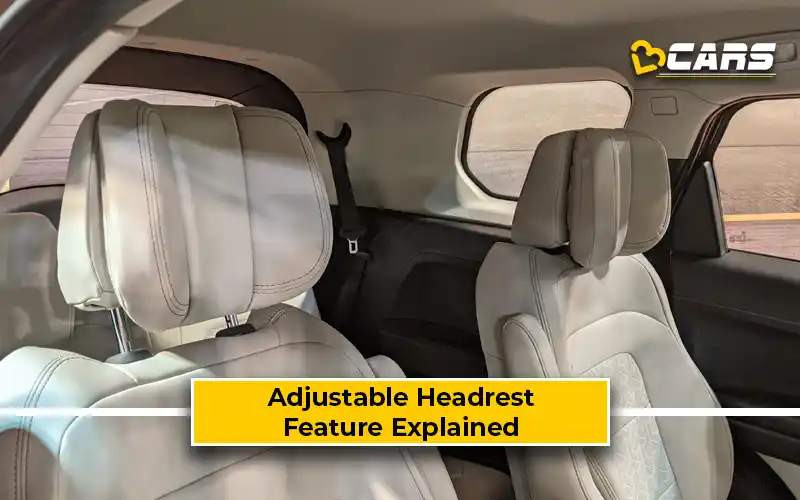 What Are The Pros And Cons Of Adjustable Headrests In A Car?
The pros, or advantages, of a height-adjustable driver seat in a car, are:
Adjustable headrests save our necks from moving back in the event of a rear end collision and prevent serious injuries
The headrests allow the occupants to comfortably rest the head and it's very useful during long journeys
Headrests or head restraints have the following disadvantages or issues:
In some cars, they could make for an uncomfortable seating position for occupants of certain height
Since most occupants don't even adjust the headrest to their height, this feature mostly remains unused and doesn't offer the safety and comfort it was intended for
When folding down the seatbacks, the adjustable headrests sometimes rub against the front seat backrests and don't fold flat
Also Read: Height-Adjustable Driver Seat - Detailed Feature Explained
What Are Adjustable Headrests?
An adjustable headrest is one of the least talked about safety features in a car. As long as you are comfortable with your driving or seating position while driving or sitting in a car, the chances are you've probably not noticed they exist at all. Headrests or head restraints are as important as the airbag and seat belts in your car.
However, not all headrests are built the same. For example, many low-budget cars, such as the Maruti Suzuki Alto and Renault Kwid, do not come with adjustable headrests even for front seat occupants. This severely limits their effectiveness in a collision. While they could prevent whiplash for drivers of a certain height and build, they could cause serious injury to those of shorter or taller stature. Similarly, several manufacturers skimp on adjustable headrests for the rear seats, while others do. While the Honda City lacks adjustable rear headrests, its rivals, such as the Skoda Slavia and Volkswagen Vento, offer them.
On the positive side, the probability of a heavy rear end collision is not only less likely, it's also less life threatening as a forward collision.

How Do Adjustable Headrests Work?
Adjustable headrests allow the seated occupant to position the head restraints in a way that fits the morphology of the person. Not all adjustable headrests are built equally, though – some let you increase the height while others let you adjust the tilt. When positioned correctly, they prevent hyperextension of your neck, which helps mitigate whiplash and other injuries in the event of a frontal or rear collision.
How Expensive Is It To Repair Or Replace Adjustable Headrests?
More often than not, your car's adjustable headrest will outlast the entire car itself. However, if they break for various reasons, replacing adjustable headrests is quite affordable. They aren't exorbitantly expensive. Adjustable headrests or head restraints for most mass-market cars are priced from Rs. 500 to Rs. 2,000, depending on the make and model.
How Easy Or Complex Is It To Install An Adjustable Headrest?
To add an aftermarket adjustable headrest, you first need a variant, which has holes to install it. If your car doesn't have these, but one of the higher variants of the same model does, then you will have to install the compatible backrest first.
Installing an adjustable headrest into the original seats of the car is a very easy process. All you've got to do is line up the two spokes of the headrest with the 2 holes on top of your seat, slide it in and lock it in place with the help of the tab provided at the plastic bit that surrounds the holes.
To adjust the height of the headrest, push the tab inwards and slide the headrest up or down till it clicks into place. Here are some additional tips for setting the headrest correctly:
Try to keep the top of your headrest level with the top of your head
Keep the middle of the headrest level with your ears—and make sure it's not positioned lower than your ears!
Minimise the distance between the back of your neck and your headrest (aim for 3–4 inches).
What Cars Get Adjustable Headrests?
The most affordable car that offers rear adjustable headrests is the Maruti Nexa Ignis Delta variant.
Also Read: Maruti Suzuki Ignis Petrol Variants Explained - Which One To Buy?
Verdict - Should I Get An Aftermarket Adjustable Headrest?
It's a little tedious and expensive to get adjustable headrests after buying the car. So, you should consider the variant that comes with this feature from the factory. While you could get an OEM adjustable headrest from your authorised car service centre, we do not recommend them as it can get quite pricey to add to a car, which doesn't get this feature from the factory.
Note: Check your Car EMI with our - Car Loan EMI Calculator
You can use our Fuel Cost Calculator to see how much any petrol, diesel or CNG car will cost to run based on the latest fuel price in your city.