Projector Headlamps - Detailed Feature Explained | V3Cars
In this Feature Explained article, we'll present the most detailed analysis of your car's projector headlamps feature. We'll list out the pros and cons of projector headlamps, explain how it works, and provide the typical cost of getting projector headlamps from the aftermarket, and its repair and replacement costs. Based on this analysis, we'll suggest if you should add this feature to your car or skip it.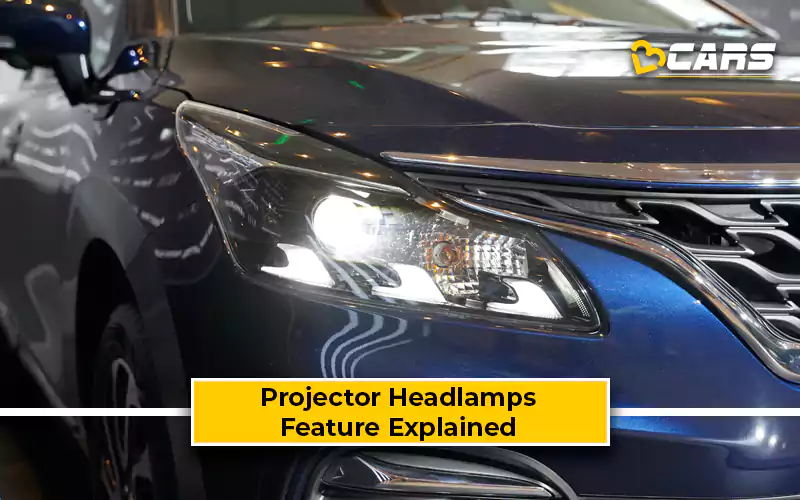 What Are The Pros And Cons Of Projector Headlamps?
The pros, or advantages, of projector headlamps in a car, are:
Projector headlamps help concentrate the light on the road, thus offering better illumination
When running on low beams, projector headlamps are less likely to blind other drivers as they have a focused beam
The lens of a projector headlamp looks great on a car even during the day when they're turned off
Projector headlamps have the following disadvantages or issues:
The glass lens of a projector headlamp adds a significant weight to the car
The repair cost for a projector headlamp is higher in case of a crash or electrical breakdown
A badly-adjusted projector headlamp, especially an aftermarket one will blind oncoming traffic a lot more than a poorly-adjusted reflector headlamp
With a projector headlamp, it's not as easy to simply upgrade to a higher-wattage bulb
What Is A Projector Headlamp?
As the name suggests, a projector headlamp has a lens ahead of the light source to concentrate the light and provide a sharper, more focused beam for better illumination. Because of the protruding convex lens, they look good even during the day when they're turned off.

How Do Projector Headlamps Work?
Like conventional reflector headlights, projector headlamps use a mirror-like reflective steel bowl that intensifies the amount of light emitted by the bulb. However, unlike reflector headlamps, projector headlamps use a convex lens, also known as a condenser lens, to capture most of the light and focus it down the road. Thus, their beams are more concentrated and powerful for better illumination. Compared to a reflector headlamp, a projector headlamp is a lot more efficient at utilizing the emitted light to illuminate the road.
Projector headlights are now available in several mass-market cars. They use either halogen, HID, or LED light sources to illuminate the road. Unlike reflector headlamps, projector headlamps are much better suited for high-intensity discharge (HID) and light-emitting diode (LED) bulbs as their design allows them to illuminate more of the road surface at a farther distance.
How Expensive Is It To Repair Or Replace Projector Headlamps?
The cost of repairing or replacing a projector headlamp depends on the kind of repair it requires. Typically, the bulbs used in a headlamp have a lifetime of around 1,000 hours under normal working conditions. Once the bulb stops working, it needs to be replaced. A replacement halogen bulb will set you back by anywhere between Rs. 100 to Rs. 2,000 depending on the wattage and brand. Popular brands that manufacture halogen bulbs include Philips, Osram, and Bosch.
In the event of an accident or complete projector headlamp assembly failure, replacing the headlamp cluster can cost you Rs. 20,000 - 25,000 for an entry-level car like Swift ZXI Plus, which uses LED projector headlamps. In comparison, a reflector headlamp cluster will cost between Rs. 4,000 and 6,000 for Swift ZXI or lower variants. For more expensive cars, you can expect to pay a lot more.
What Is The Cost Of An Aftermarket Projector Headlamp?
An entire aftermarket projector headlamp kit for mass-market cars such as the Wagon R, Swift, and Skoda Rapid can cost anywhere from Rs. 24,000 to Rs. 40,000. This includes 2 projector headlamps, HID bulbs, and LED DRLs with integrated turn signals. However, we do not recommend aftermarket projector headlamps as their quality is far inferior to OEM-spec projector headlamps. An inferior projector headlamp setup could not only result in improper illumination but also blind other drivers, thereby resulting in head-on collisions due to poor visibility. If you want this feature in your car, then we suggest buying a car with this feature upfront. The next best option is to get the projector headlamp assembly for a higher variant of your car in case your variant doesn't get this feature. However, you may run into issues with incompatible couplers in the wiring assembly.
How Easy Or Complex Is It To Install A Projector Headlamps?
If you intend to install projector headlamps, there are several aftermarket options available. However, as stated earlier, we do not recommend these units as they can do more harm than good. Even if you intend to install OEM-spec projector headlamps, we recommend you get them fixed by a qualified technician or at an authorized service center since these units need to be aligned perfectly to offer the best illumination. Besides, improper installation could result in a blown fuse, or worse, fire due to improper wiring.
What Cars Get Projector Headlamps?
In India, most cars from the B1 segment (Maruti Nexa Ignis, Tata Tiago, Hyundai Grand i10 Nios) and above get projector headlamps, at least in their higher variants.
Verdict - Should I Get Aftermarket Projector Headlamps?
As mentioned above, we do not recommend installing aftermarket projector headlamps. However, if you need more illumination, make sure your model comes with a projector headlamp in its top variant. This way, you could buy an OEM-spec projector headlamp and upgrade it throughout your ownership period. However, buying an OEM-spec projector headlamp isn't cheap. In more ways than one, it makes better sense to buy a higher variant that offers this feature than buying an OEM-spec part later.
Let's take a look at the Maruti Suzuki Swift as an example. If you intend to buy the projector headlamps that are offered in the Swift ZXI Plus variant, you are looking at spending around Rs. 45,000 for a pair of projector headlamp units. Now, let's look at the price difference between the Swift ZXI, which offers reflector-type headlamps, and the Swift ZXI Plus, which offers projector headlamps:
In this instance, you are looking at a premium of Rs. 78,000. Subtracting the cost of the projector headlamps you intend to fix after you buy the car, you are looking at a premium of Rs. 36,000. For this additional premium, you get plenty more useful features, such as a rear parking camera, stylish machined alloy wheels, and a colored MID. In our opinion, the additional features far outweigh the extra cost and the hassle of reliability concerns and warranty risks of an aftermarket OEM-spec projector headlamp setup.
Note: Check your Car EMI with our - Car Loan EMI Calculator
You can use our Fuel Cost Calculator to see how much any petrol, diesel, or CNG car will cost to run based on the latest fuel price in your city.