BYD Partner With HDFC Bank For Dealer Finance | V3Cars
BYD India have signed an MoU (memorandum of understanding) with HDFC Bank to provide a financing solution for their dealer network across India. This partnership will provide BYD's dealers access to inventory finance for BYD's electric cars.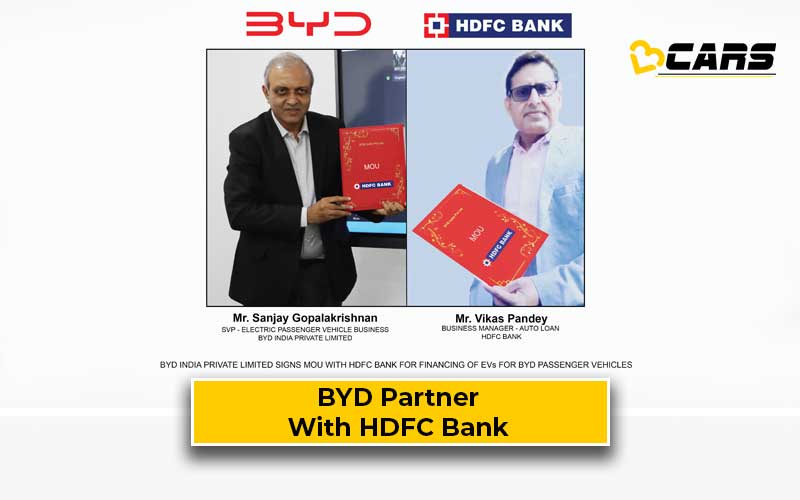 HDFC Bank is India's largest private sector bank by balance sheet size. Their dealer finance solution provides a host of customized products that offer tailored solutions for electric car dealers and BYD's end customers.
Note: Check your Car EMI with our - Car Loan EMI Calculator
HDFC Bank has committed to becoming carbon neutral by FY2031-32. This partnership will help the bank fulfil its commitment. According to the brand, the Indian car market saw a 1% EV penetration in January 2022. BYD have a goal to achieve net zero emissions by 2070 in India.
Commenting on the tie-up with BYD India, Mr. Vikas Pandey, Business Manager, Auto Loan, HDFC Bank, said, "We believe in creating an eco-system that brings OEMs, dealers and financiers together thus enabling customers to purchase their Electric Vehicle. BYD India has been the driver in bringing advanced technology in Pure Electric Vehicles globally and we are delighted to partner with them to enhance sustainable travel in India."
Note: Check your car's fuel cost with Fuel Cost Calculator in India
Mr. Sanjay Gopalakrishnan, Sr. Vice President - Electric Passenger Vehicle Business, BYD India, said, "The strategic tie-up with India's largest private bank gives our dealers the access to Inventory Funding & Cash credit which will also help them manage other expenses. Dealers are the frontrunners for our electric car sales and we are happy to support them through this tie-up. We are on track towards building a stronger ecosystem and facilitate EV adoption in our country."
Also Read: BYD E6 Now Available On Lease In 5 Cities With ORIX Auto | V3Cars