Kia Make Auto-Clutch (IMT) Standard W/ Sonet, Seltos, Carens Turbo Petrol & Diesel | V3Cars
Kia rolled out their BS6 Phase 2 and RDE-compliant versions of its 2023 range of SUVs and MUVs on April 1, 2023. Apart from the launch, Kia also announced that the diesel and turbo petrol variants of the 2023 Sonet, Seltos and Carens now come with auto-clutch manual transmission as standard choice of transmission. Kia call it the IMT or the Intelligent Manual Transmission and it doesn't get a clutch pedal for changing gears.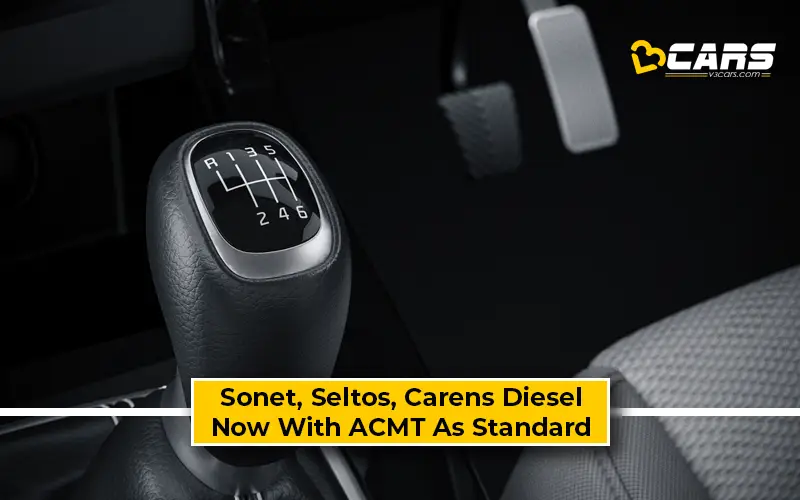 While the Sonet offered the ACMT with the turbo petrol engine, for the other cars, ACMT now replaces the 6-speed full-manual transmission with their respective turbo petrol engines. The Seltos is another car, which offered the 6-speed ACMT with the 1.5L normal petrol in the HTK Plus variant. This is no longer available as the auto-clutch manual transmission becomes exclusive to the turbocharged engines.
Also Read: Kia Sonet Diesel-Automatic Spotted Testing In Pune (It's Not CNG)
Kia Sonet, Seltos And Carens Diesel Update For 2023
Starting April 1, all diesel variants of the Kia Sonet, Seltos and Carnival come with BS6 Phase 2 and RDE-compliant 1.5L turbo diesel engines. In the process of updating the 2 SUVS and 1 MUV, Kia have replaced the 6-speed manual transmission with the 6-speed auto-clutch manual transmission (ACMT). Kia say this move "will transform the diesel driving experience which is considered highly inconvenient due to heavy clutch usage and India's road and traffic conditions."
According to the manufacturer, the ACMT technology is superior to a conventional manual transmission as it offers a range of benefits such as eliminating clutch fatigue and engine stalling in higher gears at low speeds. Kia also say the ACMT in the 2023 Sonet, Seltos and Carens diesel offers better fuel efficiency than the manual transmission offered earlier. Kia's ACMT option was popular among car buyers in 2022, with 1 out of every 3 Sonet packing the ACMT technology. With the introduction of the Sonet diesel-ACMT, we can only expect the share of ACMT cars sold by Kia to rise in the coming months.
"Kia has been known for bold and meaningful disruptions shifting customer preferences for years. We are undisputed market leaders in iMT since its launch with the petrol edition in the Sonet in 2020 and in the Seltos in 2021 and feel that it's the right time to revolutionise diesel drive experiences with the breakthrough technology. Our deep research and customer feedback showcase how India loves a clutch-free thrilling driving experience that allows them to navigate the growing traffic on the roads without restricting their long commutes to work or leisurely vacations. With iMT, Kia customers will now be able to enjoy the comfort of an automatic with the drivability of a manual transmission," said Tae-Jin Park, MD & CEO, Kia India.
Also Read: Kia Seltos GT Line Facelift Spotted
Note: Check your Car EMI with our - Car Loan EMI Calculator
2023 Kia Sonet, Seltos, Carens Diesel ACMT Prices
The prices of the diesel variants of Sonet, Seltos and Carens with the ACMT technology start from Rs. 9.95 lakh, Rs. 12.39 lakh and Rs. 12.65 lakh, respectively. Take a look at the variant-wise prices of the petrol- and diesel-ACMT variants of all 3 models below:
Note: Check your car's fuel cost with Fuel Cost Calculator in India