Mahindra Plans To Launch Product Offensive; Will Launch 9 Cars In 5 Years
Mahindra has been riding the high horse since the launch of the new Thar in October 2020 and the carmaker has no plans of getting off it. Mahindra has said that it will launch 9 new cars in the next five years including the much-awaited 5-door Thar, next-gen Bolero and two dedicated EVs.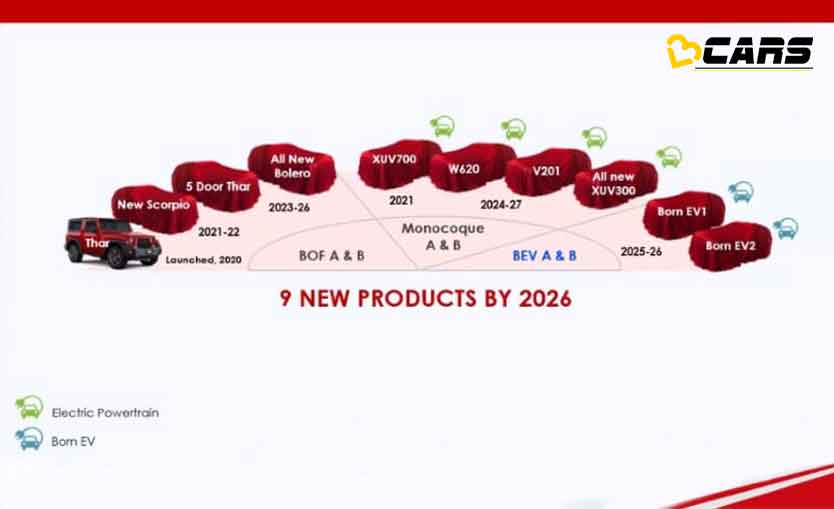 The onslaught will begin with the launch of the XUV700, which will be replacing the XUV500 SUV in the carmaker's lineup. It will go on sale by September 2021, followed by the launch of the next-gen Scorpio in early 2022. Both of the SUVs have already been testing in the country.
Mahindra has also confirmed the much-awaited 5-door Mahindra Thar which is expected to arrive in 2023. It will be a more practical version of the standard Thar with a more usable second row of seats. The 3-door Thar also offers two forward-facing seats at the back but they offer limited space. Compared to the 3-door version, the 5-door Thar should have a longer wheelbase and length while the engine and transmission options are likely to be carried forward as such. 
Mahindra is also working on the next-gen Bolero which is likely to go on sale by 2026 ahead of the launch of the next-gen XUV300 around 2027. Mahindra has also confirmed two additional two models codenamed the W620 and the V201. 
While Mahindra has not revealed anything about the two models. we have a fair idea of what these two models could be. The W620 could be Mahindra's new flagship offering the XUV900 which will replace the Alturas G4. As confirmed earlier, the XUV900 will be a coupe SUV that is likely to share its underpinnings with the upcoming Mahindra XUV700. 
The V201, on the other hand, could be the next-gen Mahindra XUV500 which has already been confirmed by Mahindra. It is likely to be a 5-seater SUV taking on the likes of the Hyundai Creta and Kia Seltos. Both W620 and the V201 SUVs will go on sale during 2024-2027 with W620 being the first one to launch. 
Mahindra has also confirmed the launch of Born EV1 and EV2 in 2025-2026. Both of these EVs will be underpinned by Mahindra Electric Scalable Modular Architecture (MESMA) which was showcased at the 2020 Auto Expo. Along with the two dedicated EVs, Mahindra will also launch the electric versions of its IC-powered cars like the XUV700, V201, W620 and the next-gen Mahindra XUV300. All of these EVs will share their underpinnings with their IC-powered models. Mahindra had already showcased the electric version of the current-gen XUV300 and its launch might also be on cards for the near future along with the electric KUV100.