Maruti S-Presso: Official Accessories Explained - Worth Buying?
Now that the Maruti SPresso is launched, let's take a look at the accessories on offer before you make up your mind about buying the car. If you have already decided to buy the car, here's a list of accessories and how much will they cost to personalize your ride.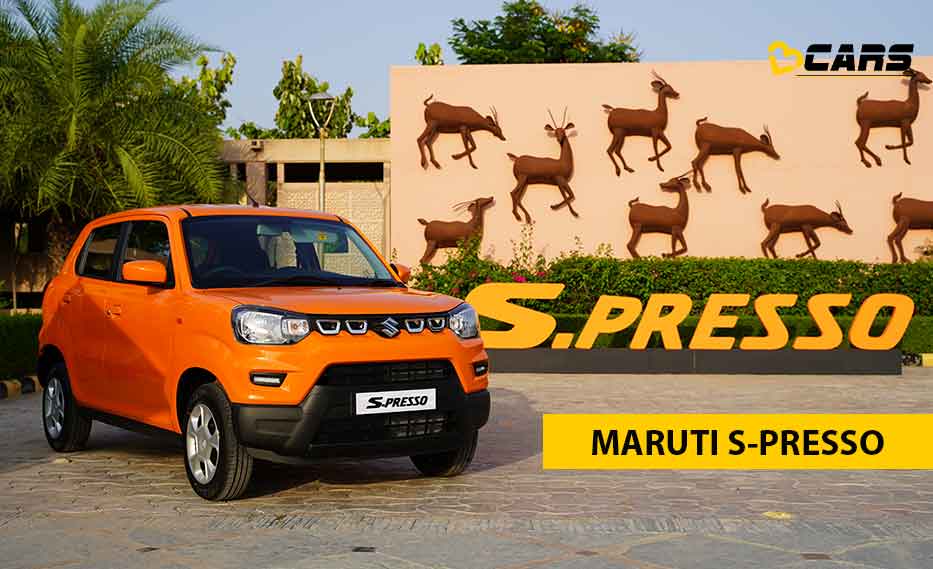 The Buy Rating is on a scale of 1 to 10, where 1 = DO NOT BUY and 10 = MUST BUY.
Disclaimer: It's a personal opinion and buyers are advised to make their decision based on their respective taste and personal preferences.
Maruti S-Presso Exterior Accessories
While mostly cosmetic, these accessories at times add functional value to the vehicle too. So, let's go through each one of them and decide if these are worth the asking price.
Let's start with what catches the eye, exterior accessories.
Accessory Name

Price (Rs)

Colours available

Buy Rating

Graphics

Unknown

- Peppy Flow

- Dual-tone

- Red highlight

3/10

Upper grille garnish

1590

- Red

- Blue

- White

- Silver

- Grey

8/10

DRL

9990

White

4/10

Front skid plate

1490

Silver

6/10

Rear skid plate

1790

Silver

6/10

Side skid plate

3490

Silver

4/10

Bumper bezel garnish

990

- Blue

- Red

- White

- Orange

9/10

Lower bumper garnish

1190

Silver

3/10

Wheel cover (13-inch) 4 pcs

1690

Silver

7/10

Machined alloy wheels (14-inch) 4 pcs

22360

Silver

6/10

Wheel arch cladding

4290

Black

7/10

Door side cladding (wide)

3990

Black

8/10

Door side cladding (small)

2890

- Silver

- Orange

7/10

Window chrome line

2990

Chrome

1/10

Boot lid chrome garnish

990

Chrome

2/10

Rear mini spoiler look

2290

Grey

6/10

Rear full spoiler

3290

- White

- Silver

- Orange

- Red

- Black

- Blue

- Grey

6/10

Door visors

1090

Black

10/10

ORVM, IRVM, and door sill guard garnish

4990

- Silver

- Red

- Blue

4/10
The graphics add some character to the vehicle but we do not know how much they cost. We believe they'll be on the expensive side and since they don't add much value to the vehicle, we have rated them at 3 out of 10.
The upper grill garnish, however, totally transforms the front of the Maruti S-Presso. It's also available in five colours for you to mix and match. They're also priced quite well so we give it a BUY rating of 8/10.
The daytime running lights are priced at Rs. 9990, which is quite high. While it does look nice, at almost 10k rupees, we don't think they're adding enough value to justify the price.
Same goes for the faux skid plates, front, rear, and sides. At Rs. 1490 and Rs. 1790, the front and rear skid plates are still palatable, but at Rs. 3490, the side ones are not adding enough value. Especially, because these are only cosmetic upgrades and not real skid plates.
Bumper bezel garnishes, though, at only Rs. 1000, adds a nice contrast since they're available in blue, red, white and orange shades. It's also visible from all angles and will also help in protecting the bumper from minor scratches, which tend to accumulate on all four corners of the vehicle. This is worth its price. Lower bumper garnish, on the other hand, not only looks tacky, it also doesn't do much. Not to mention, it's pricier than the bezel garnish and only available in silver colour.
At Rs. 1690, wheel covers are well priced and can be purchased to hide the plane-Jane steel wheels. We'd have liked it more if it used the bolts as a form of retention. Without it, these are easy to remove and thus, prone to fall or get stolen. Machined alloy wheels are also reasonably priced at Rs. 5590 apiece, but go for it only if you absolutely need to have a set of alloy wheels. Note that, the wheel covers are available for lower variants (STD and LXI) only, which come with 13-inch wheels.
Wheel arch and door cladding are also worth considering as they save plenty of visits to the workshop while also adding to the micro-SUV appeal of the Maruti S-Presso. Note that the wide cladding is only available in one colour but the small cladding is available with orange or silver accents.
We suggest you stay away from the chrome window line. Not only does it take away from the rugged look of the Maruti S-Presso, but it also costs a lot for what it offers. The same goes for the boot lid garnish. Except, it's more reasonably priced at Rs. 990.
Pick either the rear mini spoiler or a full spoiler based on your preference. The full spoiler costs Rs. 1000 more but also provides a better protection from the sun since the rear windshield is fairly raked. The bigger spoiler is also available in a slew of colours if you're planning to add some contrast. Just be aware that neither of these spoilers is going to do what a real spoiler does on a sports car. The SPresso is not capable of getting to speeds where it needs a tonne of downforce to keep it from flying.
The door visors, however, add to the form and function and are also very well priced, unlike the ORVM, IRVM and door sill garnish package, which costs too much for what it offers.
Maruti S-Presso Interior Accessories
Now that we've seen the exterior accessories, let's step inside and decide what Maruti S-Presso interior accessories you should choose.
Accessory Name

Price (Rs)

Colours available

Buy Rating

Centre console and AC vent accents

3090

- Silver

- Red

- Blue

8/10

Interior styling kit

4990

- Silver

- Red

- Blue

5/10

Floor Mat - Grooves contoured

1390

Black

10/10

Premium carpet mat

1190

Black

5/10

Deluxe carpet mat

990

Black

6/10

Designer mat

1690

- Orange

- Red

4/10

Black rubber mat

1090

Black

9/10

Transparent mat

1290

NA

7/10
Inside, the accent around the centre console and AC vents is highly recommended as it lifts the spirits every time you look at the dash. It's also not that expensive. Having the driver's console in the centre instead of behind the steering wheel is a cost-cutting measure for which Tata Nano received plenty of criticism. But Maruti designers have executed it rather well and throwing in some colours makes it look very nice.
However, the interior styling kit does not offer the same feel-good vibe as it adds the colours on the door panels, which don't grab much attention. Also, they're about  66% more expensive than the centre console accents.
When it comes to the floor mat, there are quite a few options you can pick from. There are 2 carpet mats, 5 rubber style mats and 1 transparent option. But, the one that offers the best value is the contoured Grooves floor mat. The contours will help retain any liquid that spills and it offers the same waterproofing abilities of the rest for a reasonable sum of Rs. 1390. If you're looking at creating a colour combination, then you can consider the designer mats but we don't think they offer enough value for us to recommend.
Maruti SPresso Seat Covers
| | | | |
| --- | --- | --- | --- |
| Seat Covers Style | Material | Price (Rs.) | Buy Rating |
| Quilting finish | Premium Polyurethane | 6690 | 6/10 |
| Silver lining finish | Premium polyurethane | 6790 | 6/10 |
| Wave line finish | Regular polyurethane | 5690 | 5/10 |
| Bold Zap red line finish | Regular polyurethane | 5890 | 5/10 |
| Cross runner highlight | Regular polyurethane | 6090 | 5/10 |
| Bull horn finish | Regular polyurethane | 6090 | 5/10 |
| Techno beats finish | Regular polyurethane | 6190 | 5/10 |
| Pitch lineup silver highlight | Regular polyurethane | 6190 | 5/10 |
| Etched diamond finish | Regular polyurethane | 6390 | 5/10 |
| Dual-tone fabric highlight | Fabric + Polyurethane | 6690 | 8/10 |
| Shadow comb highlight | Fabric only | 5490 | 4/10 |
In terms of seat covers, again, there are plenty of options available in four main materials:
Polyurethane (PU)

Premium PU

PU + fabric

Fabric
The premium PU material is going to be softer to touch. While the fabric-only option looks just too basic. We strongly recommend going against a PU seat cover,  as it heats up quite a lot and releases a platicky smell if you leave the car parked in direct sun for too long. It doesn't ventilate all that well and will leave your back and bottoms sweaty even if you run the AC on full blast. But, there's no denying the fact that these are hard wearing material and protect the edges of the seats quite well from scuffs and tears.
So, we suggest you go for the Fabric + PU option, which provides the hard-wearing attributes of PU on the edges while still being breathable at the back and the base.
Maruti SPresso Other Accessories
Accessory Name

Price (Rs)

Buy Rating

ISOFIX Child seat

29990

4/10

Air purifier

- 4590

- 4990

- 11290

- 6/10

- 5/10

- 7/10

Digital tyre inflator

- 2355

- 2111

- 5/10

- 7/10

Rain repellent

450

10/10

Cushion

370

8/10

Tissue box

799

5/10
Among other accessories, you should definitely consider a child seat if you have a new-born, a toddler or a child up to 5 years old at home. An ISOFIX seat is not going to fit in the Maruti SPresso, so you can instead buy a universal child seat which fits in the car using the seat belt. These are also plenty safe (by European standards) and can be used in a car with or without an ISOFIX attachment. So you can move it to another car even if it doesn't have ISOFIX mounts. You can find these for around Rs. 4000 - 5000 on major online retailers.
You can also consider a cup holder style car purifier if you live in places like New Delhi. And the cup holder form factor also doesnt require any thought into figuring out where you can keep the purifier. Similarly, tyre inflator is also very well priced and proves its worth when the time comes.
The Glaco rain repellent is recommended if you think you might have to drive on the highways in rain. At highway speeds, you won't even have to use the wipers if you have applied a rain repellent on the windshield. Our quick online research suggest that it beats RainX at its own game. At just Rs. 450, it's a must buy.