Maruti Suzuki - 3rd Round Of Price Hike In 2023 | V3Cars
Maruti Suzuki recently announced that they will hike the prices of their cars from April 2023. This comes as a shock considering that they have already done this exercise, quite aggressively, might I add, twice already in 2023 alone. The announcement came from Maruti Suzuki as they informed investors via the National Stock Exchange's communication channels.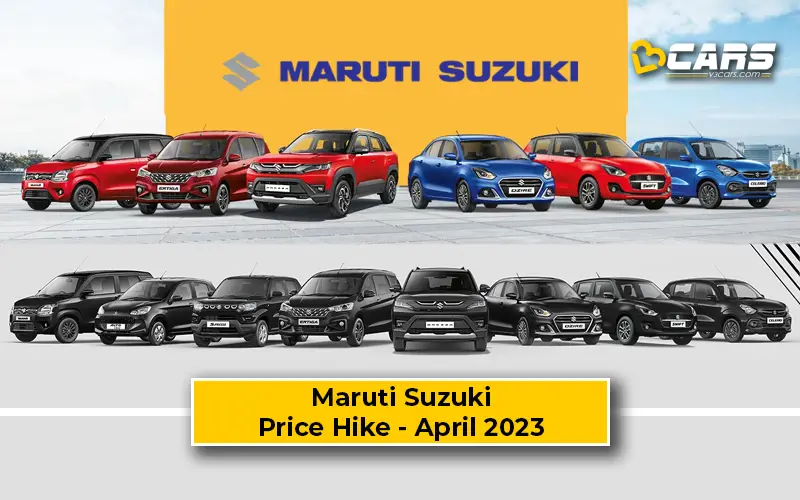 Here's how the official statement read:
"The Company continues to witness increased cost pressure driven by overall inflation and regulatory requirements. While the company makes maximum effort to reduce cost and partially offset the increase, it has become imperative to pass on some of the impact through a price increase.
The Company has planned this price increase in April, 2023 which shall vary across models."
Also Read: Latest Nexa Fronx SUV Expected Price Calculation - With Logic
Maruti Suzuki Nexa Fronx Petrol Variants Explained - Which One To Book?
Note: Check your Car EMI with our - Car Loan EMI Calculator
V3Cars Insight
In my opinion, Maruti Suzuki are late to the 'price-hike' party. I remember Tata Motors revising pricing of their vehicles quite frequently throughout 2022 and a good part of 2021. Now, as we appear to have reached the peak, we're starting to witness price wars starting in China, USA and some European countries. We too were pleasantly surprised to see Tata Motors announce a price cut for the Nexon EV.
In the western countries, banks are starting to crumble, people are losing their jobs and carmakers are dropping their car prices. While we wait for the tide to hit us, we should brace ourselves for a hard landing even if India appears more than ready to deal with economic uncertainties. In these situations, if cutting prices is not a solution, holding them steady for a while should convey a more balanced stance.
Maruti Suzuki have a reputation for taking their time to read the situation and only revise the prices if they see that they can hold those prices for a good while. To fine tune the prices, the minor regional adjustments come through manufacturer- and dealer-level discounts. After 2 price hikes in 2023 already, another one may prove expensive if the economy goes for a toss. Too big a sticker price and fat discounts, both have the power to ruin a brand. We hope Maruti Suzuki tread carefully with price hikes going forward and maintain operational readiness to push through a low-liquidity environment.
Also Read: Maruti Suzuki Working On Hydrogen CNG (H-CNG) Engines
Note: Check your car's fuel cost with Fuel Cost Calculator in India