Tata Punch CNG Expected Price Calculation (Variant-wise) - With Logic | V3Cars
In this article, we'll estimate the ex-showroom prices of Tata Punch CNG and explain the logic behind the calculations. To start with, we'll first see how much Tata currently charge for the CNG kit in their existing cars like Tiago and Tigor. Then guesstimate which variants of the Punch might get the CNG kit and at what price. Let's start with the CNG-kit's baseline premium in other cars.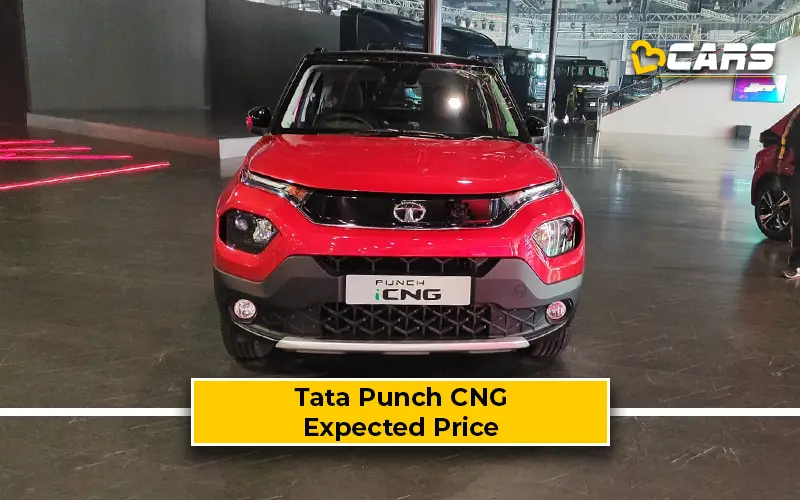 In the Tiago and Tigor, the comparable variants with the factory-fit CNG kit cost a flat Rs. 90,000 more than the petrol-manual variants.
In the Punch we don't expect all variants to get the CNG kit. We are expecting to see the CNG bi-fuel option in the higher 3 variants. Tata Motors showcased the Punch CNG at the Auto Expo with the sunroof. We are expecting to see this feature end up in the production version of the Punch when it gets a price revision. Tata may choose to reserve the sunroof for only the top-spec Creative variant. So, the Creative CNG could add more than just the cost of the CNG kit.
Speaking of the CNG kit, Tata charge Rs. 90,000 in the other cars but in the Punch, they're offering the split, 2 cylinders for storing the fuel. So, it has far better boot space than any other CNG car on sale today. There is some value in having a CNG car and some usable boot space to go with it.
For reference, Maruti Suzuki charge Rs. 95,000 for the CNG kit and offer far better fuel efficiency. The Punch negates the advantages of the higher fuel efficiency in the Maruti CNG cars with a usable boot space. So, we expect Tata to also charge Rs. 95,000 for their CNG option with the Punch. However, Tata are yet to revise the prices of the Punch, which they will do when they introduce the sunroof in the Creative variant. With that in mind, we expect the Tata Punch CNG to cost between Rs. 7.75 lakh and Rs. 9.50 lakh.
Also Read: Auto Expo 2023: Tata Solved Boot Space Problem With CNG Cars
Note: You should note that we're factoring in the price revision, which could make the Punch pricier by about Rs. 5,000 in the mid-spec variants. So, after the price revision, the effective price for the CNG kit should match what Maruti Suzuki charge for their CNG cars.
We're expecting to see a higher price increase for the top-spec Creative variant as it'll also get the sunroof.
Track our complete 2023 Auto Expo coverage at: Auto Expo 2023