Tata Punch CNG Expected Prices, Power, Torque, Launch Details
Tata Punch is the newest offering from Tata Motors and is very likely to get a CNG bi-fuel option very soon. Multiple spy shots of the Tata Punch CNG recently surfaced online, hinting at an imminent launch. The Tiago and Tigor are next in line to go on sale on January 19, 2022.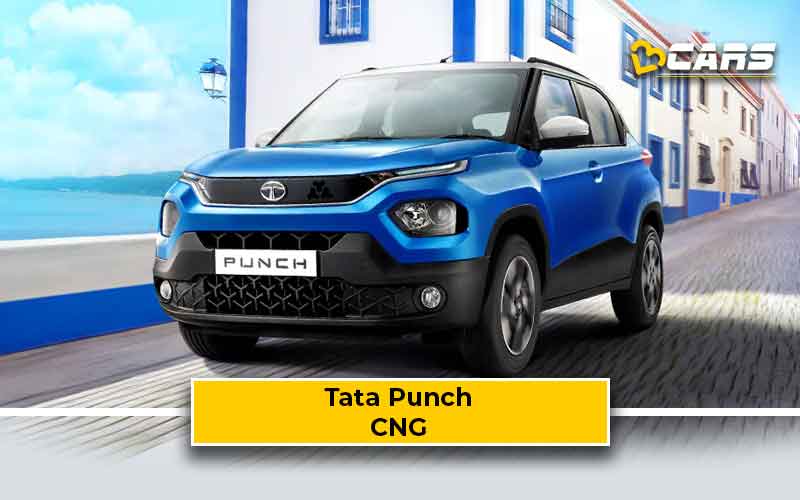 Since the Tata Punch uses the same 1.2L normal petrol engine, we can expect the Punch CNG to also offer similar power and torque output. Let's see what engine specs and drop in power and torque output we can expect from the Tata Punch. We'll use the petrol and CNG power, torque figures as estimates to get an approximate range of power and torque output of the Punch CNG.
Tata Punch CNG - Expected Engine Specs, Power, Torque Output
CNG CARS POWER TORQUE

Ertiga

WagonR

Grand i10

Santro

Alto

Displacement

1.5L

1.0L

1.2L

1.1L

0.8L

Power (Petrol)

105PS

69PS

83PS

69PS

48PS

Power (CNG)

92.5PS

59PS

69PS

60PS

41PS

Drop in Power

11.90%

14.49%

16.87%

13.04%

14.58%

Torque (Petrol)

138Nm

90Nm

114Nm

99Nm

69Nm

Torque (CNG)

122Nm

78Nm

95Nm

85Nm

60Nm

Drop in Torque

11.59%

13.33%

16.67%

14.14%

13.04%
Based on these figures, we can see that the bi-fuel cars from Maruti Suzuki and Hyundai tend to suffer an 11.9 - 16.87% drop in power when running on CNG compared to when running on petrol. In terms of torque output, these cars offer 11.59% to 16.67% lower figures than petrol when running on CNG.
Based on these estimates, we can say that the Punch CNG could have an estimated power output of 71.5 to 75.8PS. The Tata Punch CNG could offer peak torque output between 94Nm and 100Nm. We are expecting the Tata Punch to offer middle-of-the-road performance with 72PS of power and 95Nm of torque.
With the 1.2L petrol engine, the Tata Punch makes 86PS of power at 6000rpm. The mini SUV's torque output stands at 113Nm, which, for a petrol engine, peaks at a fairly low 3300rpm and gives the crossover satisfactory hauling ability.
Tata Punch CNG - Expected Prices
Currently, Maruti Suzuki charge a flat premium of Rs. 90,000 for the factory CNG kit over the petrol model. Meanwhile, Hyundai charge about Rs. 70,000 to 77,000 for the CNG kit in the Santro. With the Grand i10 Nios, the price jump for the CNG kit is roughly between Rs. 92,000 and Rs 1.07 lakh. For the Aura CNG, Hyundai ask for an additional Rs. 94,000. This premium is quite high for the CNG kit.
We expect Tata Motors to charge about Rs. 70,000 for the CNG kit over the comparable variants of the Punch petrol. This is because the Punch petrol is already an expensive car for what it offers. So, the lucrative pricing of the CNG kit could make it a better value for money.
Also Read: Tata Tigor CNG, Tiago CNG Launching On Jan 19