Here's Why Maruti Grand Vitara Hybrid Is More Expensive Than Toyota Hyryder Hybrid | V3Cars
In this article, we'll try to find out why the Maruti Suzuki Grand Vitara hybrid variants are more expensive than the comparable variants of the Toyota Hyryder with the hybrid powertrains. Along with that, we'll also analyse whether the Maruti Grand Vitara justifies the higher price tag or not. Let's start with the price differences.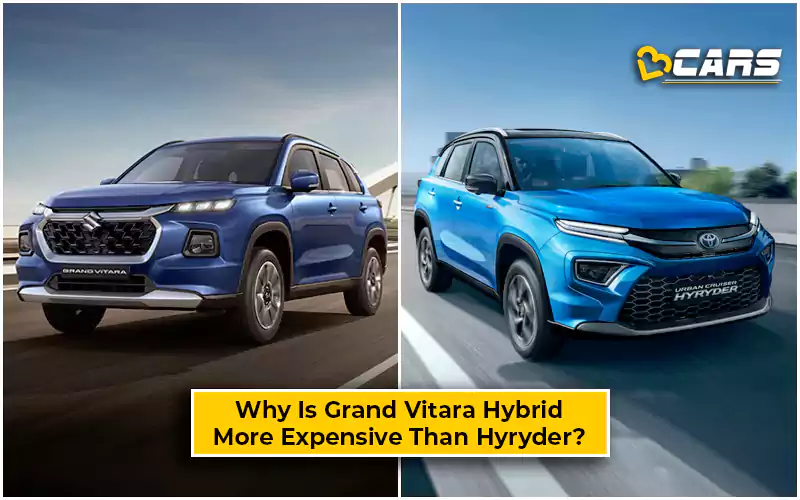 Maruti Nexa Grand Vitara Vs Toyota Urban Cruiser Hyryder Hybrid - Price Comparison
In the following table, you can see the variant-wise price comparison of the Grand Vitara and Hyryder's hybrid powertrains:
As you can see, the Grand Vitara Hybrid is only available in the top 2 variants, while the Hyryder is available in 3 variants, allowing Toyota to offer the hybrid powertrain at a more affordable price. Moreover, the hybrid variants of the Toyota Hyryder are Rs. 50,000 cheaper than the Grand Vitara's comparable hybrid variants.
Note: Check your Car EMI with our - Car Loan EMI Calculator
Nexa Grand Vitara Hybrid Additional Features
For the early adopters of Grand Vitara hybrid, Maruti Suzuki are also providing the following freebies under the Pristine pack
5 year/1,00,000km extended warranty
Front bumper extender with dark chrome
Rear skid plate with dark chrome
Side skirt with dark chrome
Headlamp garnish with dark chrome
Body side moulding in dark chrome
Door sill guard
All weather 3D mats
Boot mat
Boot sill guard
Interior styling kit
Nexa cushion set
High performance vacuum cleaner
Maruti Suzuki claim that these features are worth Rs. 67,000. We can assume that some of these accessories will carry a slightly inflated price in the official accessory list. Still, we believe that these features and the additional warranty add up to about Rs. 40,000 - 45,000 if you choose to add these accessories from the aftermarket. So, the Rs. 50,000 price premium for the Grand Vitara hybrid is almost justified over the Hyryder.
Also Read: Maruti Suzuki Grand Vitara Pristine Accessory Pack Details
Additional Benefits Of Nexa Grand Vitara
Besides the Pristine accessory pack, the Grand Vitara will also enjoy a wider sales and service network. So, you won't have to drive too far for the yearly service visit even if you live in one of the smaller cities. Maruti Suzuki also have a wide network of outlets for sales of genuine spare parts. While it's too early to talk about it, if you choose to get your car's service done from a local shop after the factory warranty expires, you can easily buy authentic spares for your Grand Vitara hybrid. The wider service network also helps Maruti cars maintain high valuations in the used car market. Although Toyota's reputation for reliability also does the same thing for their cars.
Also Read: Maruti Suzuki Grand Vitara Petrol Variants Explained - Which One To Buy?
Note: Check your car's fuel cost with Fuel Cost Calculator in India