First Drive Review: Maruti Suzuki S-Presso
Maruti Suzuki S-Presso is aimed to offer an SUV-like experience in the entry-level space. Its price starts from Rs 3.69 lakh and goes up to Rs 4.91 lakh (ex-showroom, Delhi). The SPresso's top VXi+ trim, with both manual and AMT automatic transmission, is the variant to buy.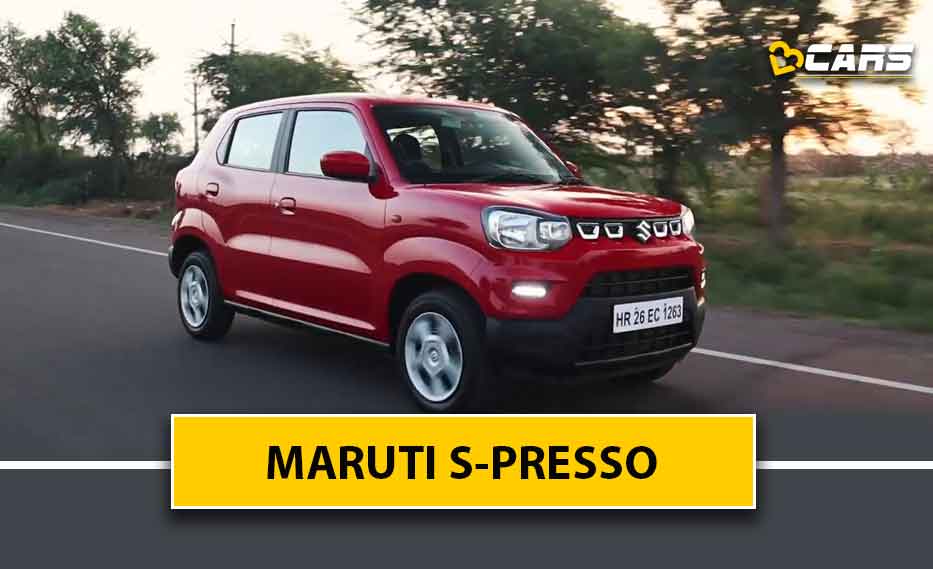 Having driven the Maruti SPresso VXi+ in both manual and AMT automatic flavours, we tell you whether it is successful in delivering the SUV-like experience that Maruti Suzuki is promising or not.
Maruti SPresso Exterior: A micro-SUV or just a tall hatchback?
The S-Presso is termed a micro- or mini-SUV because of how it looks on the outside. It is otherwise a hatchback underneath as it is based on the Japan-spec electric WagonR. In India too, this platform would form the basis of Maruti Suzuki's first electric car. Read more about it.
As far as its dimensions are concerned, the S-Presso is an entry-level car. It is overall smaller than the WagonR, but there are a lot of design elements that impart it the SUV-like appearance, like the upright A-pillar and higher proportion of metal over glass.
| | | | | |
| --- | --- | --- | --- | --- |
| | S-Presso | Alto K10 | Celerio | WagonR |
| Length | 3565mm | 3545mm | 3695mm | 3655mm |
| Width | 1520mm | 1490mm | 1600mm | 1620mm |
| Height | 1564mm | 1475mm | 1560mm | 1675mm |
| Wheelbase | 2380mm | 2360mm | 2425mm | 2435mm |
Apart from being upright, the S-Presso's bonnet is also slightly flared at the extremes, which adds some muscle. Thankfully, it's not overdone. It has a small front grille and that helps add more visual mass to the already large bumper. The lower black plastic section of the bumper adds some ruggedness to the face. The Maruti SPresso features regular reflector-type headlamps in all variants and there are no LED DRLs on offer as well. The ones that you see on the front bumper are a part of Maruti Suzuki's official accessory list and cost a whopping ~Rs 10,000. However, these add a bit of spice to the S-Presso's frontal appearance; we did see the car minus these at the launch and it looked quite bland.
The Maruti SPresso looks boxy from the side, and that's good for a car that's trying to make you believe that it's an SUV, no matter what the size. The wheel arches have been cleverly designed and 14-inch wheels on the S-Presso don't look tiny. This is despite the fact that there's a large gap between the rear wheel and the wheel arch.
Both the front and rear fender feature a curved line above the wheel arches that give it a faux flare. Like the muscle on the bonnet, these are also subtle and don't try to impart any false impression. What you'll miss on the side are roof rails, those might have given it a stronger appearance. The one element that we absolutely hate about the Maruti S-Presso's design are those flap-type door handles. Nothing on the outside makes the SPresso look cheap other than these.
The S-Presso's rear design can be best described as simple and effective. It features squarish tail lamps, a dual-tone bumper with a thick black plastic, horizontal reflectors and an integrated roof spoiler -- no matter in way you put together these cosmetic entities, these would look good on any car. Check out the Hyundai Venue, for example.
So overall, Maruti Suzuki has managed to pull-off the S-Presso's micro-SUV design well without making it scream for that SUV tag. Quite frankly, the Maruti SPrsso is not an SUV, but it's good to be driving a small boxy car that gives you a high driving position and bumpers that won't get scratches when carkissed. It's practical. Period.
Maruti SPresso Interior: An SUV from inside?
Forget the SPresso's upright stance, its interior quality is the highlight for us. The quality of plastics, the consistency in quality, the switchgear and the way the interior is put together is top notch by entry-level car standards. The plastic on the inside is also black and not grey, this further makes it look more upmarket.
The S-Presso's dashboard design features the instrument console in the middle, and for once, it is not something that we dislike, although we did miss the lack of driver information behind the steering wheel. The centrally-placed instrument console makes the S-Presso's interior feel less bland and doesn't let you feel like sitting inside just another Maruti. The orange inserts (grey for cars with any exterior colour apart from orange) look upmarket and make the interior feel youthful. Buyers can separately get red, silver and blue insert as well at an additional cost of around Rs 3090.
The Maruti Suzuki S-Presso tries to give you that SUV-wali feeling by way of:
Upright driving position,
Bulge on the bonnet,
Less-wide dashboard (in terms of the space between driver and windshield)
However, tall drivers might find the driver's seat a bit too upright. Since headroom is not a problem in the SPresso, even for six-footers, a larger windscreen would have helped. Another thing that may bother tall drivers is that neither the driver's seat is height adjustable nor is the steering is adjustable for rake. Fortunately, ingress and egress is easy thanks to the doors that open wide, high roofline and high ground clearance.
Setting the driving seat according to a six-footer will leave enough space for a similarly sized person to sit behind. That leads us to conclude that the SPresso is amongst the most spacious cars in its segment, if not the most. So, even four large people inside the S-Presso will sit comfortably. Apart from not being able to operate windows with the touch of a button, rear passengers, especially tall people, will also complain about the fixed headrests that don't offer much support. Headroom, however, is more than adequate for rear passengers.
Overall, the S-Presso does carry forward the mini-SUV appeal on the inside. But it's the sense of space and the quality of materials that will convince you to buy this car other than anything else.
Maruti SPresso Driving: Can it off road like an SUV?
The S-Presso is built on the smallest (yet) version of the Heartect platform -- Heartect K. Since it's a tall car, and one with high ground clearance, the S-Presso does exhibit body roll. However, it may not bother you, primarily because as a driver you might not want to take it to the point where it starts to. It rides well over bad roads at almost all sane speeds. That's one quality why a lot of us buy SUVs for, so kudos to the small car for staying true to the SUV theme.
The engine is the same 1.0-litre unit that powers the Alto K10 and WagonR 1.0. It makes 68PS of maximum power, adequate for a car of the S-Presso's size. On our highway drive, the S-Presso managed to cruise between 80kmph to 100kmph with ease with four people on board. The engine does start to scream when you accelerate the car, but the noise reduces once you allow the speedometer to settle.
| | |
| --- | --- |
| Powertrain | Petrol-manual |
| Drivetrain | FWD |
| Engine Displacement | 1.0-litre |
| Transmission | 5-speed manual / 5-speed AMT |
| Maximum power | 68PS |
| Peak torque | 90Nm |
| Fuel Economy (claimed) | 21.7kmpl / 21.4kmpl (STD & LXI) |
There's a choice of transmission in the Maruti SPresso, you can either buy it with a manual transmission or opt for an AMT by paying around Rs 40,000 more. The AMT behaves in its characteristic manner and it's eager to upshift. The upshift time (the time it takes to shift from a lower gear to higher) is not quick. This leads to the head-nod that a lot of people complain about. However, over a period of time, we have realised that this head-nod can be dealt with by shifting gears manually and revving the engine a bit just before making gear changes for a smoother transition. The fact that an AMT costs almost half of what a traditional torque converter type automatic transmission does, and matches the ease of driving to a certain extent, gives it a soft corner in our hearts (and brains).
Now answering the question that we raised in the first place -- can the Maruti S-Prsso off-road like an SUV₹No, it can't. It's just a raised hatchback, so it won't scrap its belly all that often.
Maruti SPresso Review Verdict: Worth buying?
The Maruti Suzuki S-Presso is not a car that we'd recommend for its SUV-like stance. Road presence is not just about stance, but size as well, and the S-Presso clearly can not overshadow even compact hatchbacks. So buying it thinking that it's an SUV is nothing but a mirage.
However, we'll put our money on the Maruti S-Presso for other, more important, reasons. First up, the interior quality is appreciable for an entry-level car. Secondly, the cabin is spacious, which means an entry-level car buyer can now buy a car not just for a small family (husband, wife and kids), but also for friends (four grown-up adults). In both these departments, the SPrsso does set a new benchmark in this segment.