Opinion - Should Maruti, Hyundai, Kia, Tata Worry About Ola Electric Car?
Ola's electric scooter is making waves and for good reasons. Now, it's not mere speculation. The CEO of Ola Electric, Bhavish Aggarwal, confirmed that they're working on an electric car too. Let's try and understand the Ola S1 scooter better to see if they have a shot at making customers happy and other carmakers uncomfortable. Then we'll look at where the traditional carmakers stand to figure out if they should worry about the upcoming Ola electric car.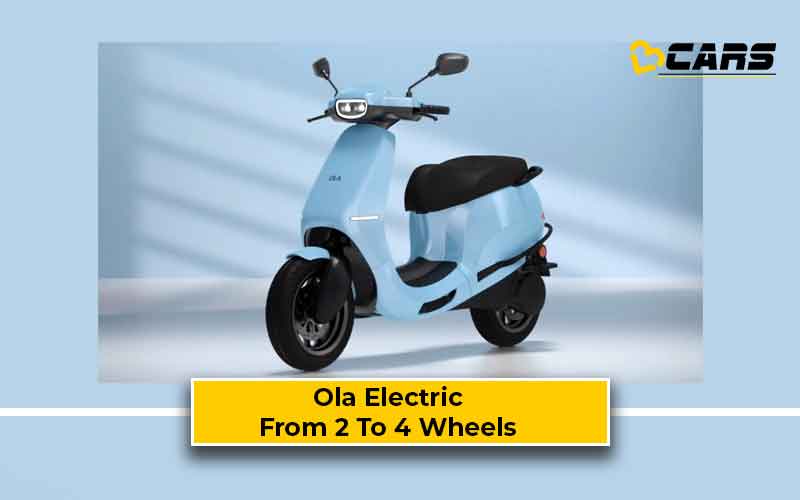 A few weeks ago, Ola launched their first electric scooter - the S1 for Rs. 1.0 lakh (ex-showroom). There's also the more powerful S1 Pro available for booking. It offers higher top speed, a longer range, a few extra features and more colour options for an extra Rs. 30,000. The prices seem quite high for a scooter until you factor in the subsidies and the savings from significantly lower ownership expenses.
Before we even think about the Ola 'C1' electric car, we should evaluate their S1 electric scooter to appreciate this masterstroke. To do that, we have to pit it against the default scooter choice of an Indian household - the Honda Activa. And nothing beats our V3-style value-for-money analysis. So, let's get to it.
Ola S1 Electric Scooter Vs Honda Activa Comparison - Which One Offers Better Value For Money?
There are 5 aspects to consider when calculating the value for money and ownership costs:
Upfront cost

Features & style

Fuel or running costs

Maintenance

Resale value or depreciation
So, let's get to each one of them one by one.
1. Ola S1, S1 Pro Electric Scooter Vs Honda Activa - Upfront Cost Comparison
I'll start with the upfront cost. The Honda Activa has an ex-showroom cost of around Rs. 70,300 to Rs. 72,000 for the standard and Deluxe versions, respectively. According to reputable 2-wheeler portals, the on-road cost comes down to roughly Rs. 81,900 for the STD and Rs. 83,400 for the Deluxe.
The ex-showroom cost for the Ola S1 is Rs. 1.0 lakh for the standard and Rs. 1.3 lakh for the Pro model. The on-road cost will vary from state to state and city to city because of different subsidy models. So, I'll take Delhi as the standard baseline, where the S1 has an ex-showroom price of Rs. 85,100 while the S1 Pro costs Rs. 1.1 lakh before other taxes. The Ola S1 STD costs Rs. 91,000 on-road in Delhi and the Pro is at Rs. 1,16,500.
As you can see, the ex-showroom cost of the S1 standard is about Rs. 15,450 more than the Activa standard, but the on-road price difference is only Rs. 9,100. With their premium variants, the ex-showroom price difference between the Ola S1 Pro and Activa Deluxe is Rs. 38,750, while the on-road price difference is Rs. 33,100.
So, at least the Ola S1 is not as expensive as the ex-showroom price difference might suggest. The subsidies and lower taxes help the S1 with achieving a competitive price. Now the Ola S1 has to justify only the Rs. 9,100 premium, while the S1 Pro has to justify the Rs. 33,100 price gap to warrant an Activa buyer's serious consideration.
2. Ola S1 Electric Scooter Vs Honda Activa - Features & Style Comparison
Let's compare the feature differences between the Activa and Ola S1 before moving to the Deluxe and Pro comparison.
Compared to the Honda Activa STD, the Ola S1 standard easily justifies spending the additional Rs. 9,100 over the Activa STD. Similarly, in the case of the S1 Pro vs Activa DLX feature comparison, the S1 Pro warrants an upgrade over the Activa 6G DLX.
However, compared to the S1 Standard, the Pro's additional features are more aimed at customers who ride the scooters a lot. Because of the longer range, even those who don't have easy access to a domestic charging point can consider the S1 Pro to avoid everyday charging. The higher top speed also makes it suitable for riders who have to frequently ride on the highways as it can comfortably cruise at 80-90kmph. The inclusion of cruise control also makes it easier to cover these patches of highways in comfort. So, based on your feature preferences and needs, you can even consider buying the S1 Pro over the Ola S1 STD.
On the feature front, the Ola S1 and S1 Pro offer significantly more equipment to justify the higher asking price. The only aspect where the Activa has the upper hand is the longer riding range and faster refill times as fuel pumps are easily accessible. The Activa has almost a 300km range per tank fill if you get 55kmpl mileage. Meanwhile, the Ola S1 Pro claims to deliver a range of 181km on a full charge, which is much less than the Activa's but still satisfactory for most scooter owners.
3. Ola Electric Scooter Vs Honda Activa - Fuel & Running Cost Comparison
Now that we know that the additional features of the S1 and S1 Pro easily justify the price premium over the Activa 6g STD and DLX variants, let's see how much money the Ola S1 will save you during the ownership.
If we go by the claimed efficiency figures, then we can expect to save almost Rs. 17,000 for every 10,000km we ride the Ola electric scooter. Let's say we cover a total of 50,000km during the scooter ownership. Then, we can save almost Rs. 85,000. This is assuming the petrol price remains at Rs. 103.25. With one glance at the historical data, we can confidently say that petrol will become a lot more expensive. So, it's safe to say that the actual savings will be much more than what the figures indicate here.
However, there's one more twist - the actual range for the Ola scooter may not be as much as they're claiming. And, we already know that the Activa typically delivers about 40kmpl in city use, which is 27.3% lower than the claimed fuel efficiency figure of 55kmpl. We can partially blame it on evaporation as petrol is a spirit and some of it finds its way out of the fuel tanks as they are designed to keep it from becoming pressurised. Now, it's only fair that we take a realistic range for the Ola S1 and S1 Pro to calculate the realistic fuel cost savings. But, the thing worth noting is that electric vehicles consume almost zero energy while waiting for the traffic lights to turn green. Electric vehicles are very efficient at city speeds. So, we can't penalize the Ola S1 to the same 27.3% level to estimate a realistic range, but we may see a 20% drop in efficiency depending on the riding style and weather conditions. With these estimates in mind, let's see how the new electric scooter compares with the Activa 6G.
With our estimations to gauge realistic cost savings, the Ola electric scooter will end up saving you more than Rs. 1.15 lakh in fuel costs alone for driving 50,000km with it. These are MASSIVE savings and you CAN NOT afford to ignore these.
4. Ola Scooter Vs Honda Activa - Maintenance Cost Comparison
With savings worth Rs. 1.0 lakh in fuel costs alone, it looks like the Ola scooter is making the Activa look like a CRT TV in the age of sleek LCD and OLED TVs. The Activa needs timely engine oil, air filter and spark plug changes in addition to greasing of some parts. Based on my experience, the average maintenance cost of a 110cc Activa comes out to be around Rs. 750 per service, and it needs a service every 4,000km. This boils down to almost Rs. 10,000 for a 50,000km ownership period.
The Ola electric scooter has far fewer moving parts than the Activa. And it doesn't need oil or air filter changes either. Because it has disc brakes, it doesn't even need brake adjustments. The only wear-and-tear part in the S1 is the tyre. With regular use, the Activa's battery can last for 50,000km. So, we can count it out. The tyre change is a common aspect for both scooters, which they both will need around the 25,000km mark. So, we can exclude this too.
Here, the Ola electric scooter will save you another Rs. 10,000 or so over the course of a 50,000km ownership period.
5. Ola S1, S1 Pro Electric Scooter Vs Honda Activa - Resale Value & Depreciation Comparison
Given the Activa's popularity, it tends to hold its resale value pretty well. It has the lowest depreciation among all petrol scooters in India. After owning the Activa for some 5 years and riding it around for 50,000km, you can expect it to hold almost 65% of its value. I can find 5 year/50,000km, first owner Activas on used vehicle portals for around Rs. 40,000 in Delhi. This is about two-thirds of its cost compared to its on-road price, in 2016.
Using this as the benchmark, we can expect a 2021 or 2022 Activa to lose almost Rs. 28,000 in 5 years with depreciation. The figure could fluctuate depending on the inflation.
Meanwhile, with the Ola S1, we have no idea how it'll depreciate in the future as they don't have a historical record. Let's assume that it doesn't fare well in this area and loses 50% of its value in 5 years. In that case, the Ola scooter's depreciation will cost you Rs. 45,000 to 55,000 depending on which variant you buy.
Because of a lower upfront cost, the Activa loses less value during the ownership and saves you anywhere between Rs. 17,000 and 27,000.
Ola Electric Scooter vs Honda Activa - Total Savings
For an ownership period of 5 years, if you drive the scooter for about 50,000km or so, then the Ola S1 standard electric scooter will end up saving you Rs. 1.25 lakh, while the S1 Pro will save you about Rs. 85,000. They're both offering phenomenal value for money over the course of a 5yr/50,000km ownership period. Although, most of the value comes in the form of fuel cost and extra features.
The Ola electric scooter is basically paying back for itself during the ownership. Meanwhile, the Activa is going to keep on sucking money out of your pocket as you own it for a longer duration. The Activa will start asking for part failures, too in addition to the standard routine maintenance. We can't rule out the possibility of part failures in the case of the Ola scooter either, but the probability of that is much lower as it has far fewer parts, to begin with.
Moreover, the Ola S1 will save you enough money from lower running costs. So, you shouldn't mind spending a bit more on maintenance. We also haven't factored in a timely petrol price hike of about 2 - 5% per year, which will further tip the scales favouring the electric scooter.
Ola Electric Car - Speculation
Ola will bring an electric car to the market sometime in 2023. However, it's not as easy as making an electric scooter as the 4-wheeler buyers are difficult to please. The homologation process for cars is stricter as they have to go through rigorous safety and crash tests. Chassis engineering alone is a multi-year project, even for traditional carmakers. Ola being a newbie, could be underestimating the engineering effort required to make an electric car.
However, looking at the S1 masterstroke, which pleases not only the heart but also the head, I can say that they have a pretty good understanding of the customers. Their scooter has a pleasing design, good performance, usable range and a long list of highly desirable and useful features. They are in a good position to bring something seriously competitive to the market at an astonishing price point with exciting performance, usable driving range and desirable features.
Among the carmakers, we only have Tata Motors making an attempt to bring electric cars to the masses. Even then, they aren't cheap. We have already compared the ownership costs of the Tigor EV with the Tigor petrol automatic. In our analytical comparison, we found that it's going to take you 1 lakh km of driving just to recover the higher upfront cost you're paying for the Tigor EV over the Tigor petrol automatic. For a typical ownership period of 5-7 years and 50,000 - 70,000km, the Tigor petrol automatic makes more financial sense based on our calculations.
If we go by Ola scooter's VFM angle and expect a similar value from their electric car, then we are looking at a game-changer in the making. Expecting a similar price-to-value ratio, if their C1 electric car manages to pay back the delta in 20,000 - 30,000km and entirely pay for itself in about 70,000km, then traditional carmakers will have a nightmare on their hands.
In terms of features, traditional carmakers have learned to charge a premium even for simple software-based features. This helps them maintain product differentiation and earn higher margins on bigger cars, even when all they offer is slightly more space, slightly better performance and a couple of extra features. Ola could very well break that mould and raise the expectations of the mass-market car buyers.
Given Tata's first-mover advantage, they may have the upper hand here. Meanwhile, Maruti Suzuki, Kia, Hyundai and Mahindra should either pull up their socks or kiss their potential customers goodbye. Honda, Toyota, Volkswagen and Skoda are not even in the game as they're having trouble keeping pace with their competitors already. So, we can count them out from the list of potential rivals for Ola Electric Car.
Verdict - Should Maruti, Tata, Hyundai, Kia And Mahindra Worry About Ola Electric Car?
Yes.