Tata Altroz Racer Price Expectation With Logic - V3Cars
In this article, we'll try to estimate the ex-showroom price of the upcoming Tata Altroz Racer. To get to a fair estimation, we'll first see how much Tata charge for the XZ Plus OS variant over the XZ Plus S. On top of that, we'll estimate the value the Altroz Racer will offer in terms of features and performance. Based on the current market conditions, we'll estimate how much Tata Motors may charge for the Racer variant of the Altroz. First, let's start with establishing a baseline for the theoretical XZ Plus OS variant of the Altroz turbo.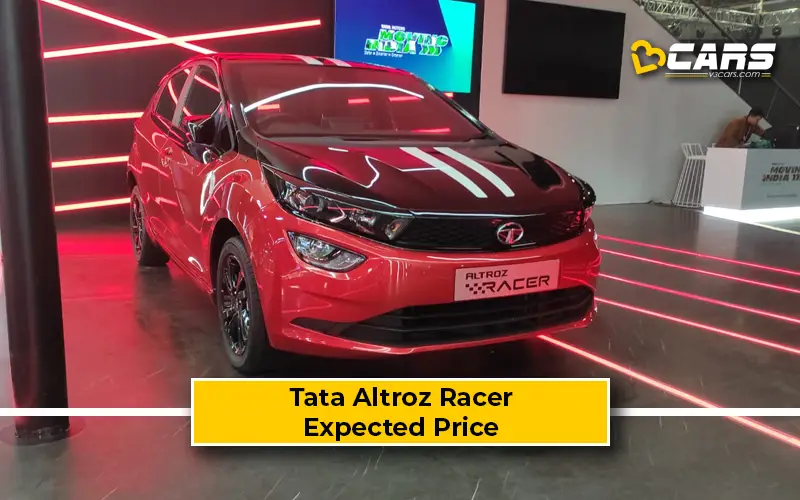 Also Read: WHY Tata Altroz Turbo Doesn't Get XZ+ OS Top Variant?
Note: Instantly Sell Your Old Car With V3Cars Sell Used Car Platform
Following is the price comparison between the Tata Altroz normal petrol-manual and turbo petrol-manual variants:
The Altroz turbo doesn't get the XZ Plus OS variant. Since the Racer will sit above the XZ plus OS variant, we should assume that it'll get the XZ Plus OS variant's features. The current top variant of the Altroz gets the following features over the lower XZ Plus S trim:
Air purifier
Telematics
Leather upholstery
For these features, Tata Motors currently charge Rs. 52,000. While these features justify the incremental asking price, all 3 of these are good-to-have in our opinion. Moreover, these features are also fairly easy to install from the aftermarket. However, the Altroz Racer will offer the following additional features and advantages over and above the current Altroz top model – XZ Plus OS:
Graphics package (racing stripes, interior and exterior sporty detailing)
Larger, 10.25-inch touchscreen
2x front side thorax airbags
2x curtain airbags
Ventilated front seats
120PS of power at 5500rpm — +10PS (Altroz turbo currently makes 110PS of power at 5500rpm)
170Nm of torque between 1750 and 4000rpm — +30Nm (the Altroz turbo currently produces 140Nm of torque between 1500 and 5500rpm)
6-speed manual transmission — +1 gear (Altroz turbo gets a 5-speed manual transmission)
Our in-house algorithm suggests that the perceived value add for these features and mechanical upgrade is worth about Rs. 90,000. So, a simple match suggests that the Racer should cost around Rs. 1.40 lakh more than the XZ Plus S turbo. Thus, the Racer should cost Rs. 11.04 lakh.
But that's not all. We believe that Tata Motors may improve the perceived value of the Altroz Racer and price it a shade under Rs. 11.0 lakh. Perhaps, closer to Rs. 10.90 lakh (ex-showroom). The i20 N Line's N8 IMT top variant is its closest rival, which offers the convenience of an auto-clutch manual transmission and a sporty exhaust note but doesn't get ventilated seats and dual-tone roof. The i20 N8 single-tone with turbo petrol-ACMT powertrain costs Rs. 11.21 lakh (ex-showroom).
Tata Altroz Racer Price - Final Estimation
With an ex-showroom price of Rs. 10.90 lakh, the Altroz Racer could appear as a better value offering. We expect the Altroz Racer to go on sale sometime around September 2023, allowing Tata Motors to cash in on the festive spending spree. They also have a few more product updates lined up in the meantime, such as the Punch CNG, Punch petrol sunroof variants and the next-gen Nexon.
Also Read: Tata Altroz CNG Variants Explained - Which One To Buy?
Note: Now Find Out The Fuel Price In India Using V3Cars