Toyota Corolla Altis Flex Fuel Hybrid Showcased — Your Questions Answered
Toyota showcased the Corolla Altis flex fuel hybrid at the 2023 Auto Expo. The hybrid sedan is already on sale in the Brazilian market and was brought down to India from Brazil. Toyota are currently studying the feasibility of the flex fuel hybrid powertrains for our market. In this article, we share the details of the Corolla Altis flex fuel hybrid and also answer your questions.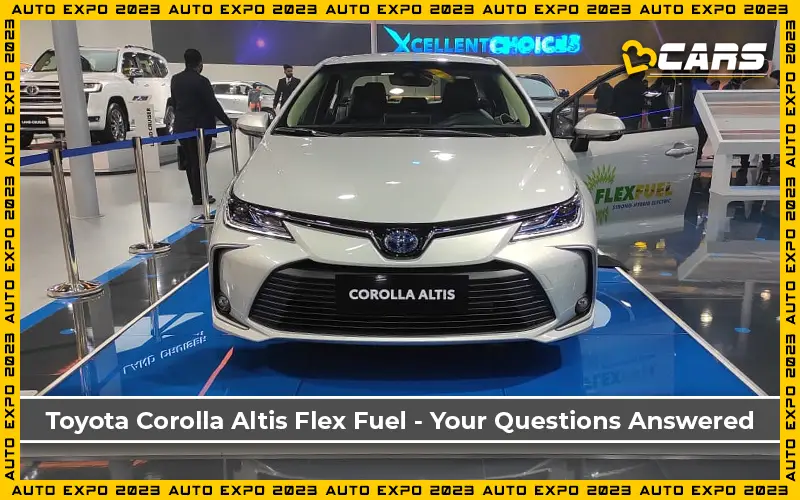 Toyota Corolla Altis Flex Fuel Hybrid Powertrain Details
The Brazil-spec Corolla Altis flex-fuel hybrid comes with a 1.8L powertrain. It makes use of a 1.8L flex-fuel engine and a strong hybrid setup. The power and torque output of this powertrain stand at 101PS and 142Nm, respectively. Thanks to the strong hybrid powertrain, the car runs on EV power at slow speeds whereas the engine acts as a generator to charge the battery while also channeling power to the wheels. Given that the engine burns ethanol-based fuel in place of gasoline, it not only results in fewer carbon emissions but also considerable cost savings.
Note: Check out the list of Electric Cars in India
As per Toyota, India has already achieved 10% ethanol blending 5 months ahead of the deadline. 20% ethanol fuel could be implemented by 2025-26, which is expected to substitute 86 million barrels of gasoline. It will result in forex savings of Rs. 30,000 crore and a reduction of 10 million tons of carbon emissions. Toyota's Flex-fuel technology is capable of using ethanol-based fuel ranging from 20% to up to 85% blend.

FAQ:
Is Flex Fuel Good For Your Car?
No, flex fuel doesn't bring any benefit directly to your vehicle. However, it benefits you and the environment. As flex fuel blends ethanol with petrol, it brings the costs down by a certain percentage. Hence, it will lead to savings on your fuel bills. Secondly, flex fuel powered vehicles emit less CO2 emissions over cars that solely run on petrol.
Note: Check your car's fuel cost with Fuel Cost Calculator India
Is Flex Fuel Cheaper Than Regular Petrol?
Yes, flex fuel is generally cheaper than regular petrol. As India plans to locally produce ethanol production and blending, it will bring down import of crude oil and that could result in a lower price for ethanol fuel. Furthermore, for the early adoption of flex fuel cars, the Indian government can further implement subsidies on ethanol blended fuel.
Flex Fuel Cars At 2023 Auto Expo
We got to see a couple of cars at the 2023 Auto Expo. Firstly, we saw the Corolla Altis flex fuel hybrid that combines the benefits of the flex fuel with the efficiency of its hybrid powertrain. Maruti Suzuki also showcased the Wagon-R flex fuel prototype at their pavilion. Both the Corolla Altis and Wagon-R flex fuel vehicles are capable of running on E85 fuel (85% ethanol-blended petrol). Maruti Suzuki will soon launch their E20-fuel complaint range in the Indian market.
Note : View All Details of Auto Expo 2023 India
Also Read: Entire Maruti Suzuki Range To Comply With E20 Fuel By March 2023