Entire Maruti Suzuki Range To Comply With E20 Fuel By March 2023 | V3Cars
Maruti Suzuki recently revealed their plans to comply their entire model range complaint with E20 fuel by March 2023. It is a surprising move from the carmaker given that the widespread availability of the E20 flex fuel will only start in 2025.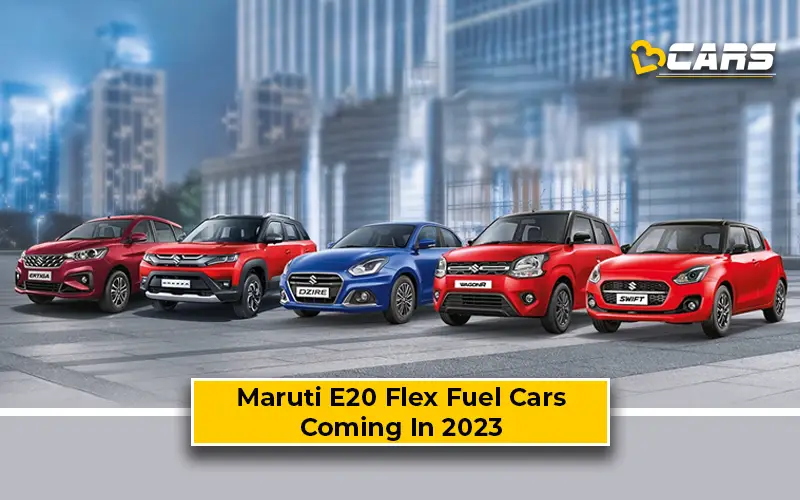 Maruti Suzuki Range To Comply With E20 Flex Fuel
The Indian government recently announced their plans to produce ethanol-based flex fuel to lower the crude oil import. As a first mover, Maruti Suzuki will update their entire range of vehicles with E20 fuel compliance. Running an E20 flex fuel car on the current E10 fuel will not cause any problems but running an E10-compatible car on E20 flex fuel could pose long-term reliability issues.
Note: Check your car's fuel cost with Fuel Cost Calculator India
Making sure their cars are E20-compliant well ahead of the fuel rollout will keep their vehicles running reliability for much longer. A typical E20-compatible 2023 Maruti car owner can continue to drive the car reliably for much longer, thus helping the brand maintain their image as a reliable carmaker.
Note: Check out the list of Electric Cars in India
Maruti Suzuki Wagon-R Flex Fuel Prototype
Maruti Suzuki recently showcased the Wagon-R flex fuel prototype and the same will also mark its presence at the 2023 Auto Expo. The Wagon-R flex fuel prototype is said to comply with fuel ranging from 20% ethanol blend to up to 85% ethanol blend. Maruti Suzuki will continue to work on improving the Ethanol compatibility of their prototype engines. The carmaker will launch flex fuel cars with an appetite for higher Ethanol content in 2025.
Also Read: Maruti Suzuki Testing ADAS With Swift Sport