9 Features Hyundai Venue Gets But Mahindra XUV300 Doesn't | V3Cars
The Hyundai Venue is one of the best-selling B2-segment SUVs in the country. Ever since its launch, the Venue has become one of the most feature-rich subcompact SUVs in the country. Mahindra XUV300, on the other hand, comes with class-leading safety features and powerful engine options.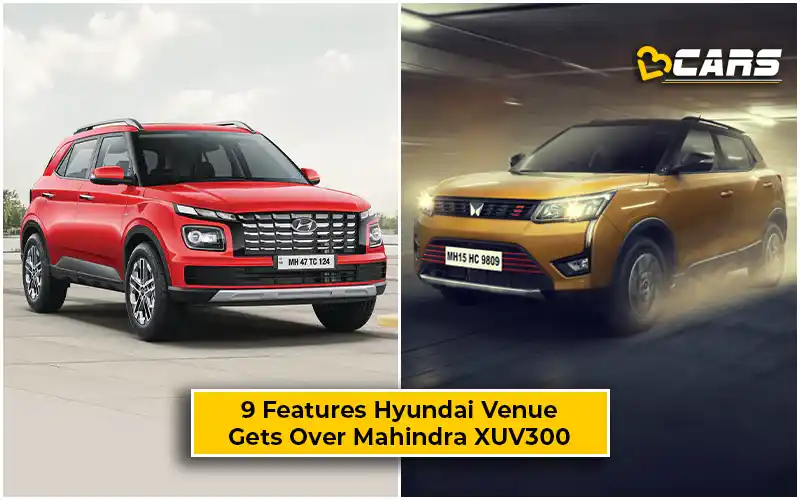 In this article, we mention the features Hyundai Venue gets over Mahindra XUV300:
1. Wireless Phone Charger
The top variants of the Venue offer a wireless phone charger whereas the XUV300 does not get this feature. It is worth mentioning that the mid variants of the Venue come with wireless connectivity for both Android Auto and Apple CarPlay, which works perfectly along with the functionality of the wireless phone charger.
2. Rear AC Vents
The Venue offers rear AC vents for 2nd-row passengers whereas the XUV300 only gets front AC vents. Rear AC vents make commuting in the back seat a more pleasurable experience during hot summer months. They also help cool the cabin quickly.
3. Air Purifier
The top variants of the Hyundai Venue offer an air purifier fitted within the front centre armrest. Like the Venue, a lot of other SUVs in the segment offer a cabin air purification system. It cleans the cabin by removing dirt and other harmful pollutants. Sadly, the Mahindra XUV300 lacks this feature.
Note: Check your Car EMI with our - Car Loan EMI Calculator
4. Drive Modes
The Hyundai Venue comes with 3 drive modes — Eco, Normal and Sport. These modes alter the responsiveness of the engine and steering. While the XUV300 doesn't get driving modes, it comes with steering modes that alter steering response and feedback.
5. Shark Fin Antenna
The Venue comes with a shark fin antenna over the XUV300. The shark fin antenna not only improves the aesthetics of a car but also offers better reception and durability over a regular antenna.
6. Cooled Glove Box
The Venue offers a cooled glovebox that controls the temperature of your drinks and medicines from the outside temperature. This feature is sorely missed in the Mahindra XUV300.
7. Power-Adjustable Driver Seat
The top variant of the Hyundai Venue comes with a power-adjustbale driver seat with electric adjustment for fore & aft and backrest recline. However, the adjusting the height of the seat continues to be a manual job.
Note: Check your car's fuel cost with Fuel Cost Calculator in India
8. Puddle Lamps
The top variants of the Venue come with puddle lamps that light up the surroundings of the car. They also help you watch your step while entering and exiting the car.
9. Reclining Rear Seat
Since the demise of the Ford EcoSport, the Venue is the only B2-segment SUV in the market to offer a 2-step recline for the rear seat backrest.
Also Read: 5 Features Mahindra XUV300 Gets But Hyundai Venue Doesn't