5 Features Mahindra XUV300 Gets But Hyundai Venue Doesn't | V3Cars
The Hyundai Venue is one of the best-selling B2-segment SUVs in the country. Ever since its launch, the Venue has become one of the most feature-rich sub-compact SUVs in the country. The Mahindra XUV300, on the other hand, comes with class-leading safety features and powerful engine options.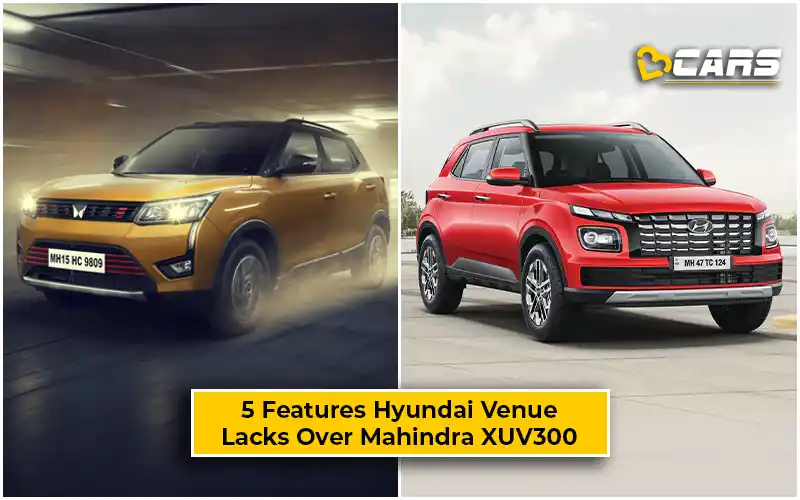 In this article, we mention the features Mahindra XUV300 gets over Hyundai Venue:
1. Height Adjustable Seatbelts
The Mahindra XUV300 offers height adjustable seatbelts right from its base variants. The Hyundai Venue, on the other hand, doesn't offer height-adjustable seatbelts even in its top variants. Height adjustable seatbelts let a child or a short person adjust the height of the seatbelt for better comfort.
2. Dual-Zone Climate Control
The XUV300 comes with a dual-zone climate control in its top variants. Dual-zone climate control lets you set different temperatures for the front driver and co-passenger. However, it is worth noting that the XUV300 lacks rear AC vents that the Venue gets.
Note: Check your Car EMI with our - Car Loan EMI Calculator
3. Adjustable Headrests
The XUV300 offers adjustable headrests for all 5 passengers whereas the Hyundai Venue offers a fixed headrest for the 5th passenger. An adjustable headrest offers better support and prevents whiplash in the event of a collision. It also improves comfort for taller passengers.
4. Automatic Wipers
While both the XUV300 and Venue come with automatic headlights, the XUV300 goes one step further with the addition of automatic wipers. Automatic wipers set the wiper speed depending on the intensity of the rain without any manual intervention.
Note: Check your car's fuel cost with Fuel Cost Calculator in India
5. Fog Lamps
The XUV300 comes with halogen fog lamps whereas the Venue ditched the fog lights with the recently-launched facelift model.
Also Read: 9 Features Hyundai Venue Gets But Mahindra XUV300 Doesn't