Citroen C3 Aircross Expected Price - With Logic (Updated: Sep 22) | V3Cars
In this article, we'll estimate the variant-wise ex-showroom price of the upcoming C3 Aircross SUV — Citroen's new SUV to rival the Hyundai Creta and Kia Seltos. We'll explain the logic behind the calculations along with the reasons to support our conclusions in the C3 Aircross expected price table. As and when we get more information affecting our estimations about the Citroen C3 Aircross price, we'll update this article to accommodate new findings.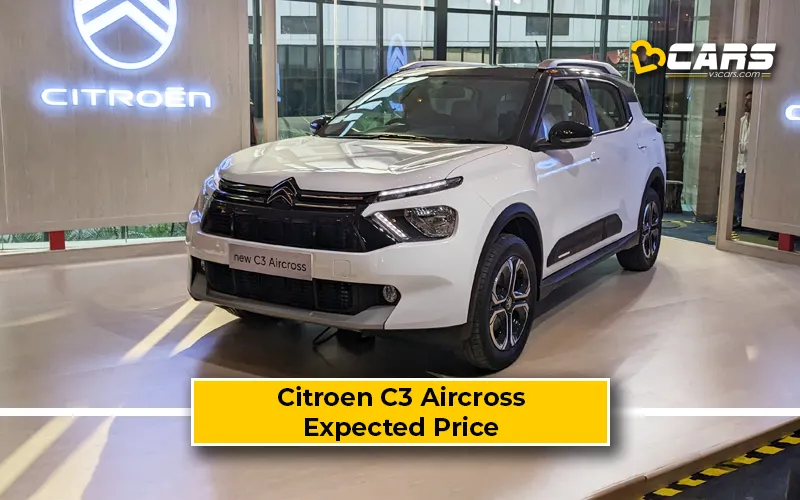 Note: This article was last updated on September 22, 2023. Citroen India have confirmed that the C3 Aircross will start at Rs. 9.99 lakh (ex-showroom). This price is perfectly aligned with our expectations. They also revealed the variant-wise features of the C3 Aircross. Even after running calculations on the variant-wise features details, we found that it didn't impact our expected prices one bit. So, our expectations for the C3 Aircross price remain as they were.
Citroen C3 Aircross Variants
When we got to interact with the Citroen officials, we found out that the C3 Aircross will come in 3 variants for the 5-seater layout. The higher 2 variants will also get the option of the 7-seat configuration. The base variant is called You, the mid variant is called Plus and the top model is called Max.
Citroen C3 Aircross Expected Price Range
Based on our understanding after a lengthy interaction with Citroen India's top officials, we believe the C3 Aircross price could start at Rs. 10.0 lakh. To be precise, a little under Rs. 10.0 lakh. This could make the C3 Aircross the only C-segment SUV with a starting price of less than Rs. 10.0 lakh — at least when it goes on sale.
With the starting price confirmed and the variant-wise feature details out, we're even more confident of our estimations for the higher variants. We believe that the top variant will certainly cost under Rs. 13.0 lakh. In fact, we're pretty confident that the top variant of the C3 Aircross with the 7-seat layout could cost well under Rs. 13.0 lakh — perhaps around Rs. 12.70 lakh (ex-showroom).
Since the base variant costs Rs. 9.99 lakh, and the higher Plus variant adds about Rs. 1.0 lakh worth of features, we believe that the mid variant could cost Rs. 11.0 lakh. The 7-seat layout could carry a premium of Rs. 70,000 as it not only offers 2 extra seats, it also has a few extra features.
From there, the top model adds another Rs. 1.0 lakh worth of features. So, we end up with Rs. 12.0 lakh estimation for the top model with 5 seats and Rs. 12.70 lakh expected price for the C3 Aircross Max variant with the 7-seat layout.
How We Arrived At Rs. 10.0 Lakh Starting Price?
Imagining a hypothetical base variant of the Citroen C3 crossover with the turbo petrol powertrain and then adding ~15% for higher taxes, some amount for R&D and a little for slightly larger profit margins brings us to Rs. 10.0 lakh. Please mind that these are rough calculations at best but they ended up working just fine for the purpose of estimating the approximate launch prices.
Moreover, the C3 Aircross has cost sensitivity in several places. For example, the base variant won't get a music system. For a car of this class, grab-type door handles are the norm while flap-type handles are usually found in cheaper cars. Even in the top variants, it doesn't get LED or projector headlamps. And the 2nd row AC vents are exclusive to the 7-seat variants while the 2nd row armrest is only available with the 5-seat layout.
On the other hand, the smaller, 1.2L turbo petrol engine, gives it a 7% tax advantage over its rivals, which, to some extent, compensates for the cost of turbocharger, intercooler, and direct injection.
Meanwhile, crossing the Rs. 10.0 lakh would have meant losing out a lot of buyers. The Rs. 10.0 lakh price point is a serious psychological barrier. Just look at the Tata Altroz CNG prices. The XZ Plus variant of the Altroz CNG launched at Rs. 10.03 lakh and soon, Tata had to bring its cost down below the psychological barrier.
Also Read: Tata Altroz Price Change | July 2023
Citroen C3 Aircross First Drive Review - Features & Performance
Note: Check your Car EMI with our Car Loan EMI Calculator
Why Are We Sure It Won't Cross Rs. 13.0 Lakh?
During our conversation, Citroen officials explicitly mentioned that the sunroof becomes a highly desirable feature for buyers in the Rs. 13.0-plus lakh price band. This clearly hints that they plan to keep it well under Rs. 13.0 lakh - at least initially. In future, they may add an automatic transmission and a higher variant to push it up to Rs. 15.0 lakh. But for now, it should stay well within the Rs. 13.0 lakh limit.
Citroen C3 Aircross — Expected Price Summary
We expect the Citroen C3 Aircross prices to start from Rs. 10.0 lakh for the 5-seater base model. The top model of the C3 Aircross with 3-row seating could cost as much as Rs. 12.70 lakh (ex-showroom).
We were earlier expecting to see the C3 Aircross cost between Rs. 11.0 lakh and Rs. 15.0 lakh.
Also Read: Honda Elevate Expected Price Calculation With Logic (Updated)
Note: Check your car's fuel cost with Fuel Cost Calculator in India