Hyundai Announce A Nationwide Monsoon Check-Up Camp | V3Cars
Hyundai India have announced their annual Monsoon Checkup Camp. The camp is running from 14th of July to 30th of July 2023. The goal of this service initiative is to get Hyundai cars of their customers ready to deal with the monsoons and safe for driving in the rains.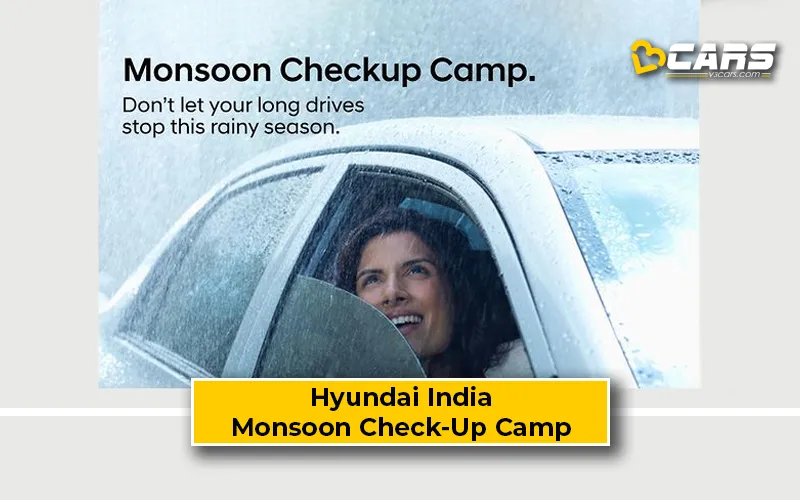 Also Read: Hyundai Exter Petrol, CNG Variants Explained - Which One To Buy?
Hyundai Exter Petrol Automatic First Drive Review - Features, Mileage
Note: Now Find Out The Fuel Price In India Using V3Cars
Here's the list of benefits Hyundai owners can expect from this monsoon camp:
Free 50 point check up
10% parts discount on brake pad and shoe
10% parts discount on headlamp/tail lamp/indicator/bulb
10% parts discount on wiper blade
10% labour discount on cowl panel cleaning
10% labour discount on sunroof lubrication
10% discount on mechanical labour (on availing PMS)
10% discount on windscreen treatment
10% discount on under body (anti-rust) coating
10% discount on interior and exterior beautification
20% discount on RSA retail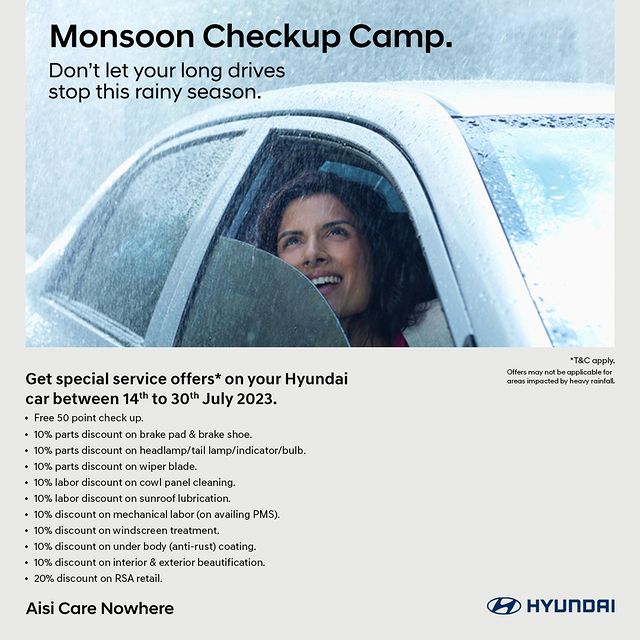 Surprisingly, Hyundai aren't offering free car wash, which most other manufacturers offer during their monsoon camps.
Terms and Conditions
Please note that the offers may not be applicable for areas impacted by heavy rainfall. Customers are advised to reach out to their nearest Hyundai service centre for detailed information about the Monsoon Checkup Camp and the offers that apply to their location.
Note: Instantly Sell Your Old Car With V3Cars Sell Used Car Platform