Maruti Suzuki Recall 87,599 Cars On July 25, 2023 | V3Cars
Maruti Suzuki issued a recall for over 87,599 cars over a faulty steering tie rod. This faulty module has affected the S-presso small SUV and Eeco mini van manufactured between July 5, 2021 and February 15, 2023.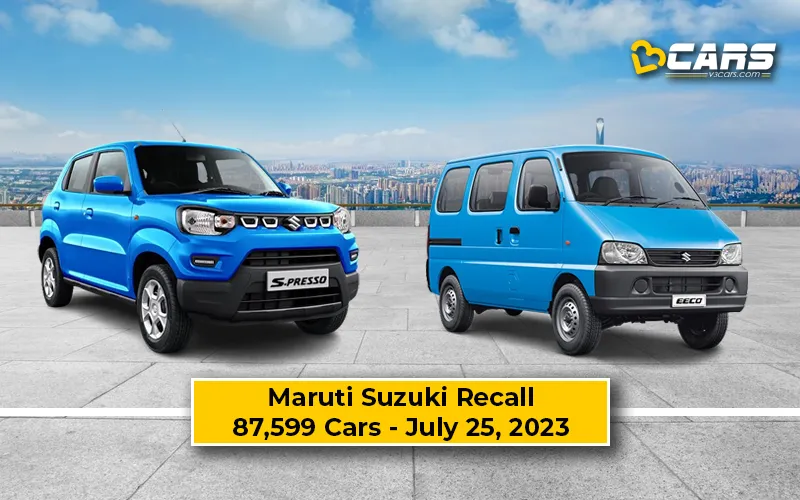 Maruti Suzuki Issue Recall For 87,599 Cars
Maruti Suzuki have recalled 87,599 cars manufactured between July 5, 2021 and February 15, 2023 to inspect a possible fault with the steering tie rod and replace the affected units free of cost. The affected cars could face issues with the handling.
Note: Instantly Sell Your Old Car With V3Cars Sell Used Car Platform
Maruti Suzuki Recall — January 2023
Maruti Suzuki also issued a recall for the following models back in January 2023:
Alto K10
S-Presso
Eeco
Brezza
Baleno
Grand Vitara
Maruti Suzuki recalled 17,362 cars manufactured between December 8, 2022 and January 12, 2023 to inspect a possible error with the airbag control unit and replace the affected units free of cost. The affected cars were said to have faced issues with the deployment of airbags and seatbelt pretensioners in the event of a crash.
What Is A Recall?
Recalls are a normal part of the standard operating procedure for car manufacturers around the world. When carmakers notice that a particular part does not meet the quality standards, they get the supplier to provide them with replacement parts. The carmakers then reach out to the affected customers and replace the part at the workshop.
From a manufacturer's perspective, recalls are expensive and cost them and their suppliers a lot of money. Every man hour used to fix a vehicle at the workshop for free is a man hour that could have turned a profit. But the long-term implications of a part failure are too big compared to the short-term cost, customer inconvenience and some risk to the brand image.
Note: Now Find Out The Fuel Price In India Using V3Cars
Are Recalls Bad?
There are 2 ways to see a manufacturer who doesn't issue recalls:
They have the best quality checks in place. So, they never need a recall in the first place.
They also have issues with their cars, but they're not willing to make that information public to maintain the desired brand image. So, they:
Quietly address the issue as and when the customer visits the workshop for a routine service OR
Let the problem get worse and address it on a case-by-case basis as and when a customer runs into the problem.
For a non-critical problem, such as replacing the parcel tray bush to minimise rattling, the approach in point 2-a is perfectly acceptable. But it's best to issue a recall and fix the vehicles for anything critical related to the customer safety and vehicle reliability.
While we'd like to assume that the carmaker not issuing a recall is in a better position, it's the transparency that deserves respect and earns our trust. If a manufacturer notices a problem and actively fixes it for customers before it gets worse, then we can trust such a carmaker to take care of our vehicles even after the warranty expires.
Also Read: Honda Elevate SUV Fuel Efficiency Revealed