Maruti Suzuki Toyotsu Start Operations At India's First Govt-Approved Vehicle Scrapping Facility
In partnership with Japanese Toyota Tsusho, Maruti Suzuki has opened up India's first government-approved vehicle scrapping facility in Noida. The investment of Rs. 44.1 crore to set up this 10,993sq.m. facility will enable MSTI to recycle 24,000 vehicles every year. Union minister for road, transport and highways, Nitin Gadkari, inaugurated the plant on Nov 23, 2021.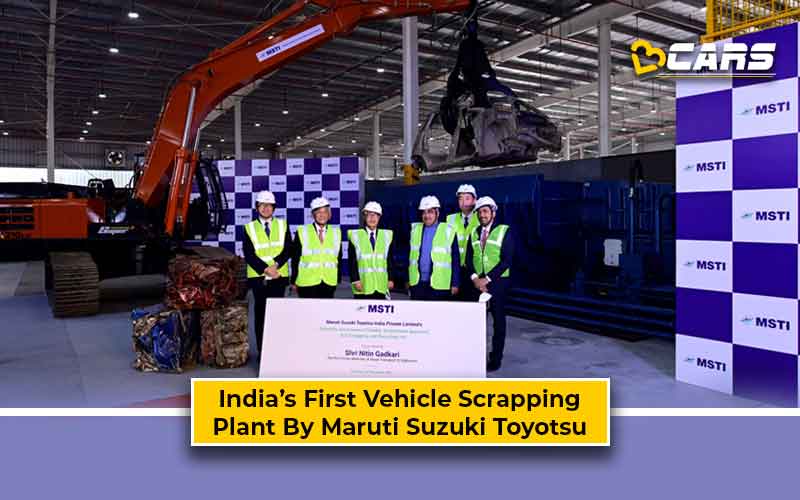 The Japanese arm of this business brings in their expertise in efficiency and environment-friendly recycling to the table. Meanwhile, Maruti Suzuki has a huge trained workforce to offer. The plant can squeeze out up to 95% recyclable material out of an end-of-life vehicle. The carmaker can then use this as a raw material for their new car manufacturing business.
Top representatives from Maruti Suzuki also showed interest in setting up vehicle fitness centres. The company officials urged the minister to establish shorter time frames than the currently-established 15-year period. This move, they say, will help drastically cut down the pollution and remove unfit vehicles from the road. The cars that fail the test can serve as input for the vehicle scrapping unit.
Meanwhile, the minister urged India's largest carmaker to invest in flex-fuel vehicles and green Hydrogen production technologies. Producing Hydrogen at a low cost and with minimal environmental impact will automatically make Hydrogen vehicles more feasible. At the inauguration, the minister said:
"The Ministry of Road Transport and Highways has launched the visionary National Automobile Scrappage Policy aimed at creating an ecosystem for phasing out unfit and polluting vehicles from the Indian roads. To meet this objective, we need state-of-the-art scrapping and recycling units. I would like to congratulate Maruti Suzuki and Toyota Tsusho Group for setting up this modern facility as per global standards. I would request Maruti and other stakeholders to build and create an ecosystem of similar scrapping and recycling units across the country. This would make the roads safer, air cleaner and the raw material cheaper for their cars."