May 2023 Cars Sales Analysis - C-Segment SUV YoY, MoM Change, 6-Month Trend | V3Cars
In this May 2023 car sales analysis article, we'll look at the YoY and MoM change in sales figures of all C-segment SUVs in India. Where applicable, we'll also include our observations based on the sales data and possible reasons behind a massive increase or drop in sales. Lastly, the table with monthly sales of all C-segment SUVs for the last 6 months will give you an idea about the 6-month sales trend.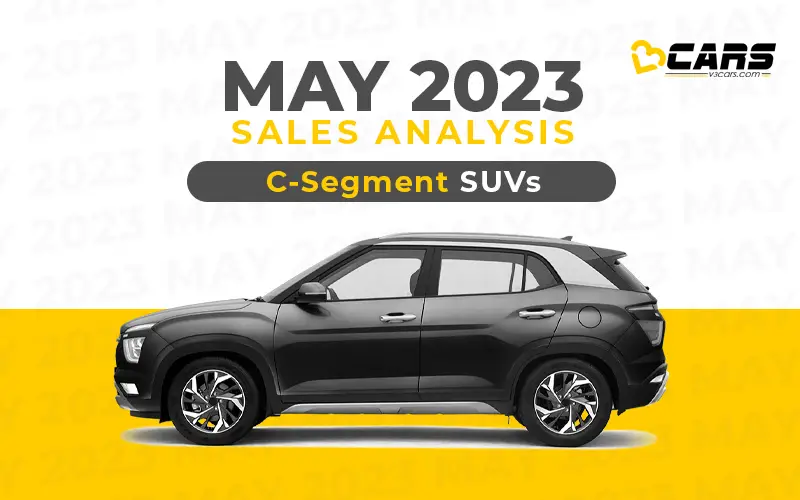 C-Segment SUV May 2023 Car Sales - YoY Change
Among the high-volume cars from the category, the Creta was the top-selling SUV in the segment in May. About 14,500 units of the Creta were sold in May 2023 compared to just about 11,000 units in May 2022, which is a growth of 31.68%.
The other two notable gainers were MG ZS EV and Volkswagen Tiguan, with 362% and 217% YoY gains in May comparison.
MG ZS EV was the top gainer in the category in YoY comparison analysis for May.
The top-losing car was MG Astor with a 70.72% drop in YoY comparison, closely followed by Jeep Compass with 66% YoY drop in May 2023 comparison analysis.
Next in line in the top list of losers was Kia Seltos, with a 31.72% YoY drop. It was followed by Hyundai Alcazar with a 25.48% decline in YoY comparison..
Nissan Kicks and Maruti S-Cross have been discontinued by their respective manufacturers in the past 12 months.
C-Segment SUV May 2023 Car Sales - MoM Change
5 cars out of 14 reported a drop in MoM comparison in the May comparison analysis, which were Kia Seltos, Skoda Kushaq, Tata Harrier, MG Astor and Kia Seltos.
Kia Seltos was the top MoM loser, with a 43.64% drop in sales over April 2023.
Skoda Kushaq reported a drop of 22% in MoM comparison for May over April
Speaking of MoM gainers in May comparison, MG ZS EV reported 200%+ gain, which was the steepest rise in monthly dispatches, ignoring the numbers for Tiguan, of which only 31 units were dispatched in April.
MG ZS EV was followed by Hyundai Alcazar with a 20% rise, Toyota Hyryder and Jeep Compass with 18-19% MoM rise in numbers.
Hyundai Kona reported zero dispatches till April. However, in May, 84 units of the EV were dispatched by Hyundai.
C-Segment SUV — 6-Month Sales Trend (Dec 2022 - May 2023)
Note: Check your Car EMI with our - Car EMI Calculator
You can use our Fuel Cost Calculator to see how much any petrol, diesel or CNG car will cost to run based on the latest fuel price in your city.