Growing Sales Of Mercedes-Benz Hints At A Strong Revival In Auto Sector | V3Cars
Mercedes Benz recorded a 99% YoY increase in sales in the quarter ending September 30, 2021. The growth for the calendar year 2021 so far stands at 79%. Both of these figures and the Q2 FY 2021 sales of 4,101 units point towards a strong rebound in sales in the auto sector.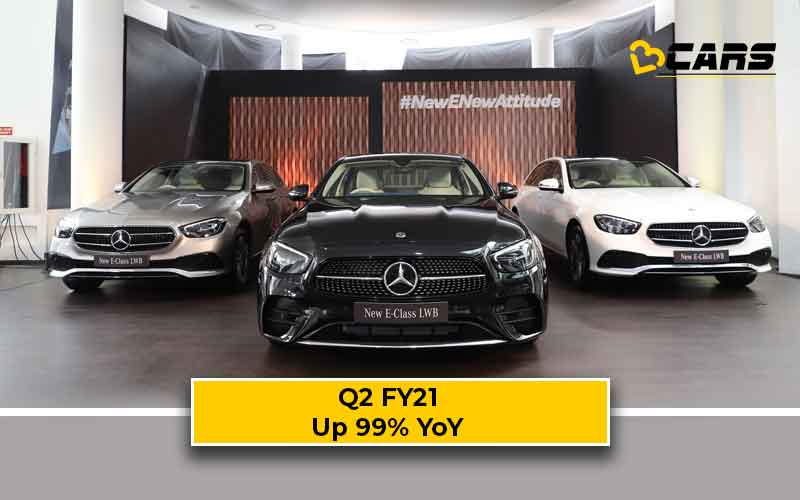 While we can attribute a big rebound in the luxury carmaker's sales figures to the lowly output in 2020, the figures are still noteworthy. Having a variety of cars poses an operational challenge but if managed well, it also leads to better sales as customers have more options. Mercedes-Benz currently has 24 models on sale in India, 13 of which are assembled in India. Both of these numbers are the largest among luxury carmakers.
Vaccination Up - Covid Fears Down
We don't need to watch a sensational news channel to figure out that rapid vaccination efforts are containing the virus and people are stepping out of their homes. I'm writing this as I sit in the office after a long work-from-home streak of well over 18 months. This is creating a huge demand in the auto sector as people need cars and motorcycles to move around.
Who Is Behind The Strong Auto Sector Revival?
Mahindra also recently announced that their Thar accumulated 75,000 bookings in 1 year and they were done with the first lot of 25,000 orders for the XUV700 in under an hour. This is unusual considering the rising fuel prices and no respite in sight. Normally, a rise in crude oil prices limits the growth in the auto sector as it drastically increases the cost of ownership. Therefore, travellers tend to use public transport more often. However, this time it's different. Not only does the use of public transport increase the chance of infection, it also comes with protocol challenges. Despite a significant increase in petrol and diesel prices, it appears that there's enough liquidity in the market and car buyers are ready to buy at prevailing prices. We can attribute this liquidity to the loose RBI monetary policy, which is accelerating the revival of the economy.
SUVs Still Strong But Sedans Level The Playing Field
Another noteworthy detail in the official communication from Mercedes is the split between SUVs and sedans. Across all segments and price points, we have seen strong demand for SUVs and cars that look like SUVs. Mercedes maintains a strong portfolio with a good number of SUVs to quench that thirst. The highlight here is that there is an equal number of Mercedes SUV and sedan buyers. 48% of their customers chose SUVs in the first 3 quarters of the 2021 calendar year and 48% of their sales came from sedans.
While strengthening their SUV product lineup in the last few years, Mercedes never took their eyes off the sedans, which is helping them achieve good sales figures. Like everything, the SUV trend is a passing phase, and it will eventually reverse. When SUVs become way too common and customers look towards sedans to stand out, Mercedes may find themselves in the perfect position with a good number of offerings.