Porsche Re-Introduces Historic Colours For All Models
Porsche have renamed their 'Custom Colour' programme to 'Paint to Sample' along with a new scheme called 'Paint to Sample Plus'. They are planning to expand their range of exterior colour in all their models. Porsche will focus on the availability of classic colours. Customers can also request a special shade of their choice. Porsche says that they are reviving classic colours and expanding their range with more than 160 shades across all models. To make it possible, Porsche have put up a new colour-mixing bench in the main plant in Zuffenhausen, Germany.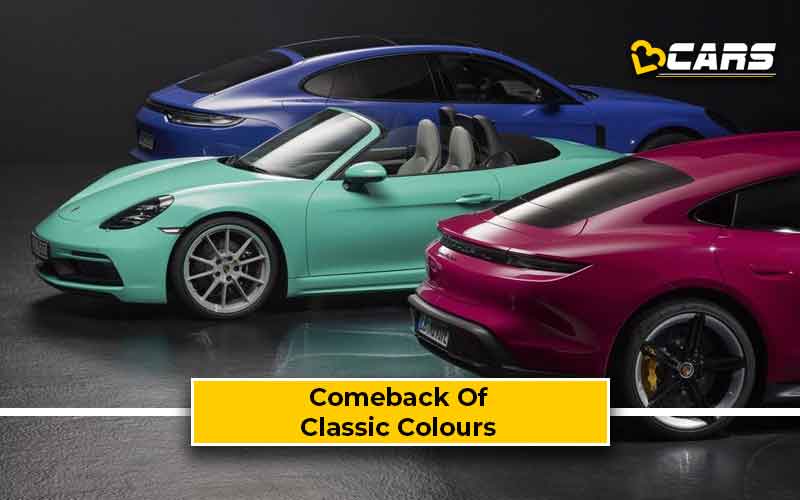 Paint To Sample
The Paint to Sample programme will let customers choose from predefined colours like special shades of blue, red and green. These colours were earlier exclusive to 911 and popular during the 1990s. The new colour range is diverse and depends on the model series and production location.
Available Shades
The 911 and 718 models get more than 100 additional paint shades to choose from. Panamera, Macan and Cayenne get more than 50 while 65 exterior shades are available for the Taycan electric car. Customers can pick a shade under this programme during configuration at all Porsche centres worldwide. The further enhanced individualization programme is available from today and will get integrated into the Porsche Car Configurator in early 2022.
Paint To Sample Plus
This programme will let you request a special individual colour with almost any shade. This option is limited to Taycan, 911 and 718 models. The procedure requires customers to hand over a colour sample to a Porsche centre, which they then ship to Germany. Experts there make a replica of that shade and test it on a vehicle. After some more tests and fine tuning, they proceed with painting the customer car before handing it over.
In India, Porsche sells 718 and 911 series, Taycan, Panamera, Macan and Cayenne. The range starts from Rs. 83.21 lakh with Macan and goes up to Rs. 3.1 crore for 911 Turbo S.
Also Read: Porsche Taycan Launched At Rs. 1.5 Crore - Porsche's First Electric Sports Sedan