Upcoming Kia Cars And SUVs At Auto Expo 2020
Kia's Seltos made a huge splash. It's now time for Kia to flash some limelight on the extra-large MPV, Carnival and sub-4m SUV QYI / Sonet. On the electric front, Kia might bring the Soul electric SUV/crossover to the Auto Expo 2020.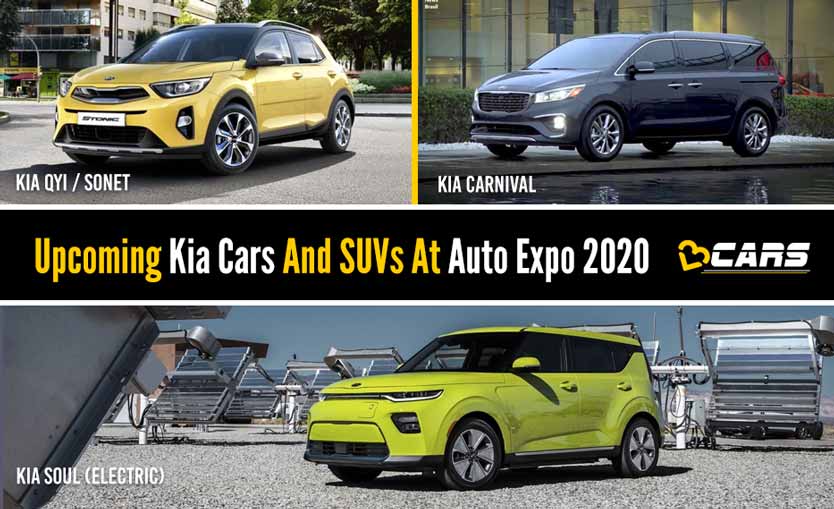 QYI / Sonet
The Kia QYI has been in the making for a few years now and it's time you see it in person at the Kia's Auto Expo 2020 shed. This subcompact SUV will share a lot with the Hyundai Venue. So expect to see the 1.2-litre normal and 1.0-litre turbo petrol engines. It could also have a de-tuned version of 1.5-litre turbo diesel engine from the Seltos. This sub-4m SUV is expected to launch a few months after the Kia Carnival MPV.
Carnival
Kia has made it official that their second vehicle to go on sale in India is the Carnival and we're looking forward to seeing it at the Auto Expo 2020. Calling it full-size MPV will not be enough as it makes the Ford Endeavour look small. For comparison, the Endy measures about 4.9m in length - some 10cm longer than the Toyota Fortuner. The Kia Carnival is 5.15m long - that's over a foot longer than the Fortuner, which is a big car, to begin with. So, rest assured, this MPV is going to have a road presence that few other cars can match. The Carnival should have all that the Innova Crysta has and then some to become the ideal MPV for you if the Crysta isn't cutting it for you.
Electric SUV (Soul / Niro)
Kia is also likely to showcase an electric SUV at the Auto Expo 2020. It could be the full-electric versions of either the Soul or Niro. Sharing the platform with an existing car that's on sale in India makes it a more realistic option. That's what makes us lean more towards the Soul than the Niro. The Soul is also very boxy, something buyers expect from an SUV. We may even get to see both of them on display at the auto show. Should an electric SUV from Kia launch in India in 2020, expect it to have similar power torque and driving range as the Hyundai Kona to allow greater component sharing and an attractive price tag.