2023 Tata Harrier Facelift Mileage, Engine Specs Revealed
In this article, we'll look at the mileage or fuel efficiency of the 2023 Tata Harrier facelift. Tata have also confirmed the engine specs of the Harrier, which are also listed out in this article.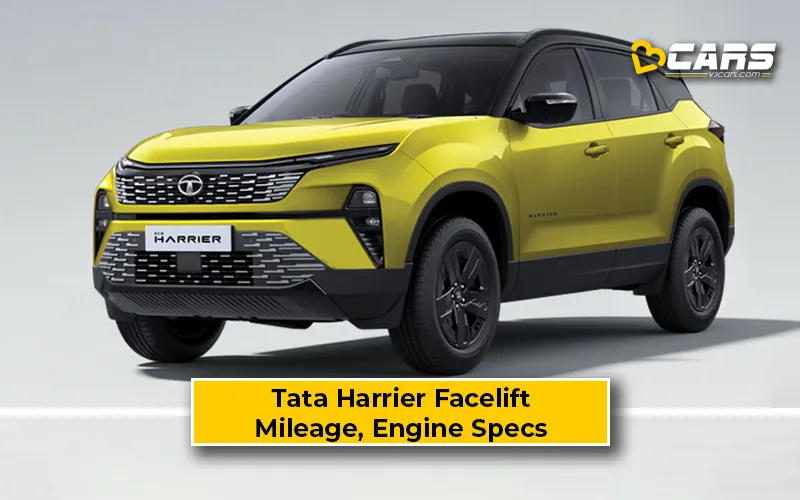 The following table lists down the engine specs of the new Tata Harrier 2023 facelift:
The new Harrier 2023 retains the same 2.0L Stellantis-sourced turbo diesel engine with the same power and torque output. It makes 170PS of power at 3750rpm and 350Nm of torque from 1750 to 2500rpm. The transmission options of the 2023 Harrier facelift also remain identical as before and it gets 6-speed manual and a 6-speed torque converter automatic.
In terms of mileage, there is a slight change but a nominal one at best. The Harrier diesel-manual earlier offered a claimed mileage of 16.35kmpl while now it offers 16.80kmpl. The claimed fuel efficiency of the Harrier diesel-automatic is 14.60kmpl and it's the same as before.
The Harrier competes with large 2-row SUVs like the Mahindra XUV700 and MG Hector. Unlike its rivals, it doesn't get a petrol engine option, which is gaining popularity in the recent past because of the demonising of the diesel engines.
The 2023 Harrier also gets a bunch of new features, about which, you can read in the following article: 18 New Features Of The 2023 Tata Harrier Facelift
In terms of colour options, the new Harrier 2023 also gets a few new exterior colours including a bold yellow. Find out which one looks best on the Harrier facelift and which one is our top recommendation in the following article: New Tata Harrier 2023 Facelift — All Exterior Colour Options
Note: Instantly Sell Your Old Car With V3Cars Sell Used Car Platform