Maruti Suzuki Promise To Bring ADAS Features At EVX Concept Reveal
During the reveal of the EVX electric SUV concept at the 2023 Auto Expo, Maruti Suzuki confirmed that they will bring ADAS features in the future. The EVX electric SUV itself is most likely to go on sale in 2025 with the Advanced Driver Assistance Systems (ADAS).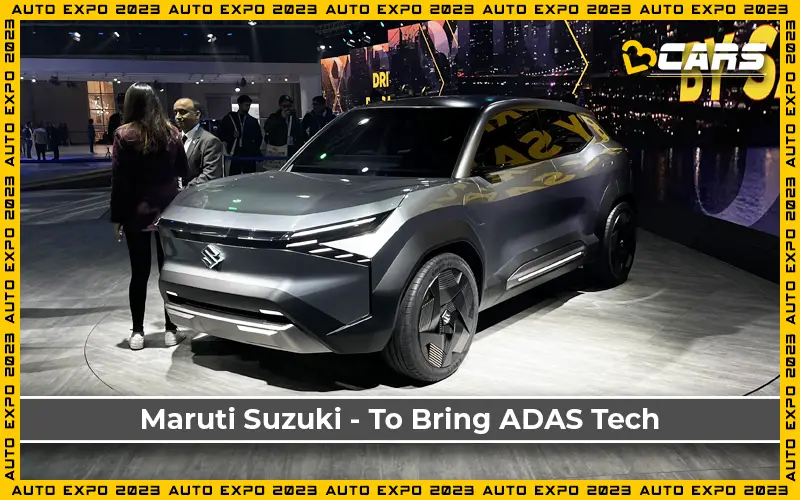 Recently we reported about the Swift Sport testing on public roads with ADAS. So, it's unlikely that Maruti Suzuki will wait for another 2 -3 years as they may master the technology for the Indian roads much sooner.
An older leaked report about Maruti Suzuki's product timeline suggested that they intend to bring a 3-row SUV. We believe that their version of the Innova Hycross could fill that gap and help them compete with the 3-row D-segment SUVs like the Mahindra XUV700, Scorpio N and MG Hector Plus.
Since the Hycross already offers ADAS features, we can assume that the Maruti's version will also have the feature. With this information, we can expect to see ADAS in a Maruti car much sooner and we won't have to wait for the EVX electric SUV to materialise to get this feature. Since this is a premium features, we can expect a Nexa car to get these feature first while the Arena cars like the Brezza could add it to their feature list later on.
Note : View All Details of Auto Expo 2023 India
Also Read: Suzuki Swift Sport Spotted On Test With ADAS
At the Auto Expo 2023, Maruti Suzuki also showcased several cars with accessory kits. You can read more about the gold editions of the Baleno and Ciaz, matte editions of the Grand Vitara and Brezza and the sporty version of the Swift at the following link:
2023 Auto Expo - 5 Maruti Suzuki Cars With Accessory Kits
Track our complete 2023 Auto Expo coverage at: Auto Expo 2023 – Latest News in Auto Show India
Note: Check your car's fuel cost with Fuel Cost Calculator in India