Toyota Likely To Showcase Mirai Sedan At Auto Expo 2023
Toyota India are likely to showcase the Mirai sedan at the Auto Expo 2023. Let's discuss the details like expected dimensions and engine specs, expected launch timeline, rivals and expected price of the Toyota Mirai.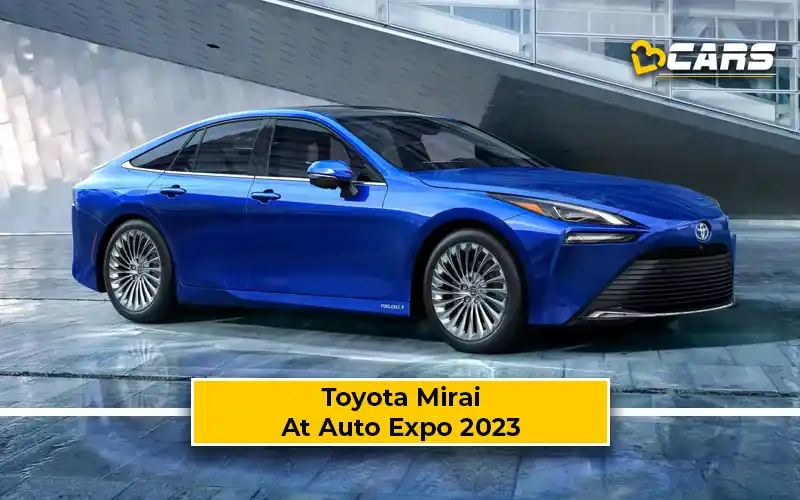 Most Notable Features Of Toyota Mirai
The Toyota Mirai is a Fuel Cell Electric Vehicle (FCEV) which runs on compressed hydrogen. FCEVs are similar to electric vehicles, but need very less time to refuel. The Toyota Mirai has 3 hydrogen cylinders (5.6kg) that refill in under 5 minutes and provide a range of 650km. This is a lot less compared to electric vehicles that need hours to recharge. Some other noteworthy features of the Mirai (USA version) are:
Toyota Safety Sense (TSS) 2.5+
Toyota Teammate driver-assistance technology
12.3-inch touchscreen infotainment system
Colored head-up display (HUD)
Heated and ventilated seats
Note: Check your car's fuel cost with Fuel Cost Calculator in India
Toyota Mirai Expected Specs
The Toyota Mirai is popular in the global market but is yet to debut in India. Toyota are likely to customise it heavily to suit the Indian consumers. But, it is still likely to be a hydrogen powered FCEV with the following engine specifications (as seen in the USA version):
Toyota Mirai Rivals
The Toyota Mirai is a D2-segment sedan and it might compete with cars like Skoda Superb, Volvo XC60 and Kia Carnival. However, being an FCEV, it does not have a direct rival as of now.
Toyota Mirai Launch Timeline
Toyota are likely to showcase the Mirai at the 2023 Auto Expo. However, we do not expect the carmaker to launch the Mirai in India anytime soon. Toyota have collaborated with the International Centre for Automotive Technology (ICAT) and Indian Oil Corporation Limited (IOCL) to test the Mirai in India. Toyota in collaboration with the central government of India, under their alternative fuels project, are testing if hydrogen technologies are viable options for Indian consumers.
Toyota Mirai Expected Price
The price of the Toyota Mirai cannot be determined at this point because it is still in its testing stage in India. Also, the Indian automobile market does not have any car based on the hydrogen FCEV platform or its supporting infrastructure.
Note: Check your Car EMI with our - Car Loan EMI Calculator
Also Read: Toyota Cars At Auto Expo 2023 - What You Can Expect