All Toyota Cars Showcased At Auto Expo 2023
Here are the cars, SUVs, MPVs, hatchbacks and sedans Toyota showcased at the Auto Expo 2023. We've also included some detailed story links to help you get more information about the car. Let's start with the showstopper cars, which attracted the most attention and crowd at the auto show.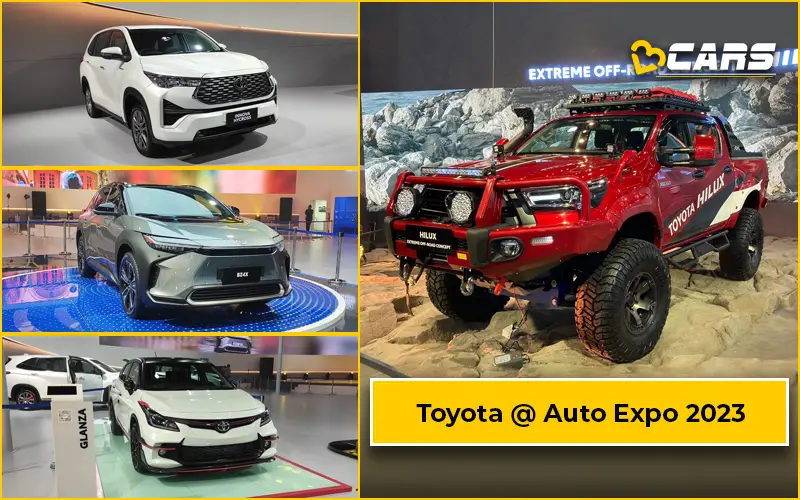 2023 Toyota Innova Hycross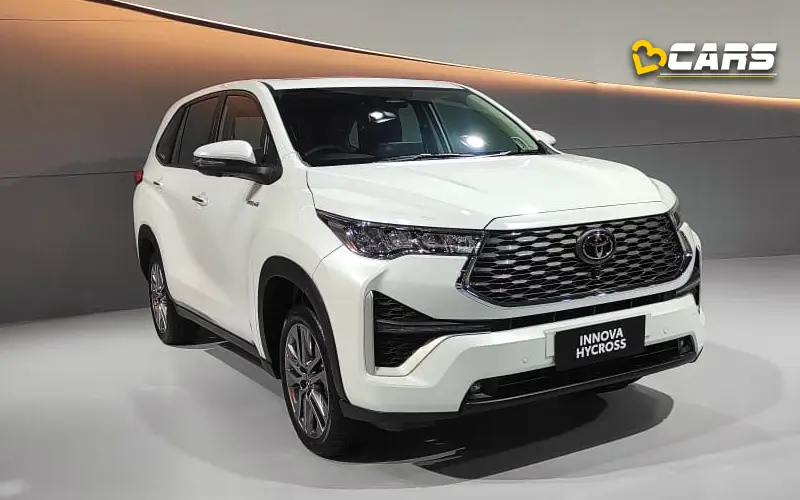 Toyota recently launched the Hycross and it has big shoes to fill to impress a typical Innova buyer who wants a ladder frame car and a diesel engine. The biggest feature of the Innova Hycross is its hybrid powertrain, which promises 21.1kmpl, which is unheard of from a 3-row D-segment petrol car.
We did a fuel cost comparison based on the official mileage figures of the Innova Hycross hybrid petrol-automatic and Innova Crysta diesel-automatic. In the calculations, we found that the Hycross hybrid is about one rupee cheaper to run per kilometre than the Crysta diesel-automatic.
Also Read: Toyota Innova Hycross Hybrid Petrol Vs Innova Crysta Diesel-Automatic — Fuel Cost Comparison
Toyota Innova Hycross Petrol Variants Explained - Which One To Buy
The Innova Hycross competes with D-segment 3-row cars like the Mahindra XUV700, Scorpio N, MG Hector Plus, Hyundai Alcazar and Tata Safari.
Toyota Mirai Hydrogen Fuel Cell Vehicle (FCV)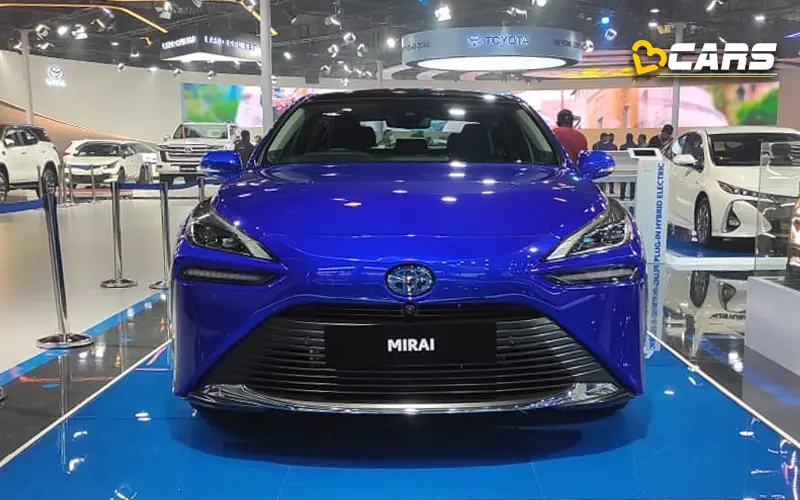 The Toyota Mirai is another flagship product, which demonstrates their expertise in making alternative fuel vehicles. After showcasing it at the 2020 Auto Expo, they brought it out once again at the 2023 Auto Expo.
Among other automakers, Hyundai and MG also presented their hydrogen FCV at the auto show. Hyundai had the Nexo SUV and MG brought the Euniq 7 MPV. Tata Motors also showcased their interest in pursuing hydrogen fuel-cell technology but their product showcase was a long-haul truck and an inter-city bus and no passenger cars.
Also Read: Pros And Cons Of Hydrogen Fuel Cell Vehicles
Tata Motors Hydrogen FCV, HCE Launch Plan In India - Opinion
Toyota Corolla Cross - Hydrogen Combustion Engine (HCE) Concept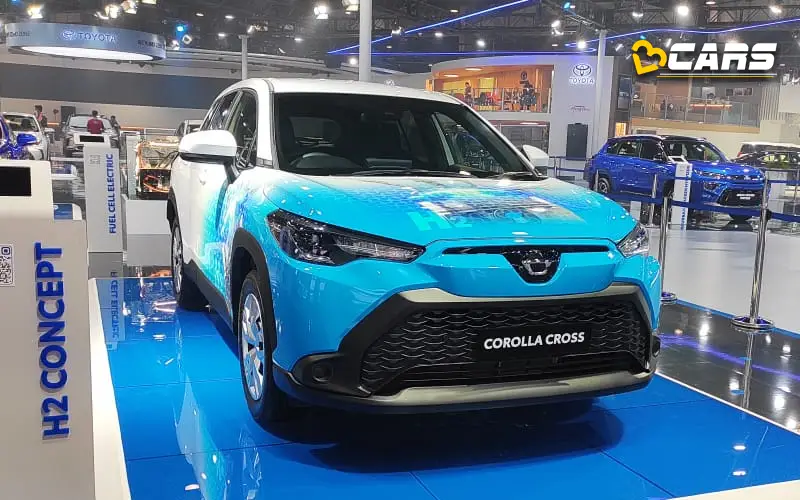 The Toyota Corolla Cross brings all the fun of an internal combustion engine like the vibrations, fruity engine and exhaust notes but none of the pollution. It uses the same engine as a petrol car, but with some modifications to burn hydrogen instead of petrol. Currently, Toyota are the only carmaker in the world with a hydrogen fuel cell car as well as a hydrogen combustion engine car in their product plans.
Also Read: Toyota Corolla Cross Hydrogen Combustion Vehicle Showcased At Auto Expo 2023
On a side note, Tata Motors were the only other automaker with a hydrogen fuel-cell and a hydrogen combustion engine vehicle on display. Although, the truck and bus were both for commercial buyers and they don't yet have any passenger car running on hydrogen, even in prototype form.
Also Read: Auto Expo 2023 - Tata Motors Reveal Hydrogen FCV Truck, Bus
Auto Expo 2023 - Tata Hydrogen Combustion Engine (HCE) Truck Revealed
Toyota Corolla Flex Fuel Hybrid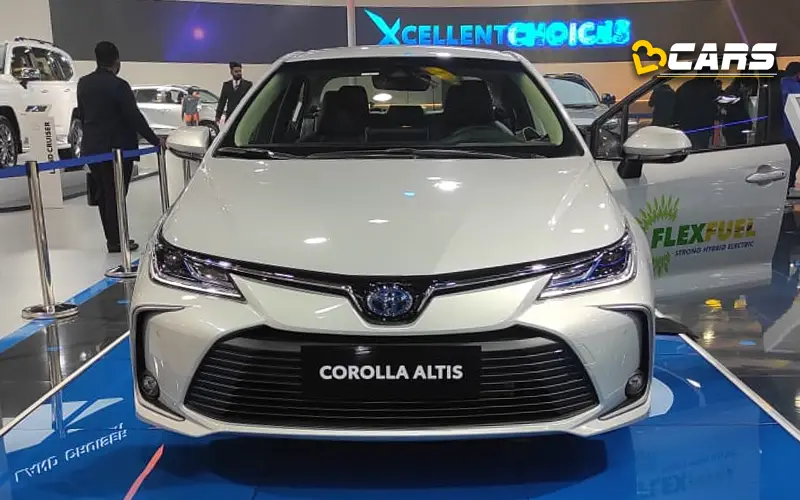 The Toyota Corolla flex fuel hybrid prototype also made it to the auto expo. With this test car, Toyota are hoping to achieve compatibility with higher ethanol concentrations of up to 85%.
While the green revolution is covering the developed world, we're still several years behind schedule. We have a few stops to make along the way and the flex-fuel is one of those stops. The government is pushing for faster adoption of flex fuel and Toyota have a headstart in that respect. We can't expect it to go on sale in the next few years as the flex fuel availability is still a concern. However, the rest of Toyota's petrol cars may officially get E20 compliance much sooner, as in, by the end of 2023.
Also Read: Pros And Cons Of Flex Fuel Vehicles (Ethanol Blend)
Toyota Corolla Altis Flex Fuel Hybrid Showcased At Auto Expo 2023
Maruti Suzuki To Make Entire Range E20 Flex Fuel Complaint By March 2023
Previous-Generation Toyota Prius Prime Plug-In Hybrid EV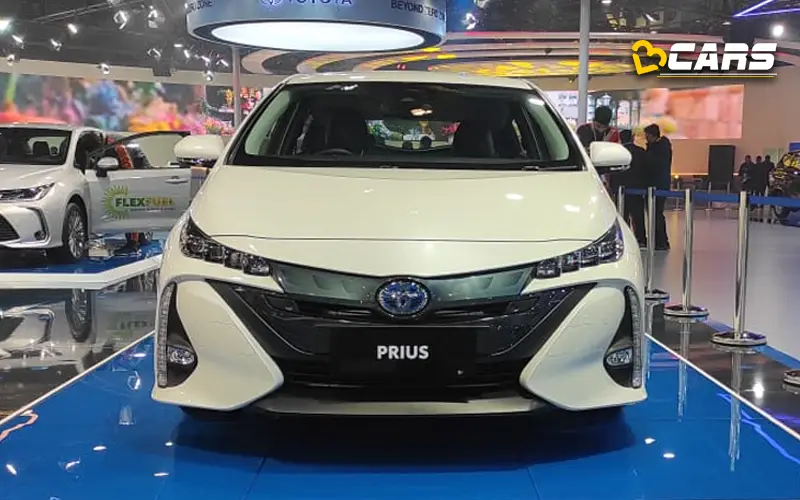 When Toyota confirmed that they are bringing a plug-in hybrid car to the Auto Expo, we were excited to see the fancy, next-generation Prius. But, Toyota instead showcased the Prius Prime at the show, which is the plug-in hybrid version of the previous generation Prius.
With a full charge, the Prius plug-in can squeeze up to 50km of range out of its 8.8kWh battery pack. The theoretical range of the Prius plug-in hybrid with a full tank of petrol is 1,300km.
Toyota BZ4X Electric SUV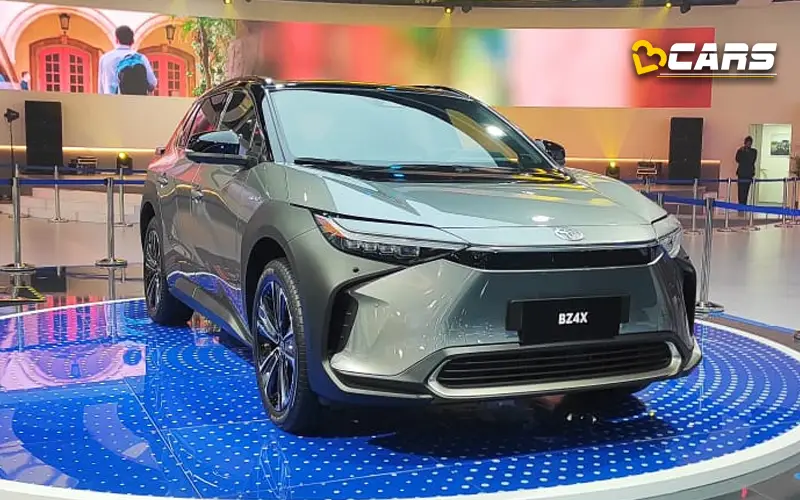 The BZ4X is Toyota's first and only battery electric SUV and it was also present at the Toyota's expo pavilion. It gets a 71.4kWh battery pack and the option of a single or dual-motor configuration. The BZ4X twin motor with 4-wheel drive capabilities offers a claimed range of up to 460km on a single charge while the single motor version can go up to 510km on a full charge.
Also Read: Toyota BZ4X Electric SUV Launching In India Or Not?
2023 Auto Expo - Toyota Showcase BZ4X Electric SUV
Toyota Hilux Extreme Off-Road Concept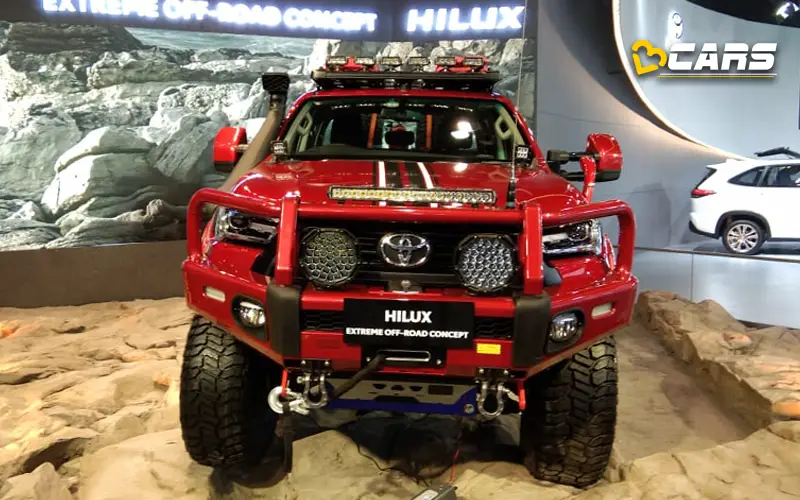 Among wacky cars, the Hilux off-road concept takes the prize. Some of the features, which make it rally-ready are:
Slew of auxiliary LED lights
Winch
Tow hooks
6-inch lift kit
Modified bumpers for better approach and departure angles
Aggressive high-profile off-road tyres
2 spare tyres with ratchet strap in the flat bed
A snorkel for air intake
Don't expect it to go on in India in the foreseeable future. But it's a good inspiration for Hilux owners who participate in the off-road and rally events.
Also Read: 2023 Auto Expo - Toyota Hilux Extreme Off-Road Concept Detailed Look
Toyota Glanza Sport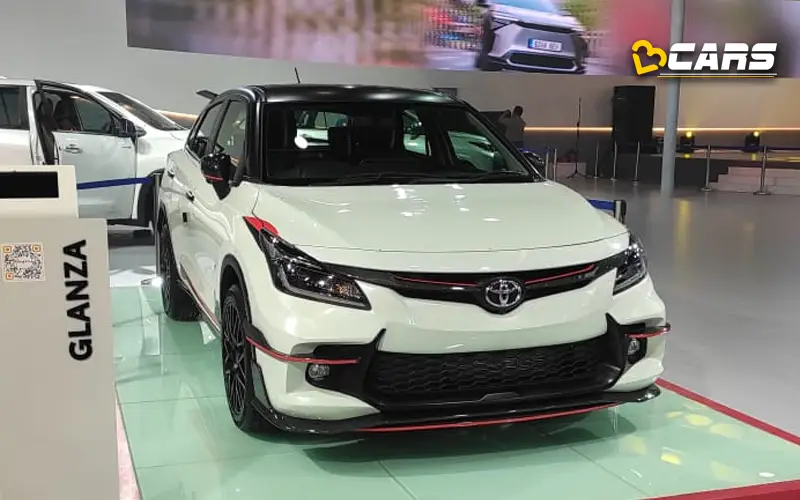 The Glanza was another exorbitantly-accessorised car at Toyota's Auto Expo 2023 stall. While the changes weren't many, they certainly were over the top especially considering that it has a 1.2L normal petrol engine.
Some of the modifications were:
Large, 17-inch sporty, black alloy wheels
Wider 205-section tyres
Aggressive front and rear bumpers
Red and white racing stripes on leather upholstery
Carbon fibre pattern on dashboard, door pads and steering wheel
Red and white accents on dashboard and door pads
Rear splitter
Single centre exhaust
Just like the Hilux concept, this one is also not likely to go on sale in the foreseeable future but it certainly reminded us of the modest, practical and affordable cars in Toyota's India portfolio.
Also Read: Glanza Sport Officially Showcased At The Auto Expo
Toyota Land Cruiser LC300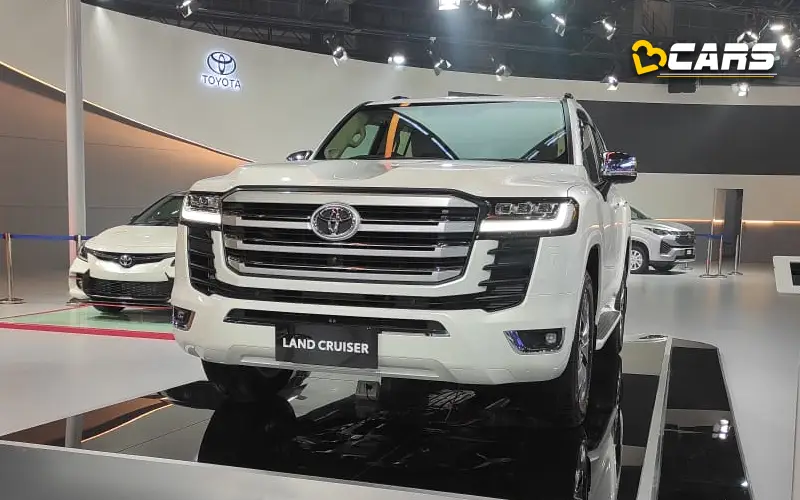 With an ex-showroom price of Rs. 2.10 crore, the Land Cruiser LC300 is Toyota's most expensive car in India. It gets a 3.3L diesel engine churning out 306PS of power and 700Nm of torque to all 4 wheels via a 10-speed torque converter automatic transmission. The Land Cruiser competes with top-spec luxury SUVs like the Land Rover Range Rover, BMW X7 and Mercedes-Benz GLS.
At first glance, you might find it absurd to spend more than Rs. 2.0 crore on a Toyota car. But, there are buyers in India who are willing to pay this premium on an imported Toyota for the peace of mind and long-term reliability.
Also Read: Toyota LC300 2023 Launched At Auto Expo 2023
Not Showcased - New-Generation Prius Plug-In Hybrid EV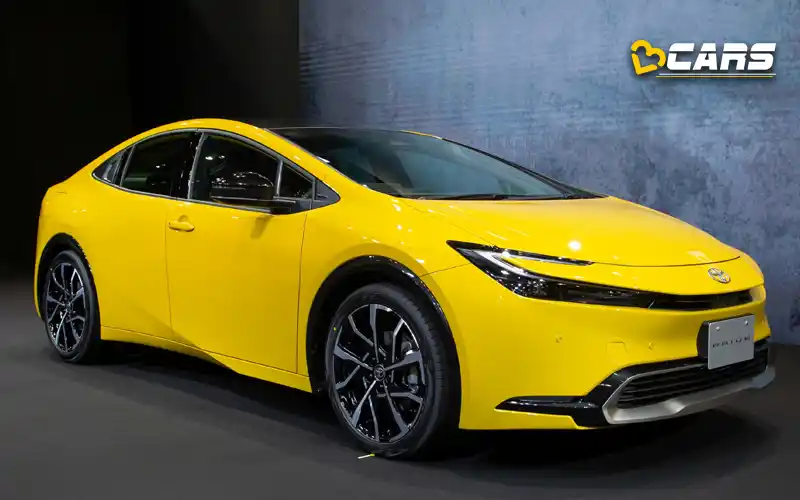 Not Showcased - 2023 Toyota Taisor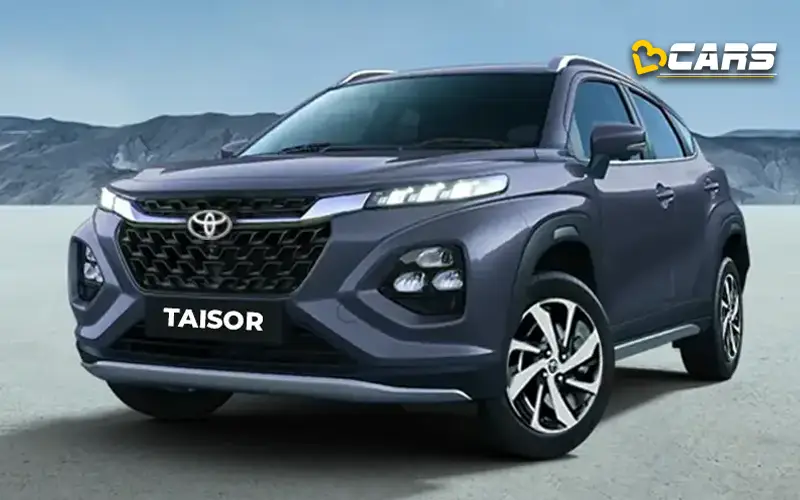 Not Showcased - Toyota Crysta Classic