Home
-
Car Comparison
-
Hyundai Aura vs Maruti Suzuki Dzire - Petrol Engine Specifications Comparison
2020 Hyundai Aura vs Maruti Suzuki Dzire - Petrol Engine Specifications Comparison
The Hyundai Aura is the latest kid on the block in the subcompact sedan market. Although the Aura is yet to launch, its official reveal has generated a lot of interest already. Let us compare the Aura's petrol engine specs with the Maruti Suzuki Dzire petrol, to find out which one is worthier.
---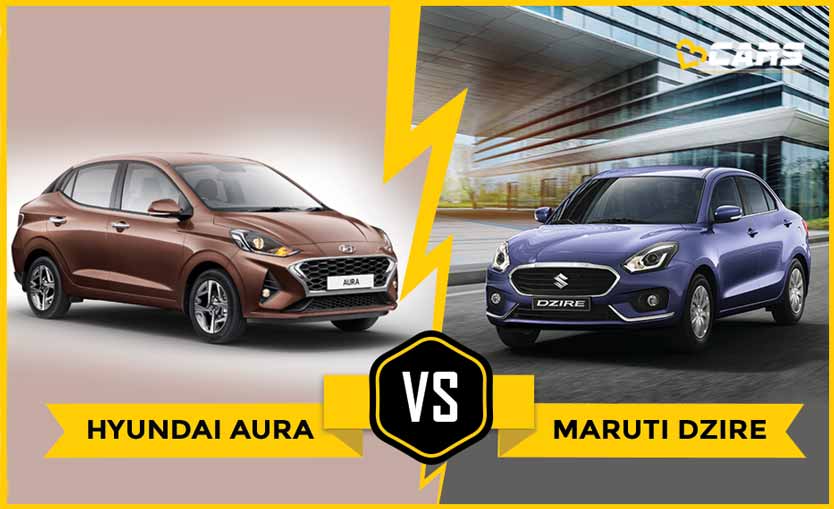 Take a look at the 2020 Hyundai Aura vs Maruti Suzuki Dzire petrol engine specs:
2020 Hyundai Aura vs Maruti Suzuki Dzire

PETROL ENGINE SPEC COMPARISON

 

Hyundai Aura

Maruti Dzire

Displacement

1.2-litre

1.0-litre Turbo

1.2-litre

Power

83PS @ 6000rpm

100PS @ 5000rpm (est.)

83PS @ 6000rpm

Torque

115Nm @ 4000rpm

172Nm @ 1500 - 4000rpm (est.)

113Nm @ 4200rpm

Manual Transmission

5-speed

5-speed

5-speed

Automatic Transmission

5-speed AMT

-

5-speed AMT

Emission Standard

BS6

BS6

BS6

As can be seen from the above table, both the Hyundai Aura and Maruti Suzuki Dzire are available with a 1.2-litre normal petrol engine. Both these engines generate the same power output at the exact same point in the rev band. The Dzire's torque figure is slightly less than the Aura and it also peaks 200rpm higher in the rev range. However, that shouldn't make much noticeable difference in real life.
Both the cars' 1.2-litres petrol engines are BS6 compliant. Both the cars also come equipped with a 5-speed manual and 5-speed AMT automatic transmissions.
The Aura also offers 1.0-litre turbocharged petrol engine option to choose. This turbo petrol offers 17PS more power than the normal petrol engine while offering 57Nm of more torque. The peak torque is available from 1500 to 4000rpm making it a torque monster for its class with a strong mid-range punch. The turbo petrol engine comes only with a 5-speed manual transmission.
2020 Hyundai Aura Petrol vs Maruti Suzuki Dzire Petrol - Engine Specifications Comparison - Conclusion
Based on the comparison, the Hyundai Aura offers 2 petrol engine choices compared against the Maruti Suzuki Dzire's single petrol engine. The Aura's punchy turbo petrol engine option definitely puts the Aura ahead of the Maruti Suzuki Dzire petrol.
The 2020 Hyundai Aura subcompact sedan's petrol version is the winner in this comparison. The Aura offers an option of turbocharged engine while matching the Dzire's performance.
Previous
Next
---
---
Related Car Comparison