2022 MG ZS EV To Offer 75 Plus Connected Car Features | V3Cars
MG Motor India will offer over 75 plus connected car features under the Car-as-a-platform subscription model. These features will work in conjunction with Map My India, Jio, Park Plus and Shortpedia. MG Motor India will unveil the ZS EV facelift on March 7 via a virtual online event.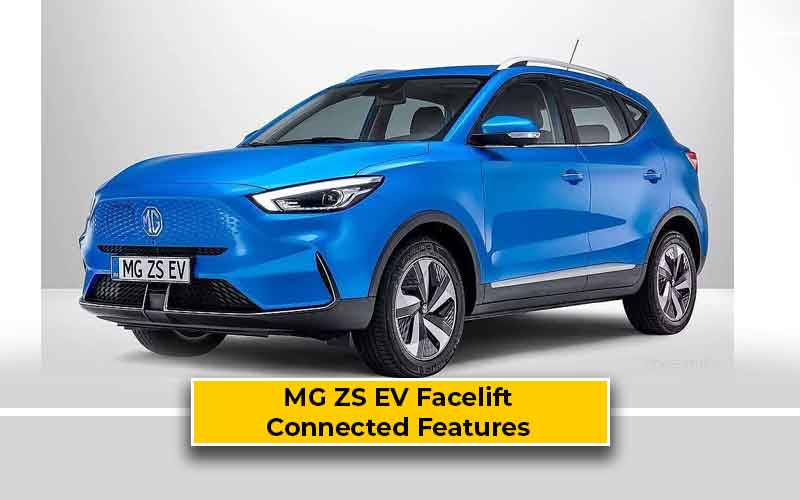 The connected features will include the regular suite of geo-fencing, vehicle diagnostics, remote lock/unlock, remote start/stop, and operations via voice commands. In addition to that, MG Motor India will offer an ecosystem of various connected subscription models. The navigation in the ZS EV will be supported by MapMyIndia to offer a 4D live feed of maps. WIth Park Plus, you will be able to reserve your parking spot online before reaching your destination. For music streaming, the infotainment system will also support Jio Saavn whereas Shortpedia will provide daily news in both Hindi and English.
Note: Check your Car EMI with - Car EMI Calculator
Like the MG Astor, the ZS EV will also sport a Bluetooth key feature. It enables the driver to start and drive away via your smartphone without having the physical key in hand. This feature will serve better as a one-off instance rather than in a daily schedule. In case of emergency, MG claim to have the Pulse Hub support 24x7 for roadside assistance.
Calculate your fuel cost with our - Fuel Cost Calculator in India
Along with the new connected features, the new ZS EV facelift will also get a bigger 51kWh battery pack. The current ZS EV, with its 44kWh battery pack, puts out 143PS of power and 350Nm of torque. However, the 2022 ZS EV will offer a significant bump in power, at 176PS, but less torque, at 280Nm. This tweaking in the power and torque output, along with a bigger battery pack, could mean a better certified range than before.
Also Read: Exclusive - 2022 MG ZS EV Power and Battery Specs