Kia Likely To Rebrand 2023 Carnival (KA4) For India - Opinion | V3Cars
Kia India are likely to rename the next-generation Carnival for India. For now, they are calling it the KA4 and it's unclear if it'll retain this code as the name or get a proper name. They presented the 2023 Carnival but insisted on calling it the KA4 during all presentations, teasers and official communication. The most likely reason for this is the sales figures, which have probably remained below their expectations.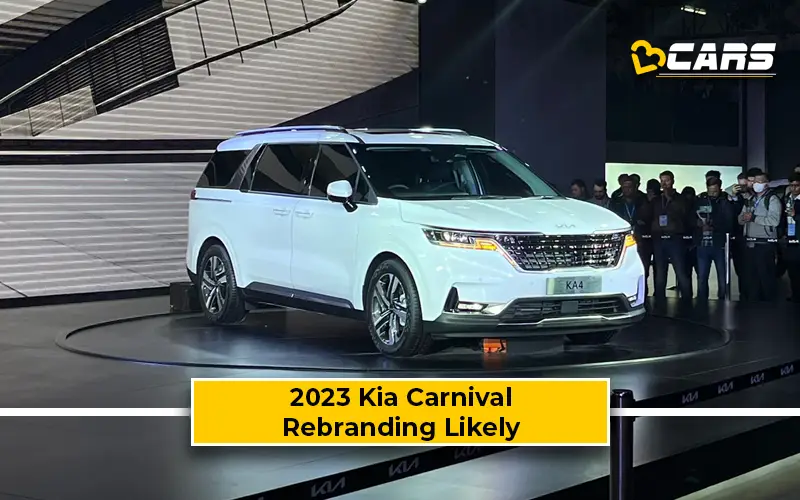 Waiting for the generation update for the renaming exercise is a smart move on Kia's part. The new MPV has more aggressive looks but retains the traditional MPV side profile. So, launching it in India with a new name will seem digestible.
The current model of the Carnival has routinely maintained low 3-figure monthly sales and occasionally hitting high 3-figure numbers on the chart. Some of the reasons behind the Carnival's poor performance in India are:
MPV styling in times when buyers are demanding aggressive SUV looks
Low ground clearance combined with very long wheelbase result in underbody scraping, especially under full load
Monocoque platform would not attract an Innova buyer interested in a rough-and-tough people mover; although, Toyota have also moved to a monocoque platform for the new-generation Innova Hycross
It was quite old to begin with when it arrived in India as it entered production around 2014-2015
We hope Kia modify the new-gen KA4/Carnival when they launch it in India to give it 200mm+ ground clearance. In terms of design, the upcoming KA4 will have a tough time challenging the Innova now as Toyota have chosen an SUV styling for the Hycross. A mouth-watering price tag like that of the Carens could do the trick for the 2023 KA4.
Also Read: Innova Hycross Petrol Variants Explained - Which One To Buy
Note: Check your Car EMI with our - Car Loan EMI Calculator
In the last year or so, Kia have gone off their tick-tock launch cycle. At the 2020 Auto Expo, Kia announced that they will launch one new vehicle every 6 months. Here's the launch history of Kia cars in India:
As you can see, there's a big gap in between the Carens and EV6 launch. Moreover, we've entered the 7th month since the EV6 launch with no new Kia car in sight for this month. Since last launch from Kia (EV6) was a low-volume halo product, we should expect the Seltos facelift to launch next. With a 6-month launch schedule, I'm only expecting the Carnival's replacement to go on sale in the 2nd half of 2023. However, it's an odd launch cycle as the massmarket product usually gets the priority slot of the 3rd quarter in a calendar year to cash in on the festive shopping season.
Also Read: Kia Carens Petrol Variants Explained - Which One To Buy?
For reference, Apple followed the tick-tock launch cycle for almost a decade. They brought design upgrades in one launch cycle and performance/feature upgrades in the next cycle. Kia's product launch cycle brings one high-volume, massmarket car in one launch cycle and a low-volume, halo product in the other.
The Sonet and Seltos facelift are due considering how deep they are in their lifecycle. Unfortunately, neither of these cars were present at the Kia's 2023 Auto Expo pavilion. The Sonet, which launched in September 2020 was present in concept form at the 2020 Auto Expo in February 2020. Among cars from Kia's sister brand, Hyundai, the Venue received its mid-life update a few months ago but the Creta is starting to get long in the tooth and is begging for a design refresh.
Also Read: Hyundai Creta Facelift Won't Launch In 2023
Track our complete 2023 Auto Expo coverage at: Auto Expo 2023
Note: Check your car's fuel cost with Fuel Cost Calculator in India