6 Airbags Won't Be Made Mandatory – Gadkari | V3Cars
The Union road transport and highways minister Nitin Gadkari has clarified that 6 airbags in cars won't be made mandatory. The clarification comes after the road transport ministry issued a draft notification to make 6 airbags mandatory in all passenger vehicles starting October 2023. The latest statement comes as a huge relief for carmakers concerned about hiking car prices to offer more airbags.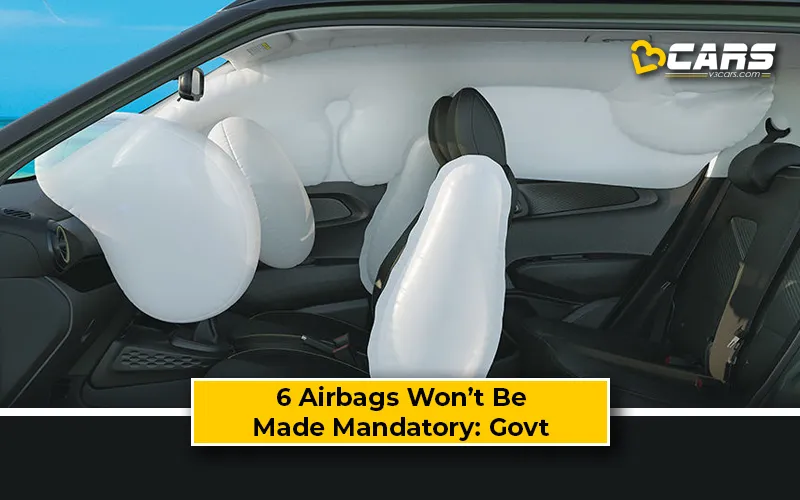 The minister said that the new Bharat NCAP and star rating system would be sufficient for customers to judge the safety of a car. "We don't need to make it mandatory...everyone is doing it, and some of them are making advertisements and getting good share, and those who don't want to do it, they are pressing them ...if they want good sales, they have to make 6 airbags, and if they don't want to make it, it is their problem. We don't want to make it mandatory," said Nitin Gadkari.
Earlier, the government planned to make the 6 airbags rule effective starting October 1. However, some car manufacturers were apprehensive about this proposed rule. That said, companies like Hyundai now offer 6 airbags as standard in their new offerings like the recently-launched Exter small SUV. Other manufacturers offer 6 airbags in the top variants of their B2- and C-segment vehicles.
Note: Now Find Out The Fuel Price In India Using V3Cars
"One company, they may have some reservations, it is up to them...whether you want to do it or not, we leave it you. But, now people are cautious, and whatever the economic model, , people prefer to take a car that has six airbags. So, it is up to the market and now it is the manufacturers and people who can decide, so we leave it to them," Gadkari added.
In a preliminary notification issued in January 2022, the Ministry of Road Transport and Highways (MoRTH) had taken steps to enhance occupant safety in motor vehicles during lateral impacts. This initiative aimed to mandate the installation of 6 airbags in all M1 category vehicles.
As per the definitions outlined in the Central Motor Vehicles Rules (CMVR) of 1989, the M1 category includes passenger cars with a seating capacity of up to 8 individuals, inclusive of the driver's seat. This category includes a wide range of vehicles, such as hatchbacks, sedans, MUVs and SUVs
However, on September 29, 2022, the Union minister announced a 1-year extension to this deadline. The new deadline for compliance with this safety requirement was set for October 1, 2023. This extension was granted in consideration of the challenges faced by car manufacturers due to supply chain issues.
Note: Instantly Sell Your Old Car With V3Cars Sell Used Car Platform
Also Read: Different Types Of Car Engines Explained