7 Features Hyundai Verna Gets But Honda City Hybrid Doesn't | V3Cars
The Hyundai Verna 2023 is the latest C2-segment sedan in India and it rivals the recently-updated Honda City facelift. In this article, we list 7 features that the Hyundai Verna offers but the Honda City Hybrid doesn't.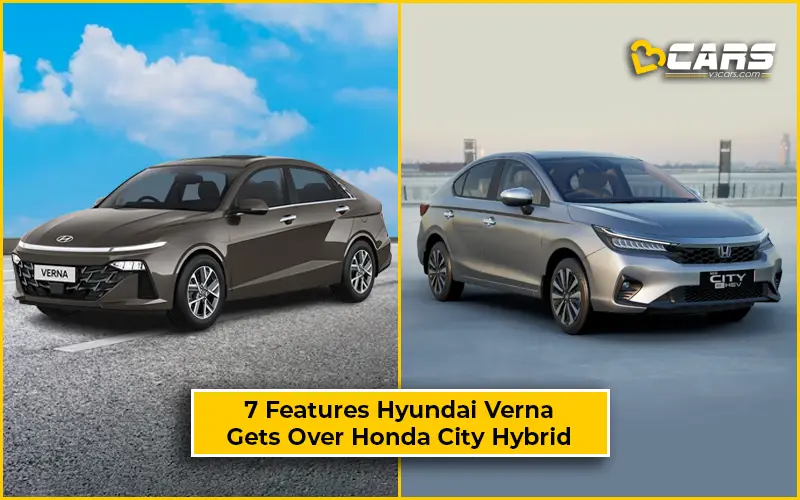 1. Height Adjustable Seatbelts
The top variants of the new Verna offer height adjustable seatbelts for front passengers. The Honda City Hybrid, on the other hand, doesn't offer height-adjustable seatbelts even in the top variants. A height-adjustable seatbelt lets people adjust the height of the seatbelt for better comfort and safety.
Note: Check out the list of Electric Cars in India
2. Front Parking Sensors
While both the updated City Hybrid and Verna 2023 offer rear parking sensors and camera, the Verna also offers front parking sensors. Front parking sensors give you an idea about the clearance up ahead and help in parking efficiently.
3. Premium Sound System
The top variants of the new Verna offer a Bose sound system, which includes 4 speakers, 2 tweeters, a front dashboard speaker and a subwoofer. The Honda City Hybrid, on the other hand, comes with an unbranded sound system with 4 speakers and 4 tweeters.
4. Powered Driver Seat
The new Verna is the only sedan in its segment to offer a powered driver seat. However, it is worth mentioning that the electronic adjustment only works for sliding and reclining functions whereas height adjustment remains a manual affair.
Note: Check your car's fuel cost with Fuel Cost Calculator India
5. Heated And Ventilated Front Seats
The new Verna is also the first sedan in its segment to offer heated and ventilated front seats. Since both sedans come with leatherette seat upholstery, seat ventilation becomes a necessary feature to have a comfortable experience, especially in the summers. Unfortunately, the Honda City Hybrid lacks seat ventilation, even in its top variants.
6. Drive Modes
The new Verna offers drive mode select that changes the responsiveness of the engine and transmission depending on the mode selected. The Verna offers the option to choose from Eco, City and Sport mode whereas the City Hybrid doesn't offer any drive mode.
7. Cornering Lamps
While both the new Verna and City Hybrid offer LED headlights, the new Verna also offers cornering lamps. Cornering lamps light up the corners of the road while you make a turn. It makes driving at night safe and effortless.
Also Read: 5 Features Honda City Hybrid Gets But Hyundai Verna Doesn't