April 2023 Mahindra Car Sales Analysis - YoY, MoM Change, 6-Month Trend | V3Cars
In this April 2023 Mahindra car sales analysis, we'll look at the car sales of Mahindra for the previous month. We'll also compare the YoY and MoM change to find out which Mahindra cars' sales improved and which ones declined. Lastly, the table with monthly sales for the last 6 months will give you an idea about the 6-month sales trend of all Mahindra cars.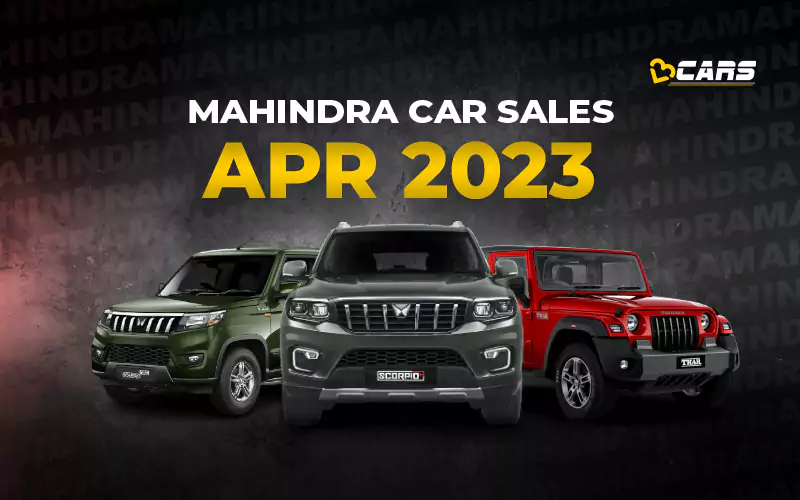 April 2023 - Mahindra Car Sales Figures - YoY Change
All the cars in Mahindra's lineup reported increase in sales numbers in April YoY comparison analysis
The Bolero pair was the best selling car in Mahindra's lineup till March, but was overtaken by the Scorpio pair in the month of April in monthly sales
Scorpio pair was the best gainer with 255% YoY gains in April comparison analysis
The Thar was the second best gainer for Mahindra, with a 68% YoY growth in the month of April
Mahindra launched its first and only electric car, the XUV400 in the past year and reported over 902 units dispatched in the month of April
Alturas G4 was discontinued by the carmaker. Besides that, E-Verito has been reporting zero dispatches for three consecutive months and may be officially discontinued soon.
April 2023 - Mahindra Car Sales Figures - MoM Change
Most Mahindra cars reported an MoM decline in April, with the exception of Scorpio pair and Thar, which reported a MoM growth of around 9.5% and 6%, respectively
Amongst the losers, the XUV400 saw the biggest decline of over 50%, followed by the XUV700 with 7%
Other notable loser in MoM comparison losers for Mahindra in April was the Bolero pair with a 5% decline in dispatches
Mahindra — 6-Month Sales Trend (Nov 2022 - Apr 2023)
Note: Check your Car EMI with our - Car EMI Calculator
You can use our Fuel Cost Calculator to see how much any petrol, diesel or CNG car will cost to run based on the latest fuel price in your city.