November 2022 Car Sales Analysis - 20 Top-Selling Cars | V3Cars
In this November 2022 cars sales analysis article, we'll look at the YoY and MoM change for the 20 top-selling cars of November 2022. Based on the data, we'll also share our observations and possible reasons for big improvement or massive decline in sales where applicable.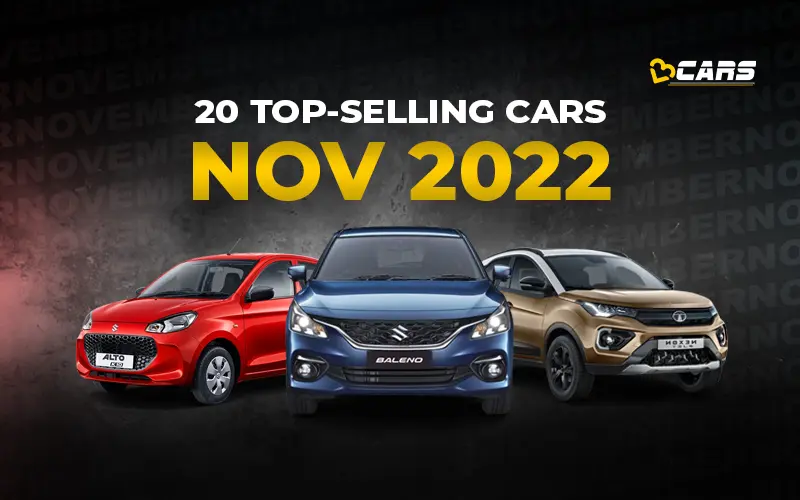 November 2022 - 20 Top-Selling Cars YoY Change
In terms of YoY comparison, the Maruti Suzuki WagonR hatchback and Eeco MPV were the only losers in the top 20 selling cars in the month of November 2022. WagonR sales dropped by 2,133 units compared to November 2021, resulting in a YoY decline of 12.66%.
Maruti Suzuki Baleno reported the best growth, with a gain of 111% in terms of YoY comparison.
The next best YoY performer in November 2022 was Punch with 98.54% gains. The Scorpio was the third best gainer with a YoY growth of 91.54% in November 2022. It is to be noted that the Scorpio was the top-gainer in the YoY comparison analysis in the month of October.
After the launch of new-gen Alto K10 in August 2022, the Alto brand from Maruti left others behind by a huge margin. But the Baleno, which was hovering around the 4th spot in terms of monthly sales, outsold the next best-seller (Nexon) by almost 5,000 units. That is a margin roughly equal to the total monthly sales of Citroen, Jeep and Skoda/Volkswagen combined. The Alto nameplate has been pushed to the third spot in terms of monthly sales.
The top 11 best selling cars in November 2022 sold well over 10,000 units a month.
About 8 out of 20 models on the top 20 bestselling list in November 2022 are from Maruti Suzuki.
Hyundai have 4 cars in the November 2022 YoY Top 20 performers list, while Tata, Mahindra and Kia have 2 each.
November 2022 - 20 Top-Selling Cars MoM Change
The Ertiga was the best performer in the MoM comparison for the month of November, with a 31.7% growth in sales.
The second best performer in the MoM comparison for November 2022 was the Maruti Baleno with a 22% growth over its October sales figures. It was followed by the Dzire with a 17.33% growth in sales compared to the previous month.
The worst performer was incidentally from Maruti as well (Alto/Alto K10), with a 26.33% drop in sales in November 2022..
The next biggest notable losers are as following:

Eeco with MoM drop of 19%
WagonR with MoM drop of 18%
Scorpio with MoM drop of 13.22%
Top 20 Sellings Cars— 6-Month Sales Trend (June 2022 - Nov 2022)
Note: Check your Car EMI with our - Car Loan EMI Calculator
You can use our Fuel Cost Calculator to see how much any petrol, diesel or CNG car will cost to run based on the latest fuel price in your city.