December 2022 MG Car Sales Analysis - YoY, MoM Change, 6-Month Trend | V3Cars
In this December 2022 MG cars sales analysis article, we'll look at the car sales of MG for the previous month. We'll also compare the YoY and MoM change to find out which MG car's sales improved and which ones declined. Lastly, the table with monthly sales for the last 6 months will give you an idea about the 6-month sales trend of all MG cars.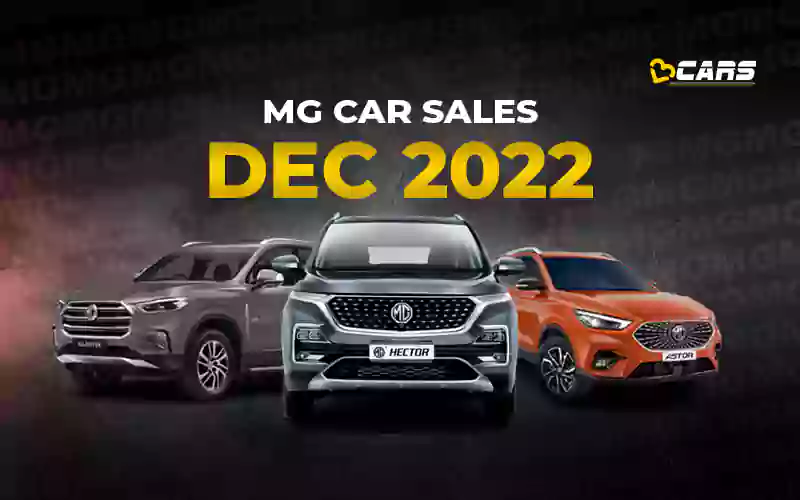 December 2022 - MG Car Sales Figures - YoY Change
Speaking of YoY comparison, MG Motors saw growth across the in December 2022 compared to December 2021
ZS EV, the C-segment electric SUV from the manufacturer was the top gainer in YoY comparison with a huge 400%+ increase in dispatches in December of 2022
ZS EV was followed by Astor with 50% increase, Hector twins with 30% increase in YoY dispatches
Gloster D-segment SUV from the carmaker remained consistent in terms of dispatches, with just 2.78% increase in December 2022
Also Read: 2022 MG ZS EV - Range, Performance, Comfort Review
2022 MG ZS Electric SUV - Interior Usability, Feature Review
New MG ZS EV Electric SUV - Exterior Design, Feature Review
December 2022 - MG Car Sales Figures - MoM Change
MG reported a decline in production for 2 out of 4 cars in its portfolio.
Amongst the MoM losers, ZS EV was the top loser in MoM comparison with a 31% decline in dispatches in December compared to November
Hector twins also a reported a MoM decline of 11% in December
Speaking of MoM gainers, Astor C-segment SUV from MG has a healthy growth of 17.5% in December, and was the top performing car for MG Motors
Gloster showed a 5% MoM growth
Also Read: MG Astor Petrol Variants Explained - Which One To Buy?
MG — 6-Month Sales Trend (July 2022 - Dec 2022)
Note: Check your Car EMI with our - Car EMI Calculator
You can use our Fuel Cost Calculator to see how much any petrol, diesel or CNG car will cost to run based on the latest fuel price in your city.