June 2023 Hyundai Car Sales Analysis - YoY, MoM Change, 6-Month Trend | V3Cars
In this June 2023 Hyundai car sales analysis article, we'll look at the car sales of Hyundai for the previous month. We'll also compare the YoY and MoM change to find out which Hyundai cars' sales improved and which ones declined. Lastly, the table with monthly sales for the last 6 months will give you an idea about the 6-month sales trend of all Hyundai cars.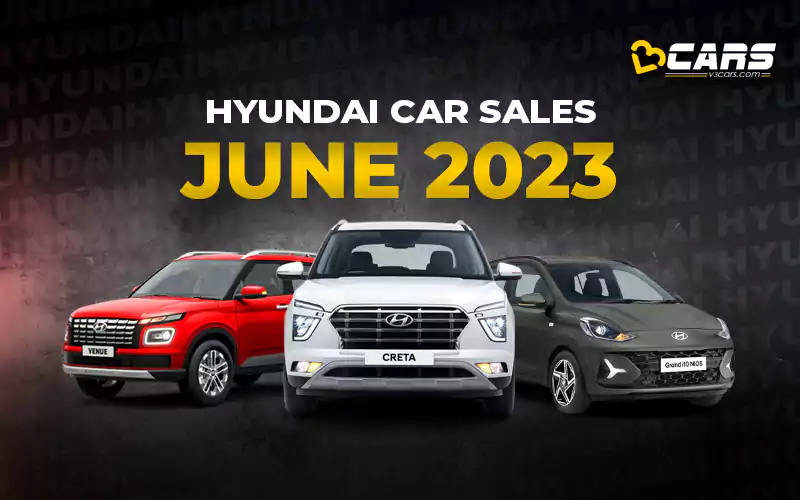 June 2023 - Hyundai Car Sales Figures - YoY Change
The Creta is a consistent top performer for Hyundai, with about 14,500 units sold in June 2023.
The Creta and Venue were the only cars from Hyundai's stable with a 5-digit sales number in June 2023.
All Hyundai cars except Grand i10 Nios and i20 reported growth in sales in June 2023 compared to June 2022.
Disregarding the low-volume Tucson and Kona's sales numbers for the purpose of this analysis, the Verna was the top gainer in our June 2023 YoY comparison with over 135% increase in sales.
Among the losers, the Grand I10 Nios saw a 30% decline in sales in our June YoY comparison and was followed by i20 with a 22.21% YoY decline in comparison analysis for the month of June.
Note: Instantly Sell Your Old Car With V3Cars Sell Used Car Platform
June 2023 - Hyundai Car Sales Figures - MoM Change
Most cars reported a decline in MoM comparison in the month of June.
Venue was the top gainer with a 13.64% MoM growth in June, whereas Verna reported a growth of 8.52% over its May sales figures.
Disregarding the numbers of the low-volume Ioniq 5, Kona and Tucson, the Alcazar was the top loser with 13.26% decline in dispatches in June compared to May.
Before the launch of the Verna 2023, the sedan's sales numbers were declining.
Sales of the Grand i10 Nios and Creta remained consistent in the MoM comparison analysis.
Note: Check your Car EMI with our - Car Loan EMI Calculator
Hyundai — 6-Month Sales Trend (Jan 2023 - June 2023)
Also read: Maruti Suzuki Invicto 2023 Launched In India - Prices, Specs, Variants And Top Features | V3Cars