June 2023 Maruti Suzuki, Nexa Car Sales Analysis – YoY, MoM Change, 6-Month Trend | V3Cars
In this June 2023 Maruti Suzuki Cars sales analysis article, we'll look at the car sales of Arena and Nexa for the previous month. We'll also compare the YoY and MoM change to find out which Maruti cars' sales improved and which ones declined.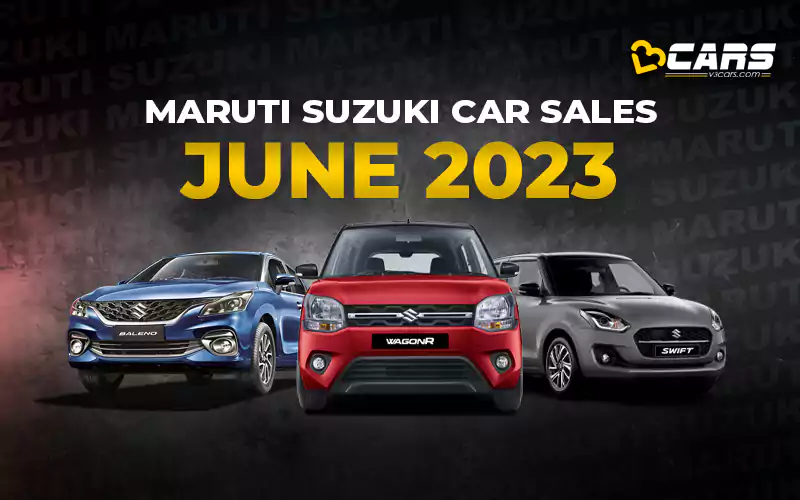 June 2023 - Maruti Suzuki Arena & Nexa Car Sales Figures - YoY Change
Most of the Maruti cars saw a drop in sales figures in our YoY Maruti Suzuki car sales comparison
Maruti produced 1,29,956 cars in June 2023 compared to 1,21,988 units in June 2022, which is an overall YoY growth of over 6.53% in 2023 compared to 2022.
This growth in overall sales despite seeing a loss in most cars in the market is explained by the fact that Grand Vitara and Fronx were not on sale in the market. Their combined sales come to about 19,000 which is more than the losses made by other cars, which was roughly 11,000 units.
Brezza was the top YoY gainer amongst the high volume cars from Maruti, with over 140% YoY growth in the month of June.
Although Maruti is generally associated with high-volume cars being one of the most popular car brands in India, technically speaking S-Presso and Ciaz can be considered as low-volume cars from the carmaker.
Amongst the low-volume cars from Maruti, S-Presso reported a 319% YoY growth and Ciaz reported a 16% YoY growth in the June 2023 comparison analysis.
The top YoY loser was Celerio, with a YoY decline of around 61%. It was followed by Dzire with 26%.
Maruti launched 2 cars in the past year - Grand Vitara and Fronx.
June 2023 - Maruti Suzuki Arena & Nexa Car Sales Figures - MoM Change
Only 5 out of 15 Maruti cars in the comparison reported a growth in MoM comparison analysis for the month of June.
Sales of the top selling car by Maruti, the WagonR, increased by 7.52% in June compared to May.
Maruti Suzuki sold nearly 11,323 units of the Alto pair in June compared to just 9,368 units in May, which makes for an MoM rise of about 21%. This makes it the biggest gainer in the June 2023 MoM comparison for Maruti Suzuki India Limited. The only exception is the Ciaz sedan which has very low numbers consistently.
The Grand Vitara was next on the MoM gainers' ranking, with a 18.13% growth.
Among the MoM losers, Eeco topped the list with around 27% decline in dispatch numbers in June MoM comparison.
The Eeco was followed by the Baleno with about a 24.85% decline in sales numbers.
Maruti Suzuki Arena & Nexa — 6-Month Sales Trend (Jan 2023 - June 2023)
Note: Check your Car EMI with our - Car Loan EMI Calculator
You can use our Fuel Cost Calculator to see how much any petrol, diesel or CNG car will cost to run based on the latest fuel price in your city.