Kia Seltos Achieves 3 Lakh Sales Within 3 Years Since Launch | V3Cars
Kia India have announced that the Seltos C-segment SUV has achieved the 3 lakh sales milestone in under 3 years from launch. The Seltos accounts for nearly 60% of Kia's total sales in India.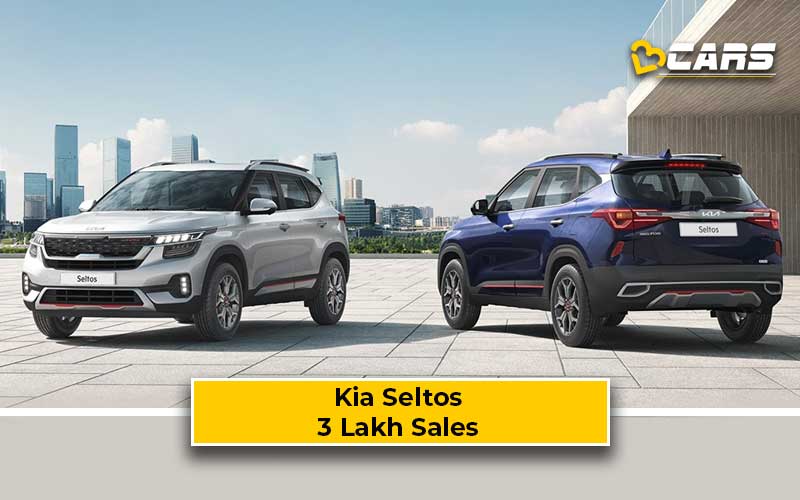 Here are some of the notable highlights of Kia's first made-in-India SUV:
The Seltos is the only SUV in its segment to offer 6 airbags as standard
Kia offer the Seltos with 3 engine and 4 transmission options
58% of Seltos buyers chose its top variants
46% of Seltos buyers preferred the diesel engine
25% of Seltos buyers chose variants with an automatic transmission
The Seltos was the first SUV to offer an auto-clutch manual (ACMT) with a diesel engine
1 out of 10 customers opted for variants with the auto-clutch manual transmission (ACMT)
Earlier, this month Kia India hiked the prices of the Seltos by Rs. 30,001. Click the link below for the updated variant and price list of the Kia Seltos 2022.
Also Read: Kia Seltos Prices Increased | August 2022
The Kia Seltos was launched on August 22, 2019. It was Kia's first product in India and set the ball rolling for Kia's manufacturing plant in Anantapur, Andhra Pradesh. Over the last 3 years, Kia India have exported more than 1 lakh units of the Seltos from their Anantapur plant, which is proof of the strong demand for the Seltos in overseas markets. Kia India are currently the 5th largest carmaker in India, with a market share of 6.9%.
Note: Check your car's fuel cost with Fuel Cost Calculator in India
Speaking about the Seltos' latest achievement, Mr. Myung-sik Sohn, the Chief Sales Officer of Kia India, said, "Being our first product in India, the Seltos has played a pivotal role in charting Kia's success story here. With Seltos, Kia India was able to establish itself as a true disruptor and was able to cement its position in country's top 5 car manufacturers within just two months of commencement of sales in the country. With Seltos, we wanted to offer a world class product that addressed the unmet needs of Indian customers, and the great response we've received is a testimony to the fact that we have achieved what we initially set out for. We are happy to see today that, Seltos has made its mark not only in its segment but on the overall Indian auto industry; it is amongst the most sought-after cars by the new age Indian customers."
He further added, "Very recently, we introduced six airbags as standard on the Seltos, which was yet again a segment first offering. With such regular updates in our products, and a strong customer centric approach, we are very optimistic about continuing our growth momentum and emerge as a much stronger brand in the days to come."
Note: Check your Car EMI with our - Car Loan EMI Calculator
Earlier this month, the Kia Seltos became the first SUV in its segment to offer 6 airbags as standard across its variant lineup. The government of India has mandated all carmakers to offer 6 airbags as standard in all new cars manufactured after October 2022. However, Kia India have taken the lead to offer 6 airbags as standard in two of their offerings. A few months ago, Kia also updated the Sonet and started offering front side thorax airbags, tyre pressure sensors and a few other safety features as standard.
Also Read: 2022 Kia Seltos gets 6 airbags as standard