Lexus India Introduces 'Lexus Meraki On Wheels' | V3Cars
Lexus India introduced one of its first and one-of-a-kind 'Lexus Meraki On Wheels', an unique and innovative retail concept that aims to bring Lexus closer to potential buyers. Lexus India launched a brand space in Calicut, the 4th inclusive Meraki showroom in India, on July 31, 2023, inspired by the Greek concept of Meraki. The other 3 brand spaces are in Gurugram, Coimbatore, and Pune.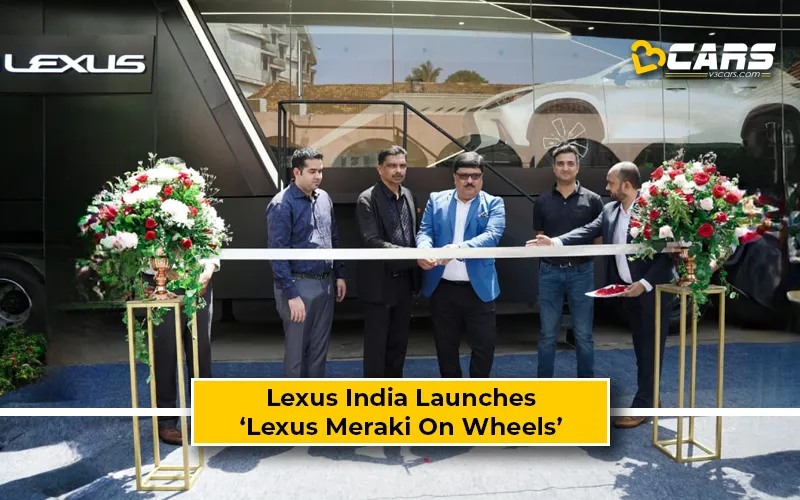 Lexus India have gone beyond the realms of digitisation and brick-and-mortar by introducing the 'Lexus Meraki On Wheels', a reinvented concept of automotive retail that can take Lexus on phygital ground to offer a truly immersive experience for potential buyers.
With the 'Lexus Meraki On Wheels' automotive retail concept, Lexus aim to reach out to discerning customers with a focus on connecting the remote parts of Kerala. Due to Kerala's unique topography and demographic distribution, it poses a challenge in reaching out to prospective Lexus customers.
Also Read: New-Gen Toyota Vellfire Launched — Prices Start From Rs. 1.20 Crore
Note: Instantly Sell Your Old Car With V3Cars Sell Used Car Platform
The Meraki will be docked at one location for 3-6 months and will tour 2-3 key cities in Kerala over a year. With the new retail strategy, the Lexus experience can now be available at the customer's doorsteps. Lexus currently offers 3 service points in Kerala — Kochi, Trivandrum, and Calicut. Lexus plan to expand their brand space to 17 markets and across 24 touchpoints in India with the help of 'Lexus Meraki On Wheels' in the near future.
The setup of this miniature brand space involves a luxury sedan on display and a Guest Lounge, which represents the values and philosophy of Lexus. The Meraki is designed to offer customers a full Lexus experience, whether in metros or Tier II and Tier III cities. The interior of the Luxurious Guest Lounge includes a 65-inch LED TV, displays, and decor in keeping with the brand. The lounge will host a virtual guest experience called the Virtual Dome. The virtual guest experience centre will offer an array of models, such as the NX, LX, ES, LC, and LS, that will provide customers with a complete 3D-based experience, including an in-depth understanding of each model, its interior, exterior, and functionality. Customers can also enquire and place requests for a test drive.
On the occasion, Naveen Soni, President, Lexus India, commented, "Kerala is a key hub for Lexus India's future mobility strategy in the southern region. With the establishment of our GEC facility in Kochi recently, we are bullish on the potential of Lexus in the region. The launch of Lexus Meraki on Wheels further reiterates our commitment of offering an unparalleled brand experience for our guests, here in Kerala. With this unique retail experience, we are determined to bring the Lexus experience to the doorstep of our guests irrespective of their geographical presence, especially in the non-metro markets".
Also Read: Mahindra XUV300 Facelift Likely To Offer Panoramic Sunroof
Note: Now Find Out The Fuel Price In India Using V3Cars