Maruti Suzuki To Reveal Nexa Engage 3-Row SUV (Toyota Hycross Rival) On July 5 | V3Cars
Maruti Suzuki just announced that they're about to reveal their flagship, 3-row SUV on July 5, 2023. While they neither confirmed the name nor did they say anything about its ties to the Toyota Innova Hycross, it's fairly easy to guess that it'll share the platform, powertrain, some exterior and interior body panels and even the features with the Hycross.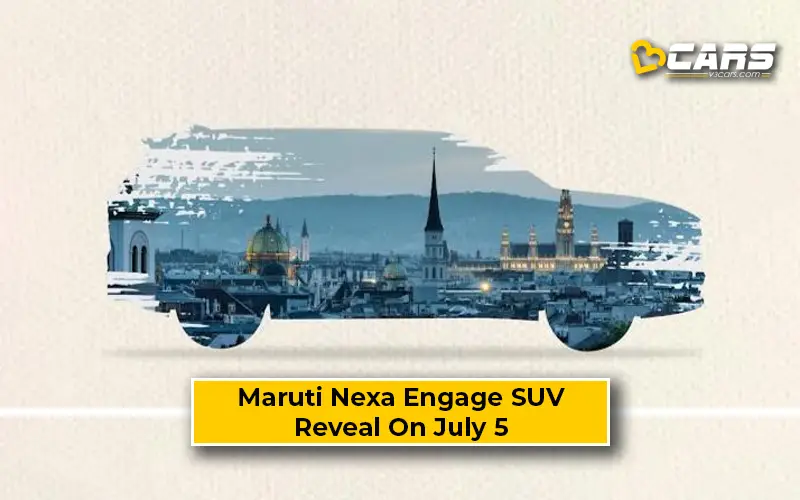 The official message from Maruti Suzuki read: "Engage with a new league of luxury". This message along with the fact that Maruti Suzuki hold the trademark rights to the 'Engage' clearly suggest that the SUV will carry the Engage nameplate.
Maruti Suzuki Engage Expected Engine Specs/Powertrain Options
In terms of engine options, the Nexa Engage from Maruti Suzuki will most certainly get the 2.0L normal petrol engine with a CVT automatic transmission. Right now, it's unclear if the Maruti Engage will get a manual transmission as well with this engine. But if it does, then it should help Maruti Suzuki price their first D-segment SUV at a more attractive price.
Speaking of uncertainty, we also can't put our finger on their pulse and say that the Maruti Suzuki Engage will get the hybrid powertrain. Maruti Suzuki have recently dipped their toes into the Rs. 20.0 lakh SUV price band. Jumping straight to Rs. 30.0 lakh may be too sudden for buyers to digest spending more than Rs. 30.0 lakh on a "Maruti" car.
So, it's also possible that Maruti Suzuki may offer the higher variants of the Engage with the 2.0L normal petrol engine and add the hybrid powertrain a year or so down the line.
Also Read: Upcoming Maruti Suzuki 3-Row SUV To Be Called Engage
Maruti Suzuki Engage Front Grille, Headlight, Taillight Design Leaked
Note: Check your Car EMI with our - Car Loan EMI Calculator
Maruti Suzuki Engage SUV Rivals
The Engage will compete against the Mahindra XUV700, Scorpio N, MG Hector Plus, Tata Safari, Hyundai Alcazar and Toyota Innova Hycross. Among these cars, Innova Hycross is the only one without a diesel engine. Among large SUVs, a diesel engine still finds a lot of buyers as it is more fuel efficient and offers better drivability with the turbocharged engine. So, not offering the hybrid powertrain from day 1 could also hurt Engage's prospects as it won't have an efficient powertrain to challenge the torquey diesel SUVs.
It's also worth noting that among Maruti's potential rivals in the D-segment SUV space, only the Mahindra cars have 4WD option with their XUV700 and ScorpioN.
Maruti Nexa Engage Price (Expected)
Since we can't quite judge the powertrain options the Maruti Engage will offer when it goes on sale, it's difficult to estimate even the price range for Maruti's first large SUV. Given the limited information we have at hand, if I have to guess, then I'd say that the Engage could cost anywhere between Rs. 18.0 lakh and Rs. 25.0 lakh. I'd happily bet on the 2.0L normal petrol engine with manual and automatic transmission options for the Engage — at least for 2023 calendar year.
The hybrid powertrain may join the ranks a year or so down the line. Keeping the engine options tight and streamlined for a while will limit their risks associated with entering the premium, large SUV segment, where Tata and Mahindra command a solid market share. Once Maruti Suzuki are able to establish a decent foothold and gauge the demand, they can then better estimate the potential demand for more expensive variants with the hybrid powertrain.
Note: Check your car's fuel cost with Fuel Cost Calculator in India