Tata Motors Working On Hydrogen Fuel Cell Vehicles Technology | V3Cars
Tata Motors recently teased an image of a hydrogen cylinder hinting at their efforts towards making hydrogen vehicles. Considering their efficiency, Tata Motors are likely to choose the fuel-cell vehicles instead of making hydrogen combustion engines.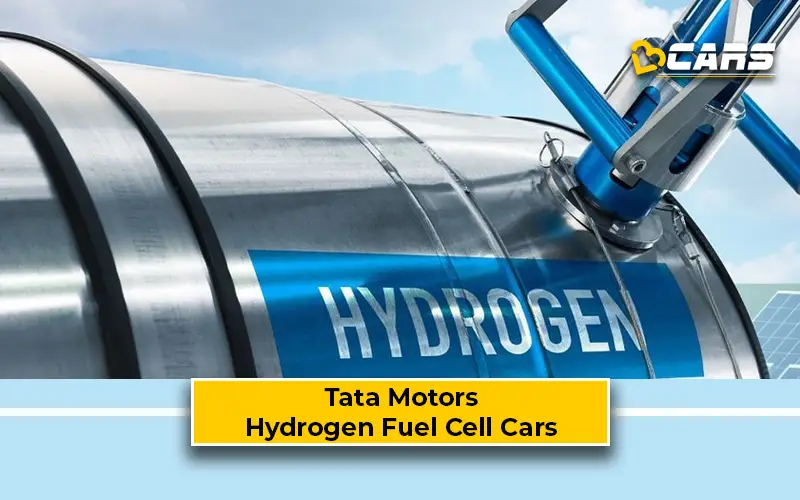 Fuel Cell Vehicles In India
Besides Tata Motors, Toyota and Hyundai are the only other carmakers available in India making fuel cell vehicles. Hyundai have the Nexo SUV while Toyota have the Mirai sedan. We're expecting to see both of these at the Auto Expo 2023. However, neither of them sell their hydrogen-powered vehicles in India.
Note: Check your car's fuel cost with Fuel Cost Calculator in India
Basic Working Of Fuel Cell Vehicle
Given the complex nature of a hydrogen fuel cell, we are not expecting Tata to bring a fuel cell vehicle to the market in the next couple of years. The fuel cell vehicles have a small 1-2kWh battery pack to drive the vehicle. The hydrogen fuel cell produces energy to charge the battery by reacting hydrogen with oxygen in the air in a controlled manner.
Note: Check your Car EMI with our - Car Loan EMI Calculator

Govt Support For Green Hydrogen Production
The Indian government have announced schemes to encourage the production of green hydrogen as an alternative fuel for the future. If only some no-name brands were entering this space, then we could afford to pay little attention towards the developments in this field. However, heavyweights like Reliance and now Tata Motors announcing their entry into the hydrogen fuel market makes hydrogen as a realistic fuel for the future.
To learn more about the pros and cons of hydrogen fuel cell technology for vehicles, you can consider visiting the following link:
Pros And Cons Of Hydrogen Fuel Cell Vehicles
We are expecting Tata to showcase either a fuel cell concept vehicle or at least the technology demonstration at the auto expo 2023. Find out more about what else we are expecting to see at Tata's 2023 expo stall: Tata At Auto Expo 2023 - What You Can Expect To See