Ola Electric To Bring 3 Electric Sedans In The Coming Years — Concepts Teased | V3Cars
Ola Electric recently teased 3upcoming electric sedan concepts at a customer event. The teasers reveal the front and rear profiles of the upcoming electric sedans. We expect Ola Electric to commence production of the first electric sedan by the end of 2023.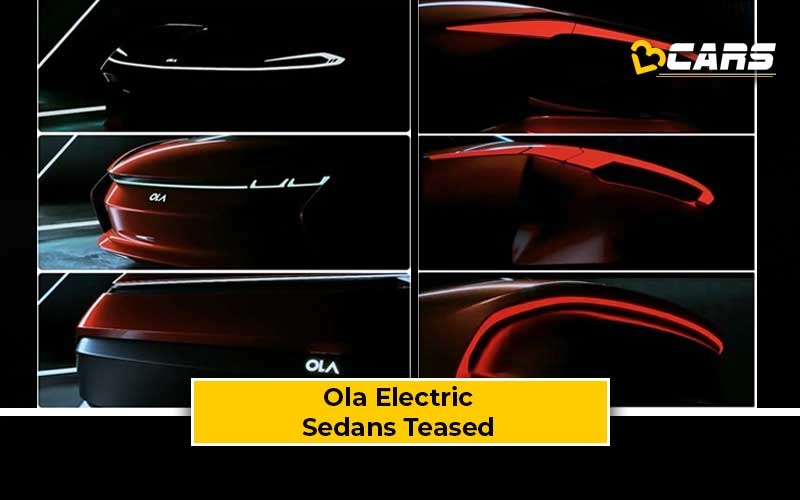 Ola Electric became the talk of the town with the launch of the Ola S1 and S1 Pro electric scooter range. These scooters offer phenomenal value with retro looks and several new features. Now, Ola Electric are looking forward to disrupting the electric 4-wheeler space. From the leaked teaser images, the brand seems to have their product plan ready, which is likely to boast 3 all-electric sedans.
Note: Check your car's fuel cost with Fuel Cost Calculator in India
Ola are yet to reveal what segments these sedans will step in and at what prices. But judging by the looks and the sizes, we do not expect Ola to compete in the lower segment of the car market. All the electric sedans boast a minimalistic yet futuristic design language, with connected LED headlights and tail lights. While the first electric sedan gets a C-shaped headlight design, the other two boast a two-pot connected headlight and a slim LED light bar design respectively.
At the rear too, all 3 electric sedan concepts get connected light bars. While two of them get a connected LED light bar, the third sedan gets C-shaped LED light bar at the rear — somewhat similar to what Mahidnra teased with their upcoming range of electric SUVs.
Note: Check your Car EMI with our - Car Loan EMI Calculator
We expect Ola to reveal the battery and performance specifications of these upcoming electric sedans soon. Currently, Ola Electric are having a hard time to fix the issues with their current range of electric scooters. The brand recently rolled out the Move OS 2.0 but that doesn't seem to have solved the problems completely.
Also Read: Opinion - Should Maruti, Hyundai, Kia, Tata Worry About Ola Electric Car?