Porsche Preview 2 New Models To Celebrate Successful 2021
To celebrate the end of this successful year, Porsche organised a series of Exclusive Nights across 5 cities. The series started in mid-November and lasted for five weeks. Over 1,200 Porsche owners showed up at the event. During this series, Porsche showcased their two new models for India; Taycan EV and new Macan.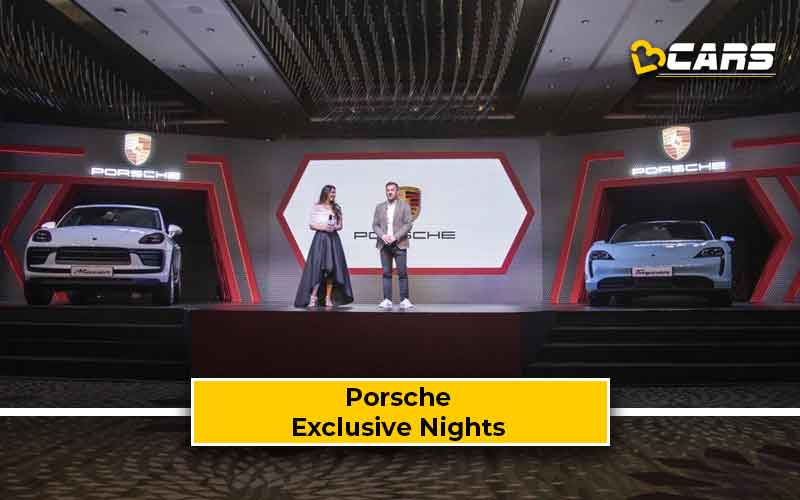 Porsche recorded the strongest ever Q3 sales figure in India this year. The sales jumped 96% YoY and were 24% better than the Q3 2014, which was their previous best third quarter. Porsche organised this event to thank customers for their support and loyalty.
The two vehicles Porsche showcased were the Taycan lineup and the new Macan. Both these models are currently available for customers to order and the first batch of units are expected to arrive in the first quarter of 2022.
The new Macan offers a slight boost in performance and minute changes in styling. It is available in three variants comprising the Macan, Macan S and Macan GTS along with a range of 14 colours. The basic retail price for the facelifted SUV starts at Rs. 83.21 lakh.
The new Taycan EV is available in four saloon models, comprising the Taycan, Taycan 4S, Turbo and Turbo S. The new Taycan range starts at Rs. 1.5 crore (ex-showroom).
Porsche India are confident about their performance next year with many projects in line. Their plans include the expansion of the national dealer network with new partners to join and they will upgrade several facilities to the brand's latest Corporate Identity. Porsche expects the network to include 9 locations by the end of 2022.