Specs Leaked - Maruti Suzuki Arena Dzire CNG And Swift CNG
After a bunch of spy shots, we finally have some concrete information in the form of leaks. Engine specs for the rumoured Maruti Suzuki Dzire CNG and Swift CNG just leaked online.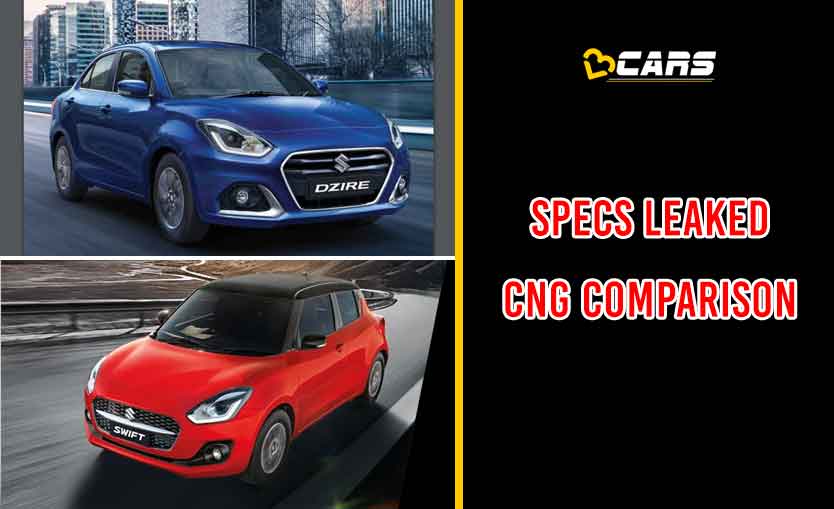 Let's compare these leaked specs with some other CNG cars like the Hyundai Grand i10 Nios, Hyundai Aura, WagonR, Celerio, S-Presso, Santro and Ertiga.
MARUTI SUZUKI DZIRE CNG & SWIFT CNG VS RIVAL CNG CARS

 

Swift & Dzire*

Alto

S-Presso, WagonR & Celerio

Santro

Grand i10 Nios & Aura

Ertiga

Displacement

1.2L

0.8L

1.0L

1.1L

1.2L

1.5L

Cylinder

4

3

3

4

4

4

Transmission

5-speed MT

5-speed MT

5-speed MT

5-speed MT

5-speed MT

5-speed MT

Power (Petrol)

83PS @ 6000rpm

48PS @ 6000rpm

69PS @ 5500rpm

69PS @ 5500rpm

83 @ 6000rpm

105PS @ 6000rpm

Power (CNG)

71.5PS @ 6000rpm

41PS @ 6000rpm

59PS @ 5500rpm

60PS @ 5500rpm

69 @ 6000rpm

92 @ 6000rpm

Torque (Petrol)

113Nm @ 4200rpm

60Nm @ 3500rpm

90Nm @ 3500rpm

99Nm @ 4500rpm

114 @ 4000rpm

138Nm @ 4400rpm

Torque (CNG)

95Nm @ 4000rpm

69 @ 3500rpm

78Nm @ 3500rpm

85Nm @ 4500rpm

95Nm @ 4000rpm

122Nm @ 4400rpm

Mileage (Petrol)

NA

22.05kmpl

21.7kmpl

20.0kmpl

20.7kmpl

19.01kmpl

Mileage (CNG)

NA

31.59kmpkg

31.2kmpkg

29.1kmpkg

28.1kmpkg

26.08kmpkg
*Based on leaked specs
Looking at these specs, it's clear that the Swift and Dzire CNG will have more power than the Nios and Aura CNG. However, their torque output is identical to Hyundai's 1.2L CNG engine at 95Nm.
More CNG Maruti Cars?
Maruti Suzuki currently offers CNG with all of its petrol engines. CNG is available as an option with the 0.8L engine in the Alto, with the 1.0L engine in the S-Presso, WagonR and Celerio and with the 1.5L engine in the Ertiga. Maruti Suzuki sells the 1.2L petrol engine the most as it's available in WagonR, Swift, Dzire, Ignis and Baleno. Adding the CNG kit to the 1.2L engine opens up the possibility of seeing a CNG
Not Quite The Same Engine
We have seen the spy shots of the Dzire and Swift undergoing testing with emissions equipment, which hinted at an imminent launch of CNG versions of these cars. It's worth noting that this is not exactly the same engine configuration as the Swift and Dzire petrol. The standard engine is a dual-jet MPFI hybrid while this is a simpler, single spray MPFI. This engine was earlier available in the Swift and Dzire before they got the facelift.