Tata Punch Is Safer Than Nexon, Altroz, XUV300, Thar - Safety Score Comparison | V3Cars
The Tata Punch brings home a 5-star adult and 4-star child safety score. The mini SUV became the third Tata car to receive the coveted 5-star scorecard from Global NCAP. It not only earned the best-ever GNCAP score for a Tata, but these are also the best-ever safety scores for any made-in-India car so far. Yes! You read that right. The Tata Punch is not only safer than the Altroz and the Nexon, but it's also safer than the Mahindra XUV300 and Mahindra Thar.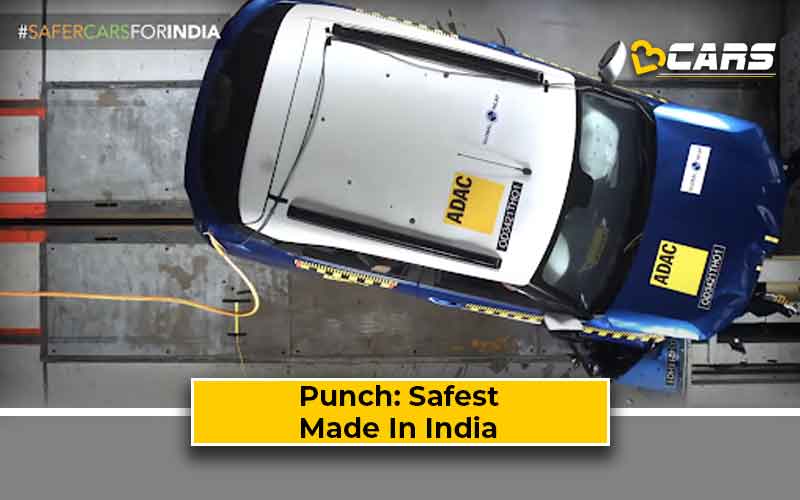 While the gap between the scores of the Punch, Altroz and Nexon is tiny, the Punch is decisively better than the Mahindra XUV300 and the Mahindra Thar. Even Tata's entry-level, the Tiago has a score that's comparable with the Mahindra Thar, Marazo and Maruti Suzuki Vitara Brezza.
You'll have to look beyond the star ratings to appreciate and celebrate this achievement. Here's a GNCAP safety score comparison table of Tata Punch vs other cars:
In the comparison table, you can see that the Tata Punch has a slightly better adult safety score than the Altroz and the Nexon. However, in the child safety department, the Punch obliterates its siblings with significantly better performance and 40.89 points. It takes 4 stars in child safety while the Nexon and Altroz managed to grab only 3. Only the Mahindra Thar has a better child safety score than the Punch, and it stands at 41.11.
The Mahindra XUV300 comes the closest to the Punch with 16.42 points in adult safety and 37.44 points in child safety. Thus, it matches the tally with the Punch with 5 and 4 stars for adult and child safety, respectively. It looks like only Tata's own cars and some from Mahindra are capable of raising the bar, which the Punch defined today.
The rest of the competition is in the dust. Considering the ex-showroom price, the most embarrassing safety performance comes from Kia Seltos, which only got 8 points in adult safety and 15 points in child safety for a final score of 3 and 2 stars, respectively. The other cars in similar or even a few notches higher price range than the Punch are lagging with too low scores. The Grand i10 Nios, WagonR, Brezza and Triber are also quite far behind.
Let's hope the phenomenal crash test performance of the Tata Punch serves as a wake-up call for other carmakers. Safety should not be a luxury because we deserve better from other carmakers.
Find out which variant of the Tata Punch you should book based on our expected prices and variant-wise feature breakdown:
Tata Punch Petrol Variants Explained - Which One To Book?
You can also check out our no-nonsense review of the Tata Punch to see if it suits your needs and wants: